Understanding Workplace Health
Over 15 million Canadians are spending more than half their waking hours at work. Research confirms that the work environment directly impacts employee health and has far reaching social consequences for individuals and society. Many employers understand the benefits of providing healthy workplaces and integrating occupational health and safety, and human resource practices into the business strategy of the organization is often regarded as a key ingredient of success.
For workplaces:
Reduced absenteeism
Reduced benefit costs
Higher employee morale and job satisfaction
Happier and healthier staff
Improved corporate image
Lowered insurance costs
Reduced staff turnover
Increased productivity
Increased organizational effectiveness
For employees:
Improved health
Increased energy
Decreased risk of injury and/or illness
Increased job satisfaction
Increased ability to balance work and family responsibilities
Traditionally, there are three factors that influence the health of the organization and its employees.
Occupational Health and Safety
Individual Health Practices and Behaviours
Organizational Culture
The most effective health programs address all three factors and Corporate Social Responsibility (also referred to as Community Involvement), an additional fourth factor recognized by the World Health Organization in 2012.
Occupational Health and Safety
These initiatives help to provide a safe physical environment that prevents illness and injury. Examples may include:
Ergonomically designed workstations
Safe and well-lit stairways
Health and safety training e.g. first aid or hazardous material training
Individual Health Practices and Behaviours
Health initiatives can encourage and support employees in making healthy lifestyle choices. Examples may include:
Healthy food choices in the cafeteria and/or vending machines
Physical activity programs at breaks and/or lunch hour
Smoking cessation programs or support groups
Organizational Culture
A healthy workplace culture promotes work enjoyment and productivity. Workplace initiatives can enhance the physical and mental well-being of the employees. Examples may include:
Employee recognition programs
Flexible work arrangements
Leadership training and development opportunities
Staff involvement in decision making
Corporate Social Responsibility (also referred to as Community Involvement)
Healthy workplaces address broader social and environmental determinants of worker's health. Workplaces that adopt community involvement practices experience bottom-line benefits and enhance society at large. Examples may include:
Charitable support to community causes and non-profit organizations
Voluntary pollution/waste control measures and disclosures
Equal employment opportunity policies and practices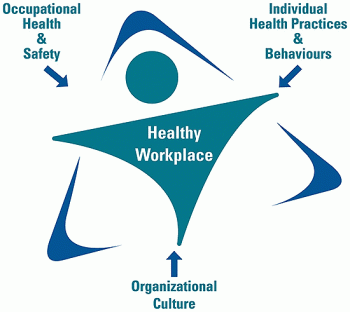 To achieve a healthy workplace, try a combination of the following strategies for the most effective approach.
Awareness raising, education – Provide information to help employees make informed decisions e.g. educational sessions, newsletters
Skill building – Provide opportunities for staff to enhance personal, interpersonal, cognitive and physical skills e.g. communications, managing stress
Environmental support – Provide an environment which supports healthy choices e.g. breastfeeding room, cafeteria with healthy food choices, on-site physical activity centre
Policy development – Establish policies that encourage healthy behaviour e.g. healthy eating policy, breastfeeding policy
Strategies and sample workplace health activities
 Occupational Health and Safety
Raise awareness of health risks associated with hazardous materials
Provide training on how to respond in an emergency
Provide necessary equipment to safely handle hazardous materials
Implement a policy stating all employees must complete WHMIS course annually
Individual Health Practices and Behaviours
Provide information on bulletin boards, intranet, newsletter, etc. about the benefits of physical activity
Provide a session with a qualified instructor on proper stretching techniques
Provide shower and change facilities to help encourage physical activity in and around the workplace
Develop a flexible work arrangement policy to allow employees to be active before work, after work or during lunch
Organizational Culture
Educate managers about the importance of effective communication
Provide training sessions on communication skills for managers
Friday coffee chats with senior management
All staff to attend a conflict resolution session when hired
Corporate Social Responsibility (also referred to as Community Involvement)

Promote sustainable commuting options for staff to decrease traffic congestion and air pollution
Organize a commute program with resources, tools and carpooling
Provide bike racks, discounted transit passes and other incentives to encourage cleaner commuting
Develop a policy stating a commitment to improve air quality through alternative commuting options
Successful workplace health programs consider the following elements:
Senior management
Involvement from senior management demonstrates their commitment and support for initiatives.
Participatory planning
Engagement of all levels of stakeholders strengthens workplace health initiatives.
Primary focus on employees' needs
Acknowledgement of the diverse needs of the employee population helps to tailor programs appropriately.
Optimal use of on-site resources
Planning and implementation of initiatives should optimize use of on-site personnel, physical resources and organizational capabilities. For example, whenever possible, initiatives should use on-site specialists in such areas as health and safety, management, work organization, communication, and human resources.
Written commitment
An overall workplace health policy should be developed. The policies governing employee health must align with the corporate mission, vision, and values supporting both short and long-term goals. Workplace health policies should be integrated under one global workplace health policy, framework or mission statement.
Health is influenced by multiple factors
Health initiatives and activities should reflect how health is influenced by multiple factors.
Tailored to the uniqueness of each workplace environment
Health initiatives should be tailored to the specific needs of the workplace.
Evaluation
Evaluation of initiatives needs to be completed to determine whether goals and objectives have been met for both the employer and employees.
Long-term commitment
Commitment to workplace health is long term and requires flexibility to modify initiatives as needed.
The following benefits are worth the investment:
Employees making healthier choice (seen within a few months)
Evidence of increased job satisfaction, work commitment and productivity resulting in increased customer satisfaction (often seen within a year)
An organization sees any significant improvements in health-related costs (at least three years)