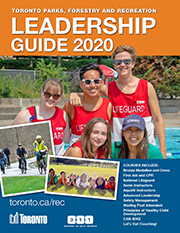 Are you looking to complete the final steps towards becoming a certified lifeguard or swim instructor? Qualified aquatic personnel, especially lifeguards and swimming instructors, are frequently in high demand. Aquatic Leadership programs teach you teamwork, leadership, self-confidence, interpersonal and problem solving skills that will apply in all facets of your life.
Download the 2019 Leadership Brochure (PDF)
Visit Swim Lessons and Leadership to find out more about registered swim programs. Pool Closures and Service Alerts will list any disruptions or changes to outdoor pools, indoor pools or wading pools.