High Park Cherry Blossoms
Nothing Symbolizes Spring like the Beauty of a Blooming Cherry Tree
Each year thousands of people visit High Park to take part in the century-old Japanese tradition of Sakura Hanami, or cherry blossom flower viewing.
For more information about cherry blossoms, visit the High Park Nature Centre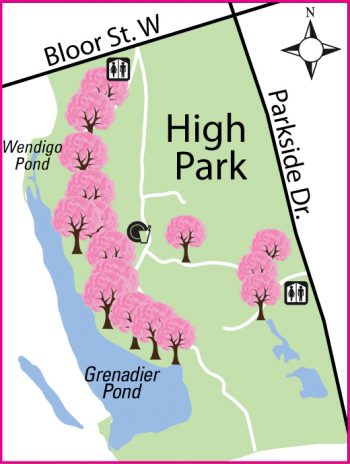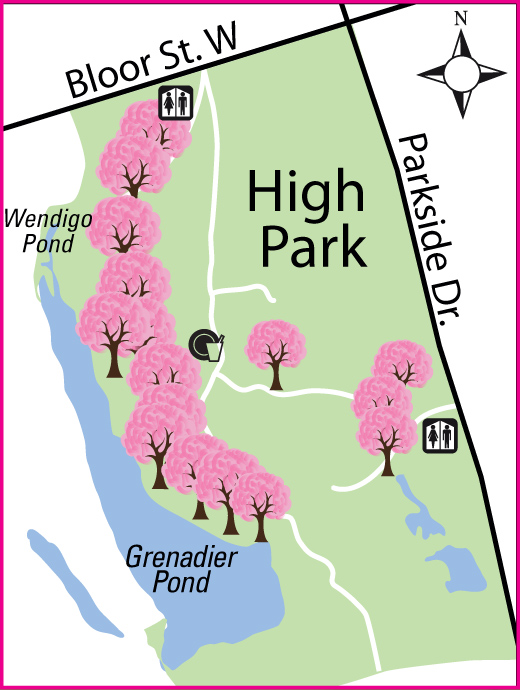 Thousands visit the park during cherry blossom viewing season. Please walk, bike or take public transportation if you can. Parking is very limited and driving into the park creates congestion and pollution. Road access to the park may be limited during peak hours. Because of the crowds, it can be difficult to keep up with garbage collection so practice bringing out what you bring in. Take only memories and photos: don't injure the trees by climbing them, breaking branches or removing blooms.
Most of the cherry blossoms are along the hillside beside Grenadier Pond. Blossoms usually reach peak bloom in late April or early May. Flowers last four to10 days, depending on the weather conditions.
Contact the High Park Nature Centre if you are interested in tours during the season.
In addition to High Park, cherry blossoms can also be enjoyed in other park locations:
Cherry blossom viewing is a rite of spring in many cities, where Sakura Matsuri (matsuri means "festival") are held to celebrate the beauty of the Sakura trees.
Thanks to the "Sakura Project", many other sites in Toronto are graced by these beautiful trees, including the CNE and the University of Toronto's main and Scarborough campuses.
Outside of Toronto, blossoms can be viewed at McMaster University and the Royal Botanical Gardens in Burlington.
1959  The Japanese ambassador to Canada, Toru-Hagiwara, presented 2000 Japanese Somei-Yoshino Sakura trees to the citizens of Toronto on behalf of the citizens of Tokyo. The trees were planted in appreciation of Toronto accepting re-located Japanese-Canadians following the Second World War. Many were planted on the hillside overlooking Grenadier Pond.
1984  A grove of Japanese cherry trees were planted along a pathway west of the Children's Adventure Playground. The trees were donated by Yoriki and Midori Iwasaki as a special gift to the people of Toronto and "a joyful symbol of life".
2001  Through the Consulate General of Japan in Toronto's "Sakura Project", 34 Yoshino 'Akebono' and Kwanzan 'Fugenzo' Sakura trees were donated and planted on the east shore of Grenadier Pond near the Maple Leaf garden.
2006  Sixteen additional Yoshino Sakura trees were planted near the original 1959 planting site.