2020-2022 Curatorial Theme & Artistic Director
The Space Between Us
People are the heart of their communities. This curatorial theme focuses on the connections to urban, polar and Pacific landscapes, revealing the space between us as a potential site for sharing knowledge. People have always commingled with different communities and nations – to build new spaces and families that shift their relationships and connections to each other and to place.
People disrupt and transform space, making meaningful connections with communities and places. The global crisis of displaced people brings communities together to stand up for humanity and support each other. Now, more than ever, it reminds us of our willingness to connect when our future is linked to the collaboration between cultures, knowledge, nations and practices.
This curatorial theme invites artists to build bridges between cultures and connect with communities and the environment, transforming the city by telling stories about their connections to place.
Artistic Director Dr. Julie Nagam
Dr. Julie Nagam is the Nuit Blanche artistic director for the 2020 and 2022 events.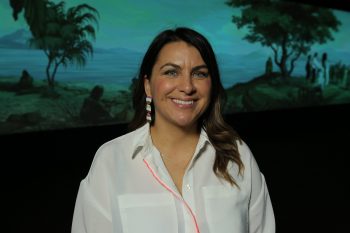 She is Canada Research Chair in Indigenous Arts, Collaboration and Digital Media and is a Professor at the University of Winnipeg. Dr. Nagam's SSHRC research includes digital makerspaces + incubators, mentorship, digital media + design, international collaborations and place-based knowledge. As a scholar and artist she is interested in revealing the ontology of land, which contains memory, knowledge and living histories. Her scholarship, curatorial and artistic practice have been featured nationally and internationally. Dr. Nagam is the Director of Aabijijiwan New Media Lab and Co-Director of Kishadigeh Collaborative Research Centre in Winnipeg.