Raptors Fever
We The North! We The Champions!
The Raptors stunning playoff run ends in NBA history. Jurassic Park may have been the focus of fan celebrations in Toronto, but from coast to coast to coast fans cheered their team to victory and watched while the Toronto Raptors dethroned the Golden State Warriors to win the franchise's first-ever NBA title.
Congratulations to the Toronto Raptors!
Championship Parade & Rally – Monday, June 17
Celebrate this historic win and welcome Canada's team back to Toronto at Monday's championship parade and rally. It all starts at 10 a.m. and will be a memorable opportunity to thank the players, coaches and Toronto Raptors organization.
Plan ahead for travel to and from the celebrations and be aware of what to pack. Please consider riding public transit, cycling, walking, hailing a taxi or booking a ride. Road closures will be in place starting as early as 9 a.m. and those travelling in and out of the city could experience significant delays.
Parade Route & Rally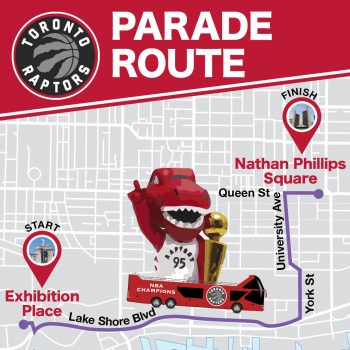 Starting at Exhibition Place, the parade will culminate with a rally at Nathan Phillips Square that will begin when the procession arrives. Some networks will be airing the parade and rally live. Since it's expected that Nathan Phillips Square will be at capacity, you may want to watch from home, organize a viewing party at work or watch from a nearby restaurant with screens.
10 a.m. Parade departs Exhibition Place, Princes' Gates, runs east along Lakeshore Boulevard West, then north on York Street and University Avenue to Queen Street West.
12:30 p.m. Rally at Nathan Phillips Square, 100 Queen Street West. Look way up! Watch for the Royal Canadian Air Force Snowbirds for a flyby at approximately 12:30 p.m.
What to Pack
Please pack light and plan for the weather. Items like coolers, chairs, umbrellas, large bags etc. will not be permitted on Nathan Phillips Square before or during the rally. Plan accordingly before you come down.
Watch the Rally From Coronation Park
Take in the start of the parade, then cross over to a mini-Jurassic Park setup in Coronation Park to watch the Nathan Phillips Square rally on the big screen.
Road Closures
Please consider riding public transit to and from work as there will be significant road closures and delays on Monday. A series of rolling closures will affect streets on and around Exhibition Place, Lake Shore Boulevard West, York Street and University Avenue. Starting at 9 a.m.:
Eastbound Gardiner Expressway exits at Spadina and York-Bay-Yonge will be closed (9 a.m. to noon)
The following full closures and restrictions are expected to be in effect around Nathan Phillips Square starting as early as 9 a.m. on Monday, June 17:
Bay Street will be fully closed between Dundas Street and Richmond Street West
Queen Street West will be fully closed between Yonge Street and University Avenue
Chestnut Street and Elizabeth Street will be fully closed
Armoury Street will have restricted access
TTC Information
The TTC will be adding additional resources to accommodate people travelling to and from the parade including extra staff, streetcars and more frequent subway service. The following TTC routes will be on diversion as a result of the festivities:
5 Avenue Rd
6 Bay
29 Dufferin
121 Fort York-Esplanade
501 Queen
504 King
509 Harbourfront
510 Spadina
511 Bathurst
Customers should also note that the 510 Spadina will not be available at Union Station. Anyone travelling in that area should use the 509 Harbourfront instead to connect with the 510 at Spadina Ave. and Queens Quay (Spadina Loop).
Check ttc.ca and follow @TTCnotices for the most current service and trip planning information.
Go Transit Information
The Union Station Bus Terminal will remain open and all routes will run during the parade. For access to Exhibition Station, please check the schedules for Lakeshore West and some Lakeshore East trains.  Visit gotransit.com to plan ahead, and check schedules and service updates before leaving for downtown Toronto. Trains will be exceptionally full so all commuters are asked to be patient.
NBA Cares
NBA Commissioner Admin Silver joined league executives, Kaiser Permanente, the Maple Leaf Sports & Entertainment team and members of the Toronto Raptors to follow an NBA Finals tradition and dedicate a newly created NBA Cares Learn & Play Centre. Watch the May 31st dedication at the Jimmie Simpson Recreation Centre in Toronto's Leslieville neighbourhood.