Sunday Concert Series at Scarborough Civic Centre
The Sunday Concert Series (also known as Sunday Serenades) at Scarborough Civic Centre is a staple in the community that is loved by its faithful attendees.
Concerts will take place twice a month from September to the end of June. During the summer months of July and August, the Sunday Concert Series will go on hiatus.
Each summer, Albert Campbell Square hosts many public events for the community to enjoy, and freeing up space inside the civic centre will allow some of those events to grow to include an indoor component.
The 2019 schedule appears below.
Please note: There is no reserved seating for any concerts. Concerts can be subject to change or cancellation due to extreme weather conditions.
Admission: FREE
Time: 2 – 4 p.m.
Location: Scarborough Civic Centre, 150 Borough Dr. (at McCowan & Ellesmere)
January 13 – Good Time Orchestra
January 27 – Marie Gogo and Bathtub Gin
February 10 – Metropolitan Silver Band
February 24 – Two for the Show
March 10 – Northdale Concert Band
March 24 – Scarborough Music Lovers Orchestra
April 14 – Ulster Accordion Band
April 28 – East York Concert Band
May 12 – TYWO Symphonic Winds
May 26 – Jordan Klapman Orchestra
June 9 – Island Accents
June 23  – Bonnie James
September 15 – DCAT Chorus
September 22 – Cathedral Bluffs Symphony Orchestra
October 20 Advocats Big Band
October 27  George Lake Big Band
November 17 – Bob Clegg Jazz Octet ft. Mary Panacci
November 24 – North York Concert Orchestra Society
December 8 – Royal Regiment of Canada Band
December 15 – Scarborough Concert Band
January 12, 2020 – Oscar Kay Trio
January 19, 2020 – Danny's 11
February 2, 2020 – York Jazz Ensemble
February 23, 2020 – Scarborough Music Lovers Orchestra
March 15, 2020 – North Toronto community Band
March 29, 2020 – Debbie Sander Walker
April 5, 2020 – Eddie Graf Orchestra
April 19, 2020 – Toronto All Star Big Band
May 3, 2020 – Kim and Company
May 24, 2020 – To be confirmed
June 7, 2020 – To be confirmed
June 21, 2020 – To be confirmed
September 20, 2020 – To be confirmed
September 27, 2020 – To be confirmed
October 18, 2020 – To be confirmed
October 25, 2020 – To be confirmed
November 15, 2020 – To be confirmed
November 29, 2020 – To be confirmed
December 6, 2020 – To be confirmed
December 13, 2020 – To be confirmed
From Sunday, March 25 onward, the City of Toronto parking lot will remain available to Sunday Concert Series attendees.
The City of Toronto employee parking lot is located at the northwest corner of Borough Drive and Town Centre Court, with the entrance to the parking lot located on Town Centre Court. To get to the civic centre from the parking lot, please leave by the northwest path heading north and following the path between the Toronto Public Health building and residential condominium.
When entering Albert Campbell Square, turn left and follow the path leading behind the outdoor stage to the front entrance of the Scarborough Civic Centre. Below is a copy of the map in colour with the route drawn in.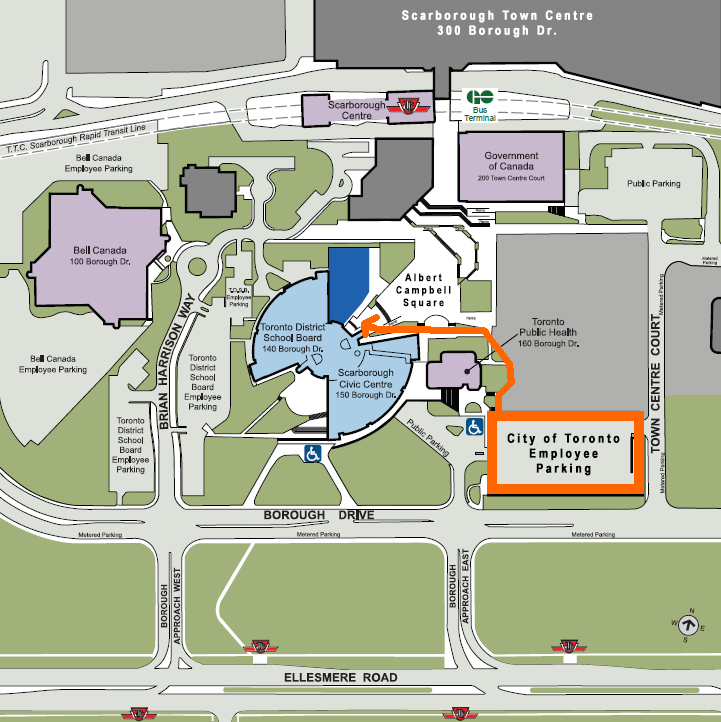 City staff will continue to discuss the availability of the TDSB parking lot for future concerts with TDSB Management.
Further updates will be provided should there be new information to share.