Biography – David Miller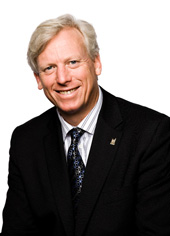 David Miller (b.1958)
Mayor of Toronto – 2003-2010
Like most Torontonians, David Miller immigrated to Canada. He and his mother arrived from England in 1967 and moved to Toronto in 1981. Miller received a degree in economics from Harvard University and a law degree from the University of Toronto. Before running for public office, he was a partner at the Toronto law firm Aird & Berlis, where he specialized in employment and immigration law and shareholder rights.
Miller and his wife, lawyer Jill Arthur, are parents of two children.
Miller was elected Toronto's 63rd mayor in December 2003 and was re-elected in November 2006 with nearly 60 per cent of the popular vote and a mandate to make Toronto a city of prosperity, livability and opportunity for all.
One of the proudest of his many accomplishments as Mayor was securing a New Deal for Cities with senior orders of government.  The New Deal has provided Toronto with new powers, money, and respect from the provincial and federal governments.  In addition, Miller has been one of the dominant voices speaking in support of a national urban agenda – including a national transit strategy.
It's thanks to Miller's leadership that Toronto has the most ambitious transit expansion plan in North America. Transit City will bring Light Rail Transit to communities across Toronto and secure the city's transit future for a generation. At the same time, it will create long-term sustainable employment for Torontonians and safeguard our environment.
With Miller as mayor, Toronto reinvested in the city's neighbourhoods through initiatives like the Community Safety Plan, the Clean and Beautiful City Initiative, rejuvenation of parks and public spaces and through ongoing revitalization of the waterfront.
Miller also worked to make Toronto a world-leading city on environmental issues and on June 4, 2008 he was appointed chair of the influential C40 Group of World Cities leading the fight against Climate Change. As chair of C40, Miller had a key role in organizing the Copenhagen Climate Summit for Mayors which urged national governments at the COP15 Conference in Denmark last December to engage, empower and resource cities to meet the challenge of global warming.
The positive changes made with Miller's leadership inspired a sense of civic pride, responsibility and belonging among many Torontonians.