Backgrounder: Refugee/Asylum Claimant Arrivals to Toronto Update
August 3, 2018
Context
Toronto is one of the most multicultural urban areas in the world. Each year, tens of thousands of people from around the globe choose Toronto as their new home. Their diverse cultures and communities have helped create Toronto's identity as a vibrant global city.
Toronto is a welcoming and inclusive city for all that supports the successful settlement and integration of newcomer communities and has a long history of supporting and welcoming refugees, including those from Vietnam in the 1970s, Somalia in the 1980s, and more recently, Syria in 2016.
The city has always received a large number of refugee/asylum claimants. Since 2016, the number of refugee/asylum claimants coming to Toronto has increased significantly.
The current increase in refugee/asylum claimant arrivals to Toronto started in late 2015 and intensified in 2017, and has surged in 2018.
As of August 2, 2018, approximately 45 per cent of all shelter users in the City's system were refugee claimants (both pre-claim and those who have already made their claim). This represents a significant increase over a short period of time: from 11 per cent in early 2016, and 25 per cent in late 2017.
As of August 1, 2018, there were 6,925 adults, youth and children in Toronto's permanent shelter system and the temporary refugee response programs. (It does not include 24-hour respite sites or 24-hour women's drop-in programs.) Service statistics are posted to the City's website daily.
From November 2016 to date, the City has served a total of 5,315 unique refugee clients in the shelter system, with 2,690 refugee/asylum claimants being discharged from shelters into permanent housing in that time period. In addition, as of August 2, the number of refugees in the base shelter is 809.
This prolonged and ongoing demand has created significant pressures on the City's shelter system, which has been operating at capacity for a number of years, creating an unsustainable situation.
Current situation
The City of Toronto is currently facing a deadline of August 9 to relocate refugee/asylum claimants who are temporarily housed in Centennial and Humber College dormitories, as the colleges require the space for the upcoming school year and the City does not have the resources or space to relocate this population to other locations within the City's shelter system.
During the week of July 23, many of the families moved out of Humber College dorm. Many chose to relocate to the Region of Peel, and some to other areas in the GTA that offered motel accommodation. In the Region of Peel, support services are being offered through the Salvation Army and COSTI Immigrant Services.
At its peak, there were about 675 people at the two college dormitory programs. With plans in place for the transportation of all who remain in the dorms, mostly to hotels in the Greater Toronto Area, the City is confident that the dormitory programs will be vacant as required before the August 9 deadline.
In addition to the regular the dormitory program, there are more than 1,750 refugee/asylum claimants currently in the City of Toronto hotel program on a nightly basis. The City continues to see 15 to 20 new refugee/asylum claimants entering the system each day.
On July 26, Immigration, Refugees and Citizenship Canada (IRCC) publicly announced that it will locate, book and pay for hotel rooms in the GTA to which the remaining refugee/asylum claimants from the dorms can move. The City of Toronto will be responsible for logistics, transportation and will continue to provide support for these individuals.
The City of Toronto will continue to proactively work with other governments, including other municipalities, and community partners to find appropriate shelter and accommodation for refugees/asylum claimants in and entering the City's shelter system.
The City of Toronto has exhausted all facilities, personnel and financial resources available to meet the current needs of refugee claimants/asylum seekers in the municipal shelter system.
The City received $11 million from the Government of Canada to help offset the costs associated with the recent influx of asylum seekers. While the funding is welcome, it is not enough to cover the costs associated with temporarily housing refugee/asylum claimants which is estimated to be in excess of $64.5 million by the end of 2018.
Temporary measures
On May 23, the City of Toronto, through the Office of Emergency Management, activated its Contingency Plan for Emergency Social Services. As part of this response, the City, with financial support from the Province of Ontario, secured an additional 800 spaces for refugee/asylum claimants at college residences.
A large number of the refugee/asylum claimants in temporary housing in the college dorms are families.
Call for action from other levels of government
The City of Toronto has requested that the federal and provincial governments develop an urgent co-ordinated regional response to this increasing and acute challenge.
The Government of Canada has responded to the City's request to better manage inter-provincial flow of irregular migrants and co-ordinate the placement of new arrivals to other locations outside of the City of Toronto's shelter system, through the introduction of a new triage centre in Cornwall.
The direction to request that a federal and provincial co-ordinated regional response is urgently established was adopted by City Council in June 2018. Such a response is needed to ensure that Toronto remains a safe, welcoming and accessible place for all. City Council's requests include:

Reimbursement for all costs – including those incurred in 2017 and projected for 2018 – in responding to the needs of refugee/asylum claimants in Toronto, including an estimate for direct operational costs in excess of $64.5 million, with an additional $6.3 million anticipated as a result of using the college dorms.
Provision of shelter space for refugee claimants – although an exhaustive search for additional shelter capacity was pursued with federal colleagues, still no appropriate sites for additional shelter space for refugee claimants have been identified.
Regional response and strategy – City Council has repeatedly requested that the provincial and federal governments facilitate a co-ordinated and regional response to manage the increase of refugee claimant arrivals to Toronto and relieve associated pressures.
Data collection
All clients arriving at City shelters are asked a series of questions as part of their intake. This includes asking clients the reason for needing shelter services. Most clients who are refugee/asylum claimants self-disclose their status at this time. (Service is not refused to those that do not want to or cannot answer questions on intake.)
As case planning develops, individuals who did not initially identify as refugee/asylum claimants may do so as services are identified.
The City of Toronto continues to collaboratively work with federal and provincial officials to support a data-informed approach.
Toronto City Council is committed to providing City-administered and funded programs and services to all residents, regardless of immigration status. As such, it is likely that representation of refugee/asylum claimants in our shelter system is if, anything, under-reported.
Of interest, COSTI recently shared the results of a broad survey conducted March 2017 to May 2018 within the City refugee motel program that it manages for the City. The results showed that of the 1,670 people surveyed, 96 per cent were current refugee/asylum claimants with the balance saying they had completed the refugee claim process.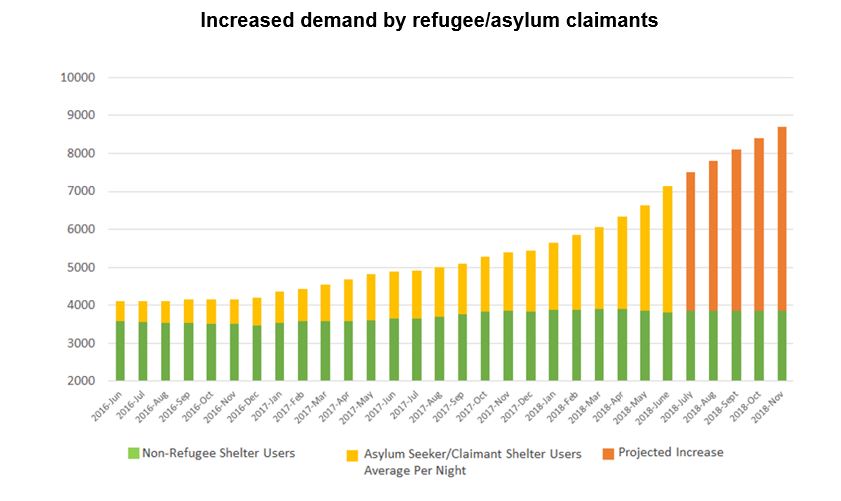 Average nightly number of refugee claimants in Toronto's shelter system has increased from an average of 459 per night in 2016 to 3,305 in June 2018.
– 30 –
Media contact: Natasha Hinds Fitzsimmins, Strategic Communications, 416-392-5349, natasha.hindsfitzsimmins@toronto.ca