Backgrounder: The City's Long-Term Financial Direction Update, November 24, 2016
November 24, 2016
This Backgrounder provides a high-level overview of the report, the City's Long-Term Financial Direction Update, being considered by the Executive Committee at its meeting of December 1, 2016.
In addition, two closely aligned staff reports are being brought forward to the Executive Committee on December 1, as requested by Council:
Asset Optimization Review – Toronto Hydro Corporation and Toronto Parking Authority
The City of Toronto's Immediate and Longer-Term Revenue Strategy Direction.
Separate Backgrounders are available for these reports at www.toronto.ca/mediaroom.
Overview
The staff report, The City's Long-Term Financial Direction Update, provides an update on the City's Long-Term Financial Plan (LTFP) to inform current Council deliberations around the City's rate-and tax-supported budgets, as well as longer-term expenditure, revenue, and asset decisions.
A final Long-Term Financial Plan will be presented to Committee and Council in second quarter of 2017. It will present options and create a roadmap to achieve long-term financial sustainability through multi-year expenditure and revenue strategies. It will also support the City's ability to fund its city-building and policy aspirations.
The City faces unique challenges associated with both accommodating growth and creating broadly shared economic and social opportunities for residents, including the substantial costs and impacts of congestion and poverty.
City Council should continue to make progress and address core fiscal challenges while maintaining or increasing the vital investments in the city's economic and social infrastructure.
Major interrelated fiscal challenges

Balancing the 2017 and 2018 operating budgets
Budget decisions made in 2017 and 2018 must be consistent with and supportive of the City's long-term financial objectives.
Strategies to balance the budget should have limited impact on future budgets and/or a clearly defined approach for addressing any such impact.
Despite substantial savings, including labour costs, associated with progress towards the 2.6 per cent net reduction objective and unprecedented gains in municipal land transfer tax the preliminary budget gap remains. Primary drivers of the residual gap include:

Agency pressures and service levels
Prior year deferrals, both with respect to agencies and capital financing
Challenges in recommending or proposing service levels below those mandated by Council.
Council will be provided with a range of options to close the residual gap, including expenditure management options, revenue options and/or bridging solutions as shown in the figure below.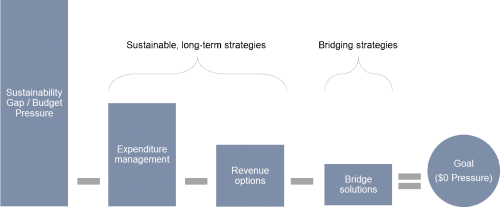 Funding the 2017-2016 Capital Budget and Plan
City Council continues to advance work on vital infrastructure projects to address historic deficits in capital investment and address future growth-related needs.
Four incremental major areas of expense to be incorporated in the 10-year budget and plan include: TTC capital enhancements, SmartTrack, Port Lands Flood Protection and Gardiner Expressway Rehabilitation Project.
Additional revenue measures and/or some relaxation of the current debt service may be required to maintain all elements of the capital plan.
Funding the long-term capital overhang
Council has identified priorities and/or advanced planning for approximately $33 billion in major capital projects that are not yet funded through the capital budget.
The gap continues to grow as the City does not yet have the fiscal capacity to fully achieve its ambitious city-building agenda.
An underlying challenge in planning for and estimating the full municipal cost associated with major capital projects is the uncertainty related to critical provincial and federal funding commitments.
Asset optimization
Staff have studied asset optimization in relation to the City's investments in Toronto Hydro and Toronto Parking Authority
Quantitative and qualitative analysis, including net present value calculations, contained in the companion asset report ("Asset Optimization Review – Toronto Hydro Corporation and Toronto Parking Authority") do not support an immediate monetization of either asset.
Long-term expense management
The City will maintain a focus on driving efficiencies to achieve annual savings and ensure that residents and businesses receive the best value for their money.
Expense management strategies implemented by City divisions will need to address:

Incremental investment in digital infrastructure and management of associated labour and service transition costs
Cumulative impact of prior savings, including lower City spending when adjusted for inflation and population growth
Prior deferrals and operating impacts of capital investments.
Long-term revenue management
The City is proposing a range of new and existing revenue options to support effective expense management and address the challenges of the City's current revenue model.
The companion revenue report, "The City of Toronto's Immediate and Longer-term Revenue Strategy Direction," provides detailed consideration of a range of new and existing revenue options.
In Ontario, municipal own-source revenues are based primarily on property taxation. Property taxes have important advantages including ease of administration, limited potential for avoidance, mitigation of adverse impacts and transparency.
The highly visible and politically challenging nature of property taxes has constrained Council from pursuing above-inflation increases to the rate.
Services with benefits that extend well beyond municipal boundaries, such as social housing and high-order transit services, may be better supported through intergovernmental transfers and progressive revenue sources like income tax.
The City should continue to call on both levels of government to establish a new fiscal arrangement to support sustainable, ongoing funding for services areas such as transit (TTC) and social housing (TCHC).
User fees are a fundamental and appropriate tool for funding municipal services where use is measurable and there is a clear beneficiary.
A thorough cost-benefit analysis indicates that while a limited number of possible new revenue options have potential and should be considered by Council, others provide very limited benefit and/or cannot be implemented effectively within the next few years.
Long-Term Financial Plan
City Council has directed the development of the LTFP to address long-term expense and revenue management considerations described in the report.
Specific options will be brought forward to Council in the second quarter of 2017, in advance of the launch of the 2018 budget process.
The Long-Term Plan will explore scenarios with respect to:

Increased efficiency and lower service costs, realized through technology and potential for downward pressure on overall compensation costs
Reduction in service levels, relative to population growth
Significant new revenue measures, increasing on an annual basis
New revenue sharing arrangements with the province and potentially the federal government, respecting Toronto's unique role and requirements
Greater emphasis on increases to property tax rates.
Status update
Public Consultations
The City is conducting a public consultation to ask for the public's input on how the City can manage expenses, raise revenue and optimize its assets.
The consultation process is being conducted in two phases:

Phase 1 includes an online survey about the City's current financial state and guiding principles for financial sustainability. This survey was completed in November, and a report on findings will be submitted for the December 1, 2016 Executive meeting, as supplemental material.  A series of public meetings and an additional survey in December will gather public input on long-term financial options and strategies. The City will release a report on the findings of Phase 1 consultations in January 2017.
Phase 2 will ask the public for their input on financial management and governance required for long-term financial sustainability. A final report on the consultation process is to be released in April 2017.
Business transformation & service modernization initiatives
To improve service delivery and manage expenditures, the City has been implementing a number of high-priority, high-impact business transformation and modernization initiatives. These initiatives include:

the hiring of a Chief Transformation Officer
City-Wide Real Estate Review
Office Modernization Program
Agency Review
Contracting Out and Alternative Service Delivery
Shared Services Project
Contract Management, and
Toronto Police Service Transformational Task Force.
Next steps
Pending decisions at Executive Committee, this report and the companion reports will go to Council for consideration at its meeting of December 13, 2016.
– 30 –
Media contact: Wynna Brown, Strategic Communications, 416-392-8937, wynna.brown@toronto.ca