Subscribe to Council and Committee E-updates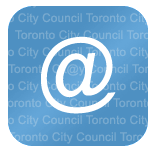 Follow City Council and Committees with E-updates
You can now subscribe to Council and Committee e-updates. Simply select any or all of the Committees or Councils listed below and enter your e-mail address. City Council and Committee e-updates will include:
Announcements and links to meeting agendas
Announcements and links to Decisions and Minutes
Links to Supplementary materials
Announcements about meeting schedule changes, posting of notices as well as any other related information.
On average, subscribers can expect 3-5 emails per committee per meeting.
Be more engaged with the legislative process and stay current by following the City Clerk on Twitter.
The personal information on this site is collected under the authority of the City of Toronto Act, section 137. The information is used to allow the City to send you an e-mail to confirm your wish to subscribe to Committee and Council updates. If you have questions about this information collection, write to the City Clerk's Office, City Hall, 12th floor West Tower, 100 Queen Street West, Toronto ON M5H 2N2 or call 416-392-8152.
Looking to unsubscribe?
More ways to follow your City Council
Back to top