About Toronto's Cycling Infrastructure
The City has a network of designated cycling routes for cycling to neighbourhoods and destinations across the City. The cycling network includes many types of infrastructure, such as Cycle Tracks, bicycle lanes, shared roadway routes and multi-use pathways. Toronto's cycling routes are for both commuter and recreational cycling.
The City uses different infrastructure and separation for its on-street cycling infrastructure depending on the nature and use of the road.
Learn more about specific cycling projects in the City
Cycle Tracks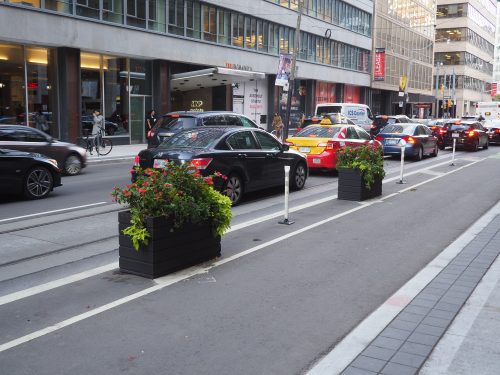 Cycle tracks are separate lanes for bicycles that are adjacent to the roadway, but separated from vehicular traffic. Cycle tracks help distinguish the area for cycling from motor vehicle traffic (more than a painted bicycle lane). The tracks create an environment which is safer for cycling.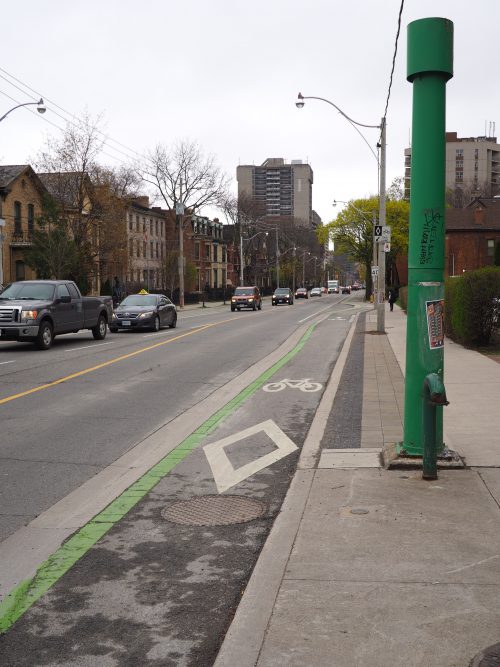 The diamond marking in cycle tracks is the symbol for a "reserved lane." Every lane with a diamond in it has accompanying lane restriction by-laws.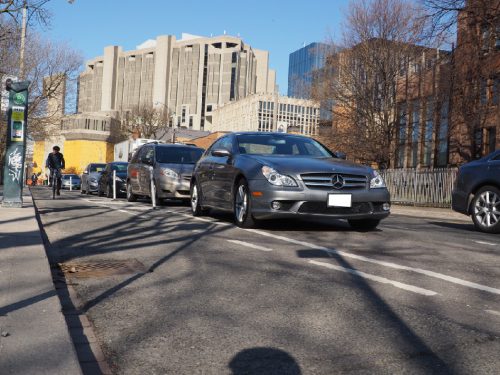 Some cycle tracks have a vehicle parking lane beside the lane. When passengers and drivers are leaving the vehicle they must first ensure the cycle track is clear. Pedestrians crossing the street must treat the cycle track as a live vehicle lane and wait until the lane is clear before crossing.
Bike Lanes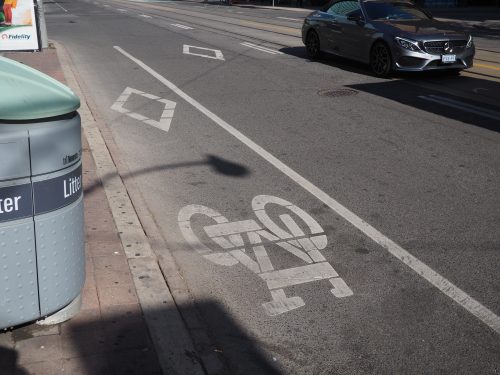 Designated bicycle lanes are a dedicated part of the roadway for the exclusive use of cyclists. Other road users may not lawfully drive, stand, stop or park in a designated bicycle lane.
The diamond marking in bicycle lanes is the symbol for a "reserved lane." Every lane with a diamond in it has accompanying lane restriction bylaws
Contraflow Lanes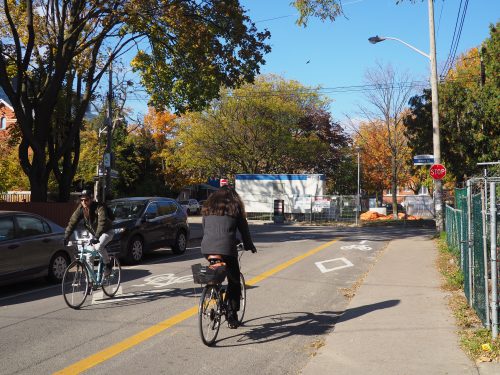 Contraflow bicycle lanes allow cyclists to travel in two directions on a street, which is one-way for all other vehicles. Cyclists travel in one direction in the designated bicycle lane. When travelling in the opposite direction, the cyclist will travel in the mixed-use traffic lane or marked cycle lane.
Inside the "contra flow" bicycle lane, bicycle symbols and diamonds are used to mark the lane. The diamond symbol is the symbol for a "reserved" lane. The "contra flow" bicycle lane will also have arrows painted in the lane, communicating that the bicycle lane is to be used in only one direction.
Making a street dual direction for cyclists using this kind of bicycle lane
can create valuable neighbourhood connections for cyclists who wish to avoid busy arterial roadways.
Off-Street Multi-Use Trails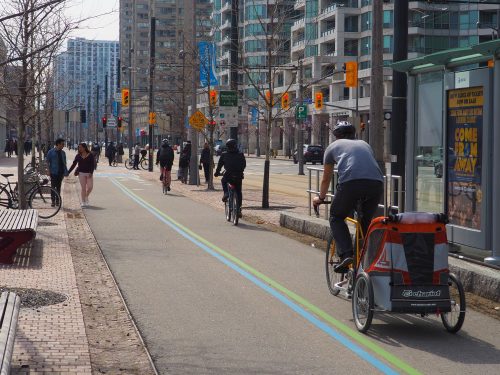 Trail projects play an important role in connecting and expanding Toronto's cycling network. Within this network, each trail, park, bicycle lane or other component has a particular role to play. As a result, each trail needs to have certain characteristics to ensure that it can perform appropriately. Three classes of trails are identified by their role in the network.
Secondary
Local connections.
Feeder or tributary routes.
Primary
Connects different parts of the city.
Collects traffic from secondary trails.
Connects with other primary trails.
High-Capacity
May perform any or all of the functions of primary and/or secondary trails.
Collects traffic from primary and secondary trails.
Trail may be a destination or attraction itself.
Sharrows or Shared Lane Markings
Quiet On-Street Routes
Toronto is developing a number of "Quiet Street" cycling routes, where signs, pavement markings, and traffic calming are used to create comfortable cycling routes on quieter residential streets.
Traffic calming is a key part of developing cycling routes which have sections where motor vehicles share the road with cyclists.  A universal 30 km/h speed limit is planned for all of Toronto's "Quiet Street" type cycling routes.
Cost of Cycling Infrastructure
The cost of a cycling route will vary from street to street. For quiet street routes, the cost per kilometer will range between $14,000-75,000.
For fast busy street routes, either painted bicycle lanes or Cycle Tracks (separated bicycle lanes) are preferred.  To paint bicycle lanes on an existing road, the cost will typically be $40,000-50,000 per km.
To implement separated bike lanes the approximate cost is $180,000 per km where installed through a retrofit with bollards and planters, with costs escalating up to $1,000,000 per km for the construction of curb separated cycle track.