BikeSpace App
BikeSpace
is an app to help cyclists report issues with bicycle parking at private and public locations across the city.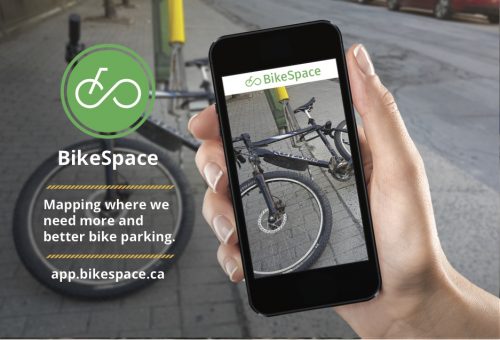 The new app will allow users of mobile devices to suggest locations where new or improved bike parking may be needed. The City has provided funding to Code for Canada, a not-for-profit, that is organizing the efforts of Civic Tech Toronto volunteers to build the app.
Who Is Responsible for BikeSpace
BikeSpace is a community-built tool. It is open source software, designed, built, and managed by community members, who are almost all volunteers. Cycle Toronto is involved by encouraging contributions by their members.
Code for Canada (not-for-profit) is the project administrator and owns the domain name, manages permissions for code development on GitHub, and pays for the hosting servers. The City of Toronto provided funding to Code for Canada to work with the Civic Tech community to develop the BikeSpace app, with requirements on following open source and open data best practices, and encouraging community ownership.
How Will the Data Be Used to Support Cyclists?
The City will review the app's crowdsourced data to provide insights on locations where:
there is high demand for additional racks,
existing racks may be in need of repair or replacement, and
solutions are needed to protect trees, clear pathways or otherwise enhance bike parking availability and quality.
The City is encouraging its partners, including businesses, institutions, building managers, and other private property owners, to use the app's data to understand demand, and to know the best solution on providing quality bicycle parking for their residents and customers.
Will City Staff Respond to Messages Sent via the App?
City staff will not respond to messages sent to BikeSpace. To contact City staff, use 311. Existing channels for requesting bicycle parking in the right-of-way remain available; however, the City is encouraging people to submit through BikeSpace.