Cycling & the Law
The Highway Traffic Act highlight the rules for cyclists and other vehicles to travel safely and predictably on City streets. The City of Toronto has By-Laws that regulate the safe use of different cycling infrastructure throughout the City.
The Ontario Court of Justice – Schedule 43 lists fines for non-compliance to the Highway Traffic Act.
Rules for Passing
One Metre Rule
Drivers must keep a one-metre (3 feet) distance when passing cyclists.
Set fine of $110 (includes victim fine surcharge and court fees).
Allow the cyclist sufficient room
Section 148(4) of the Highway Traffic Act (HTA) states; "Every person in charge of a vehicle on a highway meeting a person travelling on a bicycle shall allow the cyclist sufficient room on the roadway to pass" R.S.O. 1990, c. H.8, s. 148 (4)."
Section 148(6), which states "Every person on a bicycle or motor assisted bicycle who is overtaken by a vehicle or equestrian travelling at a greater speed shall turn out to the right and allow the vehicle or equestrian to pass and the vehicle or equestrian overtaking shall turn out to the left so far as may be necessary to avoid a collision." R.S.O. 1990, c. H.8, s. 148 (6)."
Faster vehicles must yield
Section 148(7) which states; Driver unable to turn out is to stop; "Where one vehicle is met or overtaken by another, if by reason of the weight of the load on either of the vehicles so meeting or on the vehicle so overtaken the driver finds it impracticable to turn out, he or she shall immediately stop, and, if necessary for the safety of the other vehicle and if required so to do, he or she shall assist the person in charge thereof to pass without damage." R.S.O. 1990, c. H.8, s. 148."
Section 148(8), Passing vehicle going in same direction; "No person in charge of a vehicle shall pass or attempt to pass another vehicle going in the same direction on a highway unless the roadway, (a) in front of and to the left of the vehicle to be passed is safely free from approaching traffic; and (b) to the left of the vehicle passing or attempting to pass is safely free from overtaking traffic." R.S.O. 1990, c. H.8, s. 148 (8)."
Sidewalk Cycling
Toronto City Council has adopted a staff report recommendation that Toronto's sidewalk cycling bylaw shall stipulate "no person age 14 and older may ride a bicycle on a sidewalk". The fine for an adult who rides a bicycle on a sidewalk shall be $60.
Cycling By-Laws
Toronto's bicycle lane and Cycle Track by-laws are in Chapter 886.
Bylaws for multi-use park paths are in Chapter 608.
The municipal by-law concerning sidewalk cycling are in Chapter 950. 
Power Assisted Bicycles
What is an e-bike
E-bikes in Ontario must have:
steering handlebars
working pedals
an electric motor not exceeding 500 Watts
a maximum speed of 32 km/h
a maximum weight of 120 kg
a permanent label from the manufacturer in both English and French stating that your e-bike conforms to the federal definition of a power-assisted bicycle
What e-bike riders need
You don't need a driver's licence, vehicle permit or licence plate to ride an e-bike, but you do need to:
be 16 or older
wear an approved bicycle or motorcycle helmet
keep your e-bike in good working order
Types of e-bikes
Pedelecs
E-bikes, which are similar to bicycles ("Pedelecs") are considered to be bicycles by the municipality of Toronto, and may be used on all types of cycling infrastructure: painted bike lanes, Cycle Tracks (separated bicycle lanes) and multi-use trails. By it's definition in the Toronto Municipal Code, a "pedelec" must weigh less than 40kg and requires pedaling for propulsion.
E-Scooters
"E-scooters" may not be used on multi-use trails or Cycle Tracks (separated bike lanes). E-scooters are vehicles which meet the provincial definition of an e-bike, but not the City's of Toronto's definition of a Pedelec.
The Province stipulates that e-bike riders must be 16+.
For more information please visit the Ontario Ministry of Transportation page.
Toronto City Council adopted 2014 Decision on electric bikes
Motorized vehicles (including e-bikes) may not be used on park multi-use paths. If a motorized vehicle is used on a park path, the rider/driver may be fined $305.00 by bylaw enforcement officers.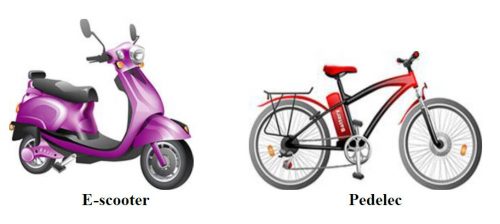 Bike Lights
Highway Traffic Act 62 (17) When on a highway at any time from one-half hour before sunset to one-half hour after sunrise and at any other time when, due to insufficient light or unfavourable atmospheric conditions, persons and vehicles on the highway are not clearly discernible at a distance of 150 metres or less, every motor assisted bicycle and bicycle (other than a unicycle) shall carry a lighted lamp displaying a white or amber light on its front and a lighted lamp displaying a red light or a reflector on its rear, and in addition white reflective material shall be placed on its front forks, and red reflective material covering a surface of not less than 250 mm in length and 25 mm in width shall be placed on its rear. 2015, c. 14, s. 21 (2).
Set fine for improper bicycle lighting or improper lighting is $110 (includes victim fine surcharge and court fees.)
Bicycle Licensing
The City of Toronto has investigated licensing cyclists on at least three occasions in the recent past:
1984, with a focus on bike theft
1992 and 1996, with a focus on riding on sidewalks, traffic law compliance and couriers
Licensing in the 1990s has been most often discussed in response to concerns for pedestrian safety on sidewalks, where incidents of collisions, near misses, and a lack of courtesy have made many pedestrians, including seniors feel insecure.
Each time, the City has rejected licensing as a solution to the problem under discussion. The major reasons why licensing has been rejected are:
difficulty in maintaining an up-to-date and complete database
difficulty in licensing child cyclists
licensing in and of itself does not change the behaviour of cyclists who are disobeying traffic laws
difficulty in enforcement and allocation of time and limited police resources; police involved in bicycle licencing studies have determined that the Highway Traffic Act gives them the necessary tools for enforcement (such as Section 218)
since many cyclists cross municipal boundaries the natural jurisdiction to license is the province, which has rejected licencing
Different Infrastructure Types
The City has various types of road ways and cycling infrastructure. Learn how to use these facilities safely and predictably.
Street Cars Doors
Section 166 of the Highway Traffic Act states cyclists and drivers must give 2 meters clearance from the back most door of the streetcar during unloading and loading of passengers. After the unloading and loading process cyclists and drivers may pass safely on the right hand side.
Bike Helmets
Children and Youth
By law, every cyclist under age 18 must wear an approved helmet.
Riders under 16 years old: a parent or guardian must make sure their child wears a helmet.
All bicycle riders under the age of 18 need to wear an approved bicycle helmet when travelling on any public road. The fine is $60.
Adults
On bicycles helmets are not compulsory for adults over 18; but a helmet can greatly reduce the risk of permanent injury or death if you fall or collide. It is strongly recommended that all riders wear helmets.
On e-bikes adults must wear either a bicycle or motorcycle helmet.
Toronto Law Enforcement
Register your bicycle with Toronto Police Service: Registration Form.
Collisions which police will attend include any collision involving a pedestrian, cyclist or person on a wheeled device which is reported immediately and at the scene of the collision
Emergency: 9-1-1
Police Non-Emergency: 416-808-2222
The fine for parking in a bicycle lane or cycle track is $150.