Active & Safe Routes to School Pilot
Students at Morrish Public School have been busy connecting their learning to the changes taking place in their neighbourhood. The school community has embraced the Active and Safe Routes to School Pilot Project and made it an integral part of this month's math strategy for students.
Learn more
.
The Active and Safe Routes to School pilot project is led by the Transportation Services Division in collaboration with Toronto Public Health, Green Communities Canada, Toronto District School Board, Toronto Police Service and Toronto Hospital for Sick Children.
About the Pilot
The pilot is funded in-part by Bloomberg Philanthropies through its Partnership for Healthy Cities initiative which provided $100,000 USD grant funding support for participating cities around the world for projects to implement policy interventions that address non-communicable diseases and injury prevention.
The main objectives of the pilot are to increase student participation in walking and cycling to school and increase safety along designated walking/biking routes to school. The pilot includes road markings, sidewalk activity stenciling and installation of signage to encourage children to walk or bike to school and to help reduce vehicular speed and increase safety.
The pilot will formally launch this fall at three locations involving five schools:
Morrish Public School
Samuel Hearne Middle School
Oakridge Junior Public School
Humberwood Downs Junior Middle Academy
Holy Child Catholic School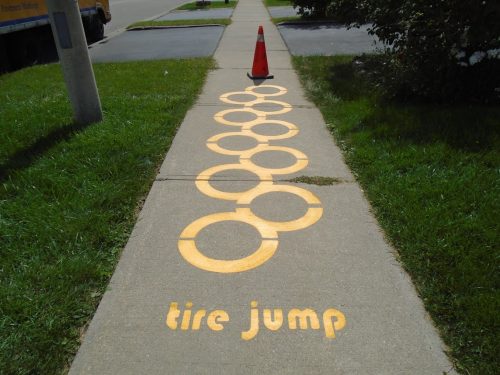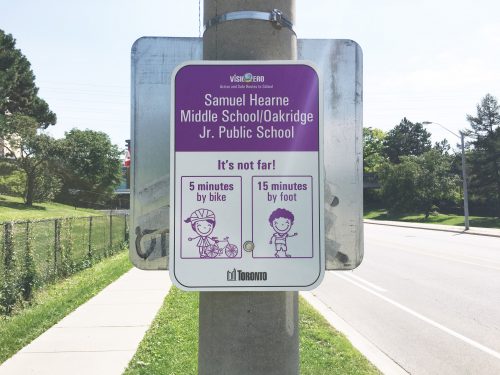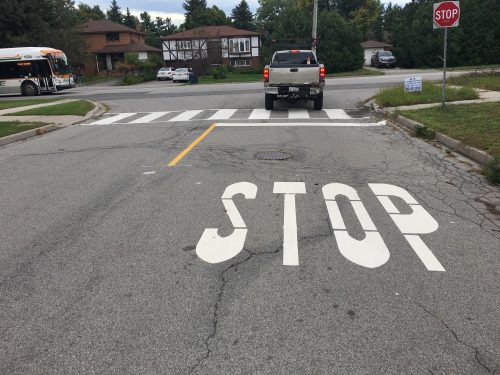 The pilot project is based on the five 'Es' of an effective road safety strategy – Engineering, Education, Enforcement, Engagement and Evaluation and is in addition to a number of other Vision Zero initiatives focused on increasing back-to-school safety in Toronto's communities. This includes:
the School Safety Zones program which was launched as part of Vision Zero last September and is introducing new road safety improvements within 150 metres of school frontages at 80 locations across Toronto in 2018;
the Automated Speed enforcement pilot project which will run from September to December this year, and;
the Mobile Watch Your Speed program which uses mobile LED signs with built-in radar to measure and display back to drivers the speed of oncoming traffic.
Benefits of Active School Travel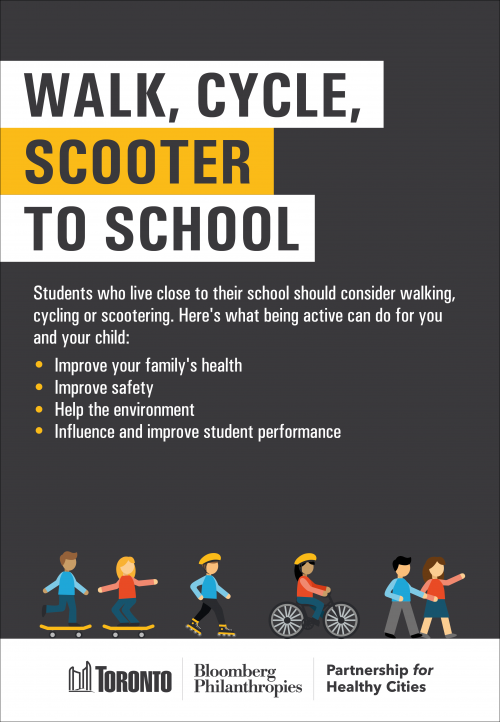 Improves your family's health
Active school travel helps to meet the goal for school-aged children of at least 60 minutes per day of moderate to vigorous physical activity, which is linked with lower body mass index and improved cardiovascular health.
Improve Safety
Reducing traffic volumes at bell times creates safer school zones for all students and improving walking and cycling routes to school enhances the safety, connectivity, and quality of life for the community as a whole.
Help the Environment
Reducing the number of children being driven to school improves air quality and reduces associated risks of lung and cardiovascular diseases. Air pollution can also impact cognitive development: children are particularly vulnerable, experiencing negative impacts at lower levels of exposure than adults.
Influence and Improve Student Performance
Active school travel helps with physical activity and supports healthy brain development, which can lead to improved learning and academic outcomes. Mental health benefits include reduced stress, depression, and anxiety, and increased happiness.
Learn how parents can promote walking to school.