2016 Pedometer
TO360 Wayfinding
In 2011, the City of Toronto launched the Toronto 360 (TO360) Wayfinding Strategy to develop a unified multi-modal wayfinding system for the city. The strategy is comprised of pedestrian, vehicular, cycling and transit wayfinding delivered consistently and seamlessly by the Transportation Services Division and project partners such as the Toronto Transit Commission (TTC), Parks Forestry & Recreation Division and Business Improvement Areas.
The use of a consistent map asset, naming conventions, icons and fonts and the provision of hand-offs between systems, and the various wayfinding strategies and components will offer ease of movement through all modes of transportation and will provide a connected network. The implementation of an integrated multi-modal wayfinding system is expected to:
enhance the overall image of Toronto as a destination
increase visitors at key attractions, spending in the Greater Toronto Area and boost the local economy
increase confidence to walk, reduce walk times, promote multi-modal transit and reduce auto use
improve the urban realm, sense of community, pedestrian safety, health and the environment
The TO360 Wayfinding Strategy is a multi-year multi-phased project.
Phase One (2011 – 2012): Developed guiding principles, themes and a conceptual design for the system.
Phase Two (2014 – 2015): Developed detailed design, and tested the system through a pilot implementation and evaluation scheme centred on the City's Financial District.
Phase Three (2016 and beyond): Potential roll out city-wide.
As part of Phase Two, the City launched a pilot project centred on the Financial District. The pilot project was focused on supporting pedestrian movement to and from Union Station and connecting the adjacent Entertainment District and St Lawrence areas. It included 21 wayfinding signs, 30 transit shelter walking maps, and updates to 12 wayfinding signs from the existing street furniture program.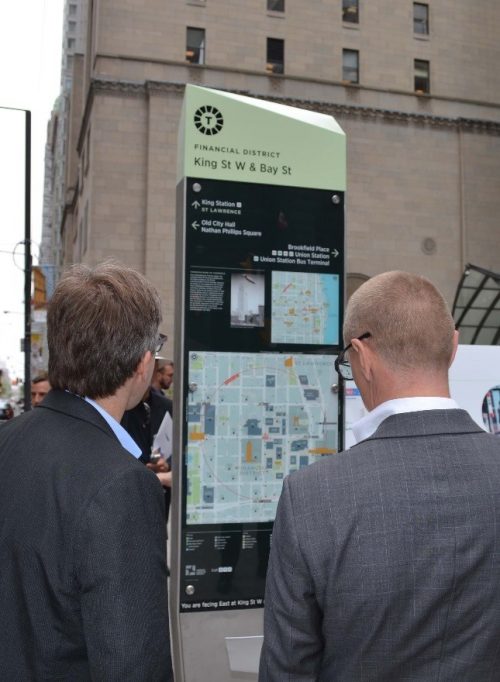 The City contracted Ipsos Reid to perform an evaluation of the pilot project. Research was undertaken both before and after the installation of wayfinding signage in the pilot area. The primary objectives of this research were to evaluate the wayfinding maps and signage, better understand the opportunity to make the case for a city-wide project rollout, and to establish a benchmark for comparing changes between the pre and post-waves of research.
Combined, the pre and post-wave evaluations had over 600 participants. Findings indicate that the introduction of the TO360 Wayfinding pilot has been successful at encouraging people to walk and informing people about various destinations in their local area. Pedestrians provided high ratings for the TO360 Wayfinding signage in terms of clarity, usefulness and providing valuable information to help pedestrian navigate the local area on foot. Furthermore, results suggest that the installation of the TO360 Wayfinding signs had a positive impact in terms of improving ease of finding destinations and improving local signage ratings.
The next step of the project will be to develop a city-wide rollout strategy to ensure that the entire city is easy to navigate, no matter what modal choice a person uses.
Complete Streets
"Complete Streets" are streets that are designed to be safe for all users, such as people who walk, bicycle, take transit or drive, and people of varying ages and levels of ability. They also consider other uses like sidewalk cafés, street furniture, street trees, utilities, and stormwater management.
The City of Toronto is developing Complete Streets Guidelines to help everyone involved in street design projects understand and appreciate key issues like safety and accessibility, mobility choices, connected networks, beautiful and vibrant spaces, local area context, environmental sustainability, economic vitality, social equity and cost effectiveness.
This past year has been a busy one for the Complete Streets team. Since last summer, a number of consultation events have allowed members from the public to be actively engaged in the development of the Complete Streets Guidelines. Members of the public have been invited to participate in many different types of consultation events over the project's span, including three Jane's Walks, an open house, two conversations, an online survey, and the opportunity to engage with staff at community events around town.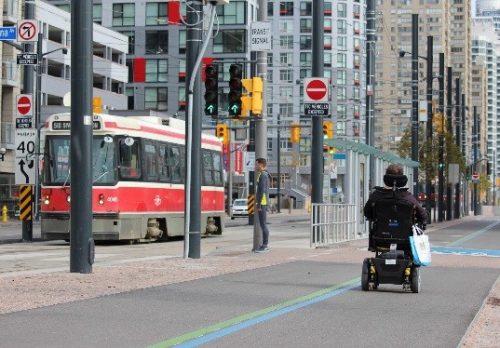 In late 2015 the Complete Streets team, in partnership with Spacing Magazine, launched a photo contest asking participants to submit photos that represent what they think makes a street feel more complete. Over 780 photos were received and included many features such as dedicated transit ways, bike lanes, wide sidewalks, public art, trees, benches and space for shopping and celebration. The photo contest has been a great opportunity to engage with the public to see how they see Complete Streets and Complete Streets components in Toronto and in other cities.
See below for submissions to our photo contest: Queen's Quay, Toronto by Amir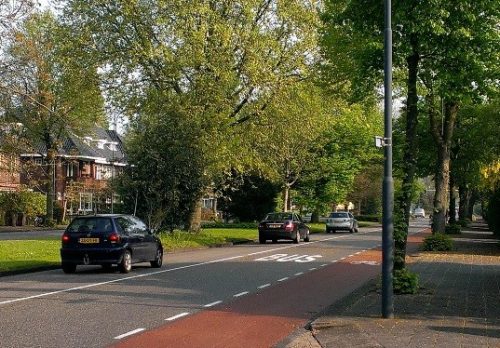 Maddah; Unknown suburb in Netherlands by Brandon Quigley; and John Street, Toronto by Nazila Atarodi.
A panel of expert judges including Matthew Blackett, publisher and creative director of Spacing Magazine, SoTeeOh, Toronto based photo artist, and Anu Saini, City of Toronto staff in Transportation Services, have now developed a short list of 10 photos for each of the participant categories (Youth, General Public and City of Toronto Staff) that will be voted on via online survey to select the final winners. The survey is expected to go online in early September.
Aside from the extensive public consultation effort, the development of the Guidelines has also been informed by a Technical Advisory Committee (TAC) and a Stakeholder Advisory Group (SAG). The TAC includes staff from of all the divisions and agencies that use, impact, or have an interest in streets and street design. The committee is responsible for providing subject matter expertise. The SAG consists of representatives from a broad range of organizations that have an interest in Toronto's streets and was established to provide advice and feedback.
Feedback from all of the engagement activities is being incorporated into the Guidelines and the team is currently working on finalizing the Guidelines for release in early 2017.
Road Safety Plan
Approved by City Council in June 2016, the Road Safety Plan (RSP) is a comprehensive, collaborative, and data-driven action plan for reducing the number of traffic-related deaths and serious injuries on Toronto's roads over the next five years (2017-2021) with the long term the goal of ultimately eliminating them. The comprehensive nature of the plan entails the shared responsibility, involvement, and commitment of all road safety partner agencies in the City, consideration for all types of road users, identification of the City's key safety priorities, and the inclusion of a variety of engineering, education, and enforcement countermeasures.
The RSP emphasizes protection for the most vulnerable road users, such as pedestrians, cyclists, older adults, and school children, and leverages the experiences of other major North American jurisdictions that have embraced the "Vision Zero" philosophy that was first introduced in Europe and is gaining widespread adoption.
In the last five years, a total of 921 pedestrians have been killed or sustained a serious injury as a result of a collision. Although there has been a general decline in the number of pedestrians killed or seriously injured by a collision since 2005, pedestrians are the most frequent road user group to be killed or seriously injured. Furthermore, pedestrian safety is a top concern for the public. In a recent public opinion poll, pedestrians were the third-most frequently identified road safety concern.
To address the safety of pedestrians, Pedestrian Projects, along with other Transportation Services sections and units, will be directly involved in addressing a number of the RSP action items.
Geometric and operational safety improvements at intersections including reduced crossing distance and adjustment of curb radii
Enhancement of the annual sidewalks capital (Missing Links) program
Pedestrian safety corridors
Investigating automated pedestrian detection
Accessibility improvements
Increase older adult crossing times
Continue to support the senior strategy
Advance green for pedestrians (Leading Pedestrian Intervals)
New criteria for mid-block pedestrian crossings
LED blank out signs (e.g., right-turn-on-red prohibitions)
Road safety audits at high-risk locations
See the staff report for detailed information on each of the projects/initiatives.
Accessibility Advisory Panel for Transportation Services
The Accessibility Advisory Panel for Transportation Services (AAPTS) is a citizen group comprised of seniors, mobility instructors, research experts, and advocates to support, inform and advise Transportation Services to create a barrier-free city for persons of all ages and abilities. The group provides objective advice to Transportation Services staff on current accessibility issues based on user experience.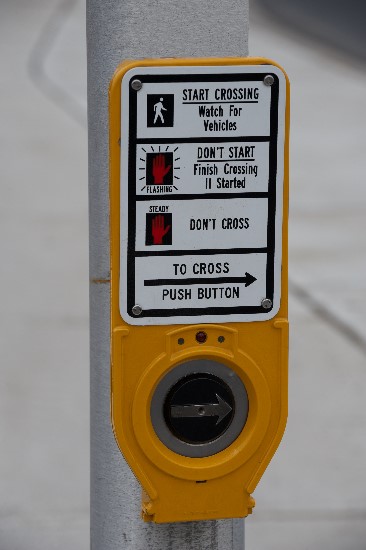 As part of the Road Safety Plan, the group is currently developing recommendations on improving Accessible Pedestrian Signals (APS) to increase accessibility.
The City of Toronto has over 600 signalized intersections equipped with APSs. APSs are installed whenever new traffic signals are being installed or upgraded, or if there is a request for installation. Although the APSs meet the Accessibility for Ontarians with Disabilities Act (AODA) requirements, the APPTS is in the process of developing further improvements.
It is anticipated that the improved APS signals will be ready for a pilot in the new year.
Pedestrian Priority Network
Sidewalks are an integral component of a city's transportation network. When properly sized and constructed, they provide a safe path for pedestrians separate from motor vehicles and bicycles. However, sidewalks are also the location of a number of other activities and purposes. For instance, many businesses have sidewalk cafés or patios for patrons to enjoy food or drink outdoors, or place A-frame signs outside to advertise their businesses. Sidewalks are the places where people wait to board transit or hail a taxi. Sidewalks are also places where people can find recycling and garbage receptacles or newspaper stands, where people can lock their bike, or take a seat on a bench while enjoying the shade of a street tree. Sidewalks are also used by various utility or municipal services to install physical infrastructure such as hydro poles or traffic signal controller boxes or features such as trees.
There's a high-demand for sidewalk space and in Toronto where space is scarce and density is increasing, it's important that the City take steps to ensure there is enough room for pedestrians to safely use the sidewalk, most importantly the clearway space, the portion of the sidewalk dedicated solely to movement of pedestrians. See the picture below for an illustration of the pedestrian clearway (as shown by the red arrow). The clearway is often found in between other uses of the sidewalk such as street trees and sidewalk cafés.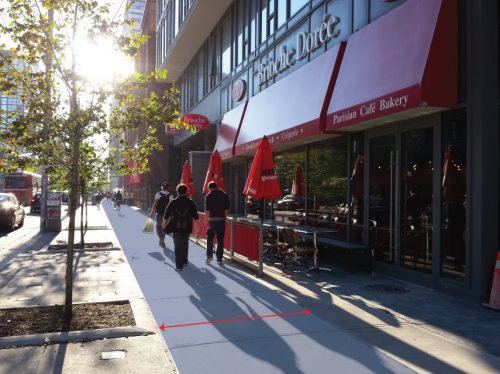 As such, Transportation Services is currently developing a policy on context-sensitive pedestrian clearways and undertaking the mapping of target clearway widths around the City.
The pedestrian clearway is the clear, continuous, straight and predictable path on sidewalks that is dedicated for safe pedestrian travel. This helps to ensure that everyone can use the sidewalk safely, regardless of ability.
The initial review of clearway widths has considered the type of street the sidewalk is located on (e.g., major vs local), the number of pedestrians crossing at signalized intersections (as a proxy for pedestrian volumes), and the number of people getting on and off transit at a specific location.
The approach uses data that was gathered during peak hours to ensure that clearway widths are met during the busiest times of the day when there is crowding and potential overflow from sidewalks to the roadway. In areas where major events occur, such as near the Air Canada Centre, typical walking routes to and from both transit and parking access points are accounted for. Lastly, sidewalks near subway stations are prioritized since pedestrian activity and trip generators tend to be much higher than surrounding areas.
Based on these criteria, staff have developed a preliminary map with suggested clearway widths throughout the city. The next phase of the project will be to do further internal and external consultation on, and review of the maps to assess whether the outputs of the mapping exercise reflect both current and future conditions. Consultation on this project is ongoing and staff will be working closely with internal and external stakeholders as the proposed Pedestrian Priority Network is finalized.
TAC Road Safety Engineering Award for the Curb Radii Design Guidelines
In early 2014, Transportation Services initiated a review of the Division's design guidelines and standards to move our organization in a direction consistent with the transportation departments of many other large North American cities. Through this process the City developed the context-sensitive Curb Radii Design Guidelines, aimed at improving road safety for all road users, particularly for vulnerable road users.
In recognition of the exemplary contributions to Canadian roadway engineering and infrastructure, the City of Toronto has been award the Transportation Association of Canada (TAC) 2016 Road Safety Engineering Award. This award will be presented at the 2016 TAC Conference & Exhibition in Toronto, September 25-28.