2017 Pedometer
New Walking Tours for Residents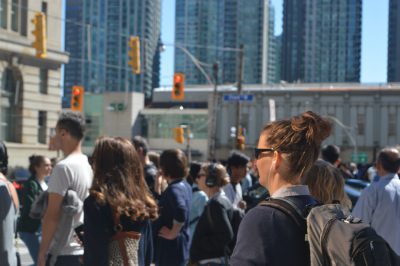 Three new walking tours have been added to the City's database of Self-Guided Walking Tours. All walk details and accompanying route maps are available free online for residents, and some walks are enhanced with online interactive and audio elements.
Downtown Complete Streets Tour
As part of the Transportation Association of Canada (TAC) 2016 annual conference in Toronto, staff from the Public Realm Section led conference participants on three walking tours of recent complete streets projects in the downtown core. A self-guided version of the tour is now available online, complete with a booklet of information and photos and an online interactive map component. The tour showcases various planning initiatives in the downtown that have been undertaken using a complete streets framework, with consideration given to both movement and placemaking and the needs of all road users.
Safety and Active Transportation Tour
This walking tour highlights key street improvements completed by the City to increase safety and promote active transportation in downtown Toronto. The 18 locations profiled on this walk showcase a wide variety of street improvements, from interim sidewalk widening on York Street to Toronto's first flexible street: Market Street. All locations were featured stops on the City's complete Streets Tour for the 2016 TAC Annual Conference.
Passing Through: An Audiowalk exploring the history of Toronto's streets
In September 2016, the City of Toronto's Street Art (StART) Program partnered with the Koffler Centre for the Arts to present a new audiowalk along the streets of Old Toronto. This hour-long walk reveals secret artworks and innovations between the cobblestones, with insightful narration that invites the listener to better appreciate street design and street art. The tour was launched with a public event in the fall and is now available for download online.
Complete Streets Guidelines released
In Toronto, streets comprise more than 25% of the city's total land area and accommodate over 5 million trips per day. Streets are vital transportation networks, moving people and goods safely and efficiently, but are also important public spaces where people meet, socialize, shop, and create community. Recognizing the critical role that streets play in our social well-being, health, mobility, environment, and economy, Toronto's new Complete Streets Guidelines were released in January 2017. The Guidelines are a first for Toronto, and provide City staff and stakeholders with a coordinated vision, goals, and design guidance for streets.
Between 2014 and 2016, the Guidelines were developed through a process that engaged hundreds of City staff, dozens of external stakeholders, and thousands of Torontonians. Incorporating ideas and experiences from these many stakeholders, the resulting Guidelines outline a holistic approach to street design that prioritizes the safety of all road users and encourages street designers to seek creative solutions to make streets work for all uses and users.
The Guidelines offer a high-level vision and goals for complete streets, and introduce 15 new aspirational street types for Toronto. A clear process for street design and decision-making is established, which can be flexibly applied to a range of street projects – from large projects like major reconstructions to smaller scale projects like streetscape improvements. A chapter is devoted to each of the key street components – pedestrians, cycling, transit, green infrastructure, roadways, and intersections – and includes visuals, design principles, and information on street elements.
The Guidelines will serve as a resource for City staff, decision-makers, and communities making choices about street design, and will be applied to projects across the city over the coming years.
Complete Streets Photo Contest: Winners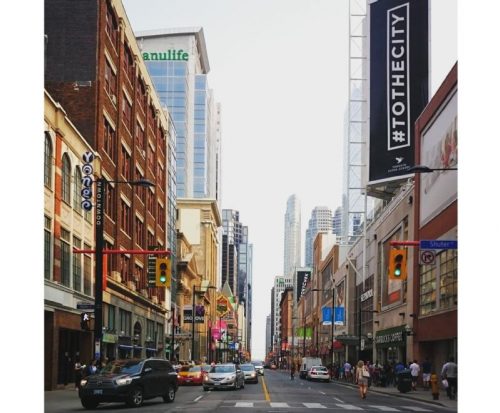 As part of the development of the Complete Streets Guidelines, staff partnered with Spacing Magazine to present a photo contest as part of the project's public engagement program. Torontonians were invited to share photos that answered the question: What makes a street feel more complete? Nearly 800 submissions were received, depicting a range of street types and features including transit ways, bike lanes, wide sidewalks, public art, trees and landscaping, street furniture, and spaces for socializing and shopping. Winners from Phase 1, as voted on by Facebook users, included:
Youth
First Place: Iris Redinger
Second Place: Ashar Azmat
Third Place: Jasper Choi
General Public
First Place: CJ Burnell
Second Place: Prashanth Bhogaraju
Third Place: Adila Mulla
City of Toronto Staff
Finalists for Phase 2 were shortlisted by the judges – Matthew Blackett, Publisher of Spacing Magazine; Anu Saini, Transportation Services staff; and SeeTeeOh, Toronto-based photo artist. The public submitted 900 votes for the finalists, and the winners included:
General Public Winners
First Place: Eros Fiacconi
Second Place: Nazila Atarodi
Third Place: Flora Manata
Youth Winners
First Place: Daniel Gagula
Second Place: J.M.
Third Place: Fatima Hussain
Curb Radii Design Guidelines Receive TAC award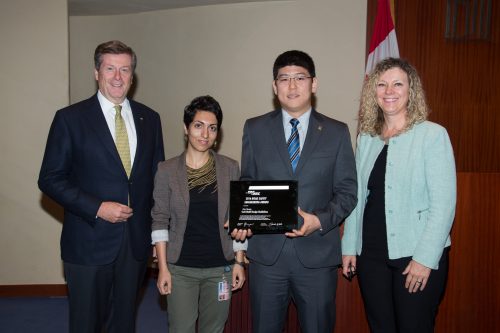 The Transportation Association of Canada awarded its 2016 Road Safety Engineering Award to the City of Toronto's new Curb Radii Design Guidelines, recognizing the City's leadership and innovation in the field of road design and safety. The lead authors of the Guidelines – Pedestrian Projects staff members Sheyda Saneinejad and Justin Bak – were presented with the award at the October 2016 meeting of Toronto City Council.
A curb radius is the curved part of a corner at an intersection connecting two roadways. The vast majority of Toronto's intersections are oversized, and staff found that increasing curb radii could yield significant safety improvements without adversely impacting vehicle turns and intersection operations. The Curb Radii Design Guidelines aim to improve safety for all road users by introducing new standards for curb radii at intersection corners, including oversized curb radii dimensions, to reduce crossing distances, reduce vehicle turning speeds, improve driver sight angles, and increase pedestrian waiting space.
The new standards consider factors including road classification, truck volumes, vehicle types, land use, lane widths, intersection angles, bus routes, and bike lanes. This updated, context-sensitive approach to road engineering design responds to the realities of urban street conditions and addresses the safety and needs of all road users, particularly the most vulnerable.
Supported by extensive policy and design research as well as stakeholder consultation, the Curb Radii Design Guidelines are context-sensitive, practical, and easy to apply and implement. The Guidelines are already in use by City engineering staff, and have set a new standard for urban centres across the country.
New Approach to Pavers to Support Accessible, Beautiful streets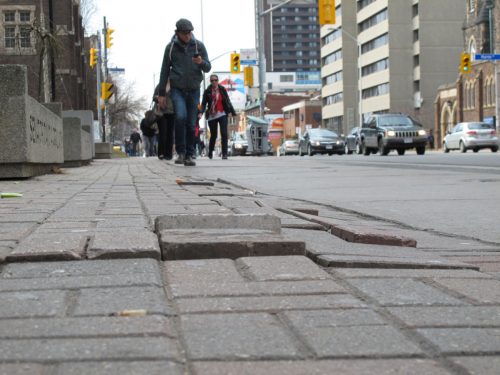 Sidewalk maintenance is a common accessibility complaint, and uneven or missing pavers can cause difficulty and discomfort for those using mobility devices as well as those with chronic pain. The City's new approach to paver design and maintenance, led by Pedestrian Projects staff and adopted by Council in December 2016, recognizes that well-maintained sidewalks are essential to the accessible transportation network. The policy supports the safety, walkability, and accessibility of City streets while also supporting the benefits to local character offered by custom pavers.
Custom pavers are often installed as part of streetscape enhancement projects to enhance the aesthetic quality and distinct character of a particular location. While these custom pavers have many positive attributes, they present a number of challenges. Poorly maintained pavers can lead to accessibility issues, and replacement often results in material inconsistencies and higher costs. Over time, Transportation Services has increasingly been called upon to maintain these third party encroachments on City streets.
The new paver maintenance fee and standard palette of pavers addresses these issues by establishing material directives and funding mechanisms to facilitate long-term maintenance while still supporting the goals of developers, BIAs, and agencies to beautify and enhance City streets.
The new standard palette of pavers provides third parties with a clear set of options when designing streetscape enhancements. The palette includes pavers in range of sizes and colours that meet standards for maintenance and accessibility, and will ensure consistency of pavers and ease of maintenance into the future.
The new paver maintenance fee applies to third party developers, BIAs, and agencies that wish to replace standard concrete or asphalt with pavers in the City's right-of-way. These third parties are now required to submit a one-time paver maintenance fee and, in complex cases, additional fees. With growing pressures for streetscape enhancements, the fees collected will support Transportation Service's capacity to maintain custom pavers over the long term.
Numbered Highway Destination Signage Available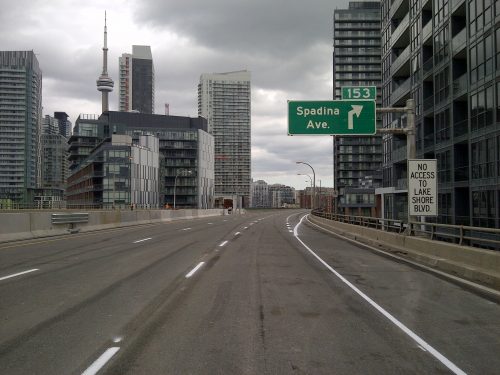 Getting to where you're going has just gotten easier in Toronto, as new numbered highway destination signage is introduced on City highways and arterial roads. The new signage introduced new selection, design, and placement criteria to enhance legibility and safety for drivers.
The New Vehicular Destination Sign Policies and accompanying by-laws, adopted by Council in 2016 and 2017, streamline the process of selecting and displaying destinations highway exit signage, while promoting Toronto's visitor assets and enabling drivers to reach their destinations with greater confidence. The new policies provide updated eligibility criteria and application processes for all sign categories, as well as design and placement criteria for Neighbourhood and Business Area Identification signs. The policies, led by the City's Pedestrian Projects unit under the Wayfinding umbrella, will reduce driver confusion caused by information overload and visual clutter and enhance the legibility, consistency, and reliability of highway signage. The policies also carry important safety benefits, as simplifying signage for clarity and legibility will afford drivers sufficient time to make appropriate decisions on the road and make the required maneuvers to reach their destinations safely.
As part of this project, Torontonians will see the new numbered exit signage rolled out on City highways and arterials over the coming months. Numbered exit tabs have already been installed on the Gardiner Expressway, and are scheduled to appear on the Don Valley Parkway in mid-2017.
Pedestrian Projects' Work Term Student: Nataliya Pekar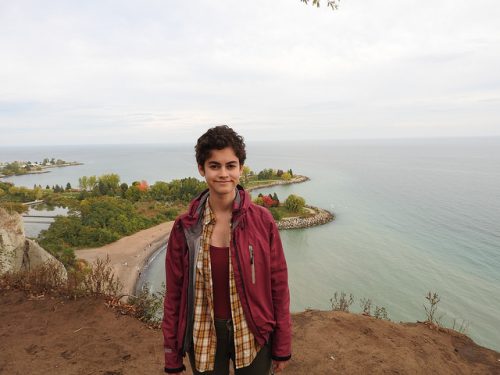 In May 2016, the Pedestrian Projects Unit welcomed its newest work term student, Nataliya Pekar. Nataliya is completing a 16-month internship with the City, after which time she will return for her final year of study in Civil Engineering at the University of Toronto. In school and in her work, Nataliya's interests are focused on transportation, environmental sustainability, and building livable cities, making her a great fit for the Pedestrian Projects Unit.
Since joining the City, Nataliya has contributed on a range of projects related to road safety and active transportation, including preliminary design for geometric safety improvements, estimates and quantity take-offs for road safety projects, research for engineering design guidelines, and data retrieval and analysis for mapping projects. At the University of Toronto, Nataliya is engaged in academic advocacy and curriculum development, she serves as a member of the Green Energy Challenge design team which works to develop a building energy retrofit for a community organization, and is currently organizing an undergraduate public policy case competition called Building Up the 6ix. In her free time, Nataliya loves hiking along Toronto's many trails, reading, and listening to her favourite podcasts.