Scarborough Civic Centre
For inquiries related to property tax, wedding chambers and more please call 311 or submit a service request.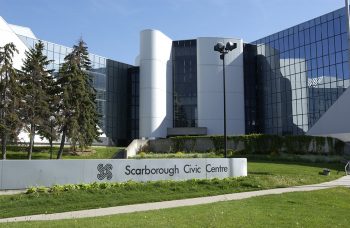 Available venues at the Scarborough Civic Centre are for public use by non-profit and charitable groups.
Hours of Operation
Weekdays: 7:30 a.m. – 9:30 p.m.
Weekends and statutory holidays: 8 a.m. – 6 p.m.
---
First time booking space at a Civic Centre:
If you have booked with us before:
Room
Capacity
Room Details
Council Chamber
285
Seating for 250 in gallery and 35 at Council table. A.V. equipment includes: microphone and podium for both presenter and audience, projection screen, portable LCD projector with DVD Player, and speakers.
Members Lounge
30
Can seat 30 on benches around perimeter of room and at small tables. Access to a sink.
Committee Room 1
50
Seating for 50 people theatre-style, 30 people classroom-style.
Committee Room 2
50
Seating for 50 people theatre-style, 24 people classroom-style.
Committee Rooms 1 & 2
100
Seating for 100 people theatre-style.
Rotunda
500
Seating provided for 200 people. Various AV equipment provided. Amplified sound is only available after 5 p.m. on weekdays and weekends.
Charity Area
3 tables provided for charitable vendors.
Gallery Display Area
Please discuss display details with the Facility Event Coordinator.
Albert Campbell Square
Includes a seasonal public skating rink. Dates/times of operation are weather dependent.
Please contact the Facility Event Coordinator for reservation and event details.
Please view the Corporate Facilities Display Policy prior to submitting a request for display space to determine if you are eligible.