Union Station Excavation
The excavation or "dig down" is one of the initial and most significant stages of the revitalization. This stage involves digging several metres below Union Station's existing floor level to create space for two new transit concourses and a new, lower-level pedestrian retail concourse.
The underground excavation stretches east to west from Bay Street to York Street and north to south from Front Street to the Air Canada Centre. A large section is happening immediately below the tracks while the trains operate above ground.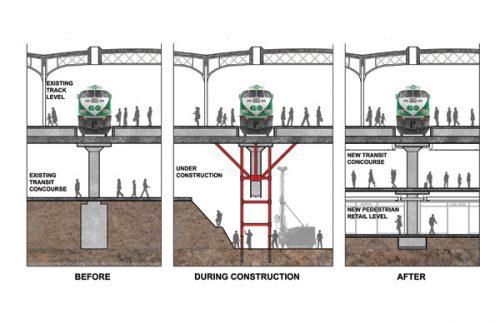 Column Replacement
This stage involved the replacement of 447 concrete columns, 185 of which directly support the train tracks.
Column replacement on this scale is unique. This complex procedure has been employed only in special cases throughout the world and seldom on structures this size that remain fully operational throughout construction.
Nearly 45 truckloads — between 600 and 900 tonnes — of excavated material were removed from the construction site nightly. The excavators and support equipment used were the same kinds as those used in underground mining operations.