Subscribe to City of Toronto Public Appointments E-updates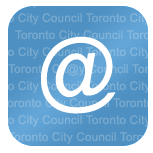 Follow Public Appointments with E-updates
Toronto City Council appoints more than 1,100 City of Toronto residents to approximately 129 boards and corporations each term, including service agencies (e.g., the Board of Health), quasi-judicial and adjudicative bodies (e.g., the Toronto Licensing Tribunal), and corporations (e.g., Build Toronto). The public appointments process is a key part of the City's commitment to community engagement, participation, and service.
Simply enter your email address below and click subscribe. The subscription will include:
Announcements and links to public appointments opportunities, including current and upcoming vacancies
Announcements and links to public appointments-related events such as information sessions, workshops, and other public forums
On average, subscribers can expect two to four emails per month related to public appointments. Please note that subscribers may receive more emails during peak public appointments recruitment periods.
NOTE: To receive meeting agendas, decisions, minutes, and related information regarding public appointments, please subscribe to the Civic Appointment Committee's E-updates
The personal information on this site is collected under the authority of the City of Toronto Act, section 137. The information is used to allow the City to send you an e-mail to confirm your wish to subscribe to Public Appointments updates. If you have questions about this information collection, write to the City Clerk's Office, City Hall, 12th floor West Tower, 100 Queen Street West, Toronto ON M5H 2N2 or call 416-397-0088.
More ways to follow your City Council
Back to top