Streetscape Elements
Toronto's streets are the most extensively used public spaces in the city. Decorative paving, street trees, medians, pedestrian and vehicular lighting, and street furnishings such as bicycle rings, bollards, garbage/recycling receptacles are all important contributors to a vibrant and cohesive public realm. The appropriate combination and placement of these elements is necessary to create high quality streetscapes with distinct character.
The design treatments specified in the Manual cover five streetscape elements: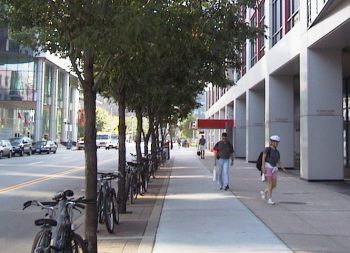 A wide range of paving materials may be used to construct Toronto's sidewalks. A typical Toronto sidewalk pattern consists of concrete sidewalk with a decorative paving band next to the curb.
Decorative Paving Band
On Main Streets, the decorative paving band is often along the curb-side, in the Edge Zone and/or the Furnishing and Planting Zone. The standard width of the paving band varies from 400mm to 1200mm and is dependant on the space available and the Streetscape Type. Beyond aesthetics, the decorative paving band serves to align fixed objects such as trees, parking meters, bicycle rings, garbage and recycling receptacles and street lights.
The decorative paving band is made up of either concrete or granite unit pavers, which must meet or exceed CSA standards. City-approved decorative paving band treatments include:
precast concrete unit pavers (200x200x60mm and 100x200x60mm)
flame finish solid granite pavers (200x200x50mm)
granite setts (also known as TTC pavers)
precast concrete unit pavers (600x600mm, 300x600mm and 300x300mm)
The colour and pattern of the concrete and granite unit pavers are chosen to reinforce neighbourhood or area identity. The distinct surface of the pavers and their contrasting colour not only have an aesthetic purpose, but also serve as a warning strip for vertical obstacles and the edge of the curb for those who are visually impaired. Decorative bands do not cross lanes, driveways or crosswalks.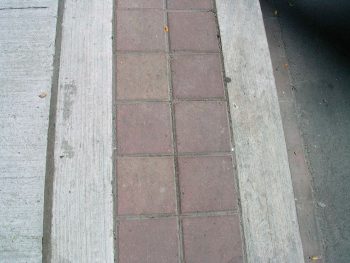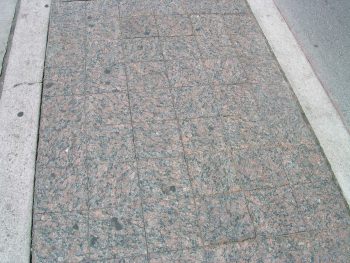 The base under the decorative pavers is poured-in-place concrete with an integral curb at the roadside and a flush retaining curb next to the Pedestrian Clearway. The two curbs provide a border for the pavers. The unit pavers are dry laid on a thin sand setting bed over the concrete base and held in place by the concrete curbs.
Unit paving materials are standardized for quality control, reasonable supply, and to achieve neighbourhood identity. The dimensions are chosen in accordance with industry standards, durability, availability and the ease with which maintenance and replacements can be undertaken.
Pedestrian Clearway Surface (also see Streetscape Zones section)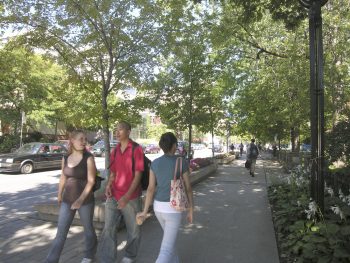 Generally, the Pedestrian Clearway surface is smooth, broom finished concrete. The concrete is marked by trowel joints or saw cuts which divide the surface into 1200 mm to 1600 mm bays. This provides a simple pattern, controls cracking, and allows for modular placement of paving materials. The use of concrete should continue to be the primary choice as the paving surface for pedestrians.
Natural stone (typically solid granite) is occasionally used as a Pedestrian Clearway surface. In most cases, it is funded and maintained by private applicants. Although natural stone is an expensive initial investment, it is highly durable and reusable and therefore, offers best value.
In the past, asphalt has been used as a paving surface for pedestrians, as a filler in remnant pedestrian areas and as a repair material to pedestrian paving surfaces. These uses of asphalt within the boulevard/sidewalk zone should be phased out and replaced with broom finished concrete, concrete unit pavers, granite pavers or grass as appropriate. Asphalt may be used as a pedestrian surface for park and open space pathways and bicycle trails.
In most instances, the Pedestrian Clearway is situated far enough away from car doors, parking meters, news vending boxes, and moving traffic to provide a safe and accessible pedestrian path. The desired width of the Pedestrian Clearway is 2.1 metres, however where this is not possible, a reduction to no less than 1.53 metres may be considered.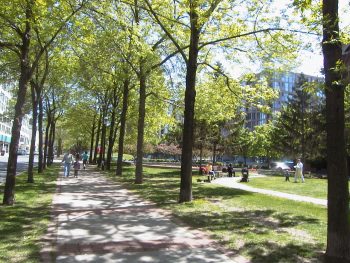 Toronto has been known as the "City of Trees". More than three million trees grace our parks, ravines and natural areas, line our streets and distinguish our neighbourhoods. In addition, there are millions of trees located on private property. These trees collectively form Toronto's urban forest.
The urban forest plays an important role in making Toronto a clean and beautiful city. Trees significantly enhance the context for all new development and renewal projects. The contribution that trees make to the quality of our environment as well as the many quantifiable benefits such as improved air and water quality, are well documented.
In recognition of the importance and benefits of trees, the City's Official Plan recommends policies and strategies, adopted by City Council, that call for an increase in the amount of tree canopy from the existing 17% to a tree canopy coverage of between 30% and 40%. We therefore need each development to help make a positive contribution to the urban environment and help sustain and enhance the quality of the city and its urban forest. The planting, protection, and maintenance of large growing shade trees on both public and private lands should be an important aspect of all projects.
Trees must be mature and thriving in order for them to provide the streetscape with their many benefits. In order to mature and thrive, trees need space to grow. Trees need sufficient quantity and quality of appropriate soil, oxygen, water and essential nutrients. The tree planting standards contained in the Streetscape Manual have been developed in order to provide the necessary conditions for the successful growth of trees within the challenging environment of our city streets.
There are many competing interests for space within our sidewalks. In the past buried utilities had often been a significant limiting factor in how and where trees are planted. The tree planting details within the Manual have been developed to permit better integration between trees and utilities. The use of precast components for the tree planting details will facilitate access to utilities and simplify the repair process while not degrading the tree's soil environment.
Trees tend to be considered part of the "natural" environment. But within our streetscapes, they have come to be recognized as much a part of the city's "infrastructure". They are now also considered a utility, along with gas, hydro, and water, and are an integral component of our streetscapes along with sidewalks, street lights, benches, hydro vaults, bicycle racks, etc.
In order to successfully plant trees within a streetscape comprised of so many elements, it is essential that the conditions required for tree planting be considered integral to the design, planning and construction of all projects. Particularly important is the early coordination between the tree planting plan and utilities.
There are a number of standard planting details provided along with guidelines and specifications to help inform the most appropriate solution. The tree planting standards contained in the Manual will help achieve healthy, mature trees that will make a positive contribution to the quality of our streetscape.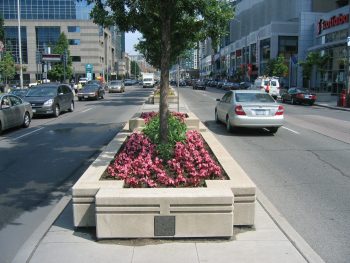 Medians serve three primary purposes: to separate opposing traffic, to provide space for planting, and to provide a refuge for pedestrians crossing the road. They can be effective at humanizing the scale of a wide street, softening an urban environment and creating a sense of importance.
Medians are either designed with a hard surface or with planting. Hard surface medians are typically between 1.8 – 3.0 metres wide and paved with broom finished concrete or precast concrete unit pavers. Planted medians vary in width, but are usually no less than 3.0 metres. They are bordered with concrete curbs, and are planted with trees and/or shrubs in a bed of soil or grass. Medians can be designed to enhance a neighbourhood's identity and address site specific issues.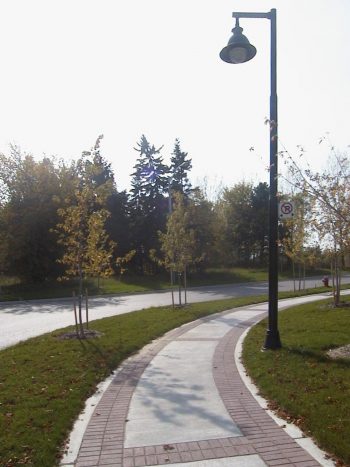 Lighting is an important element that ties the city together, while helping to distinguish the identity of individual streets, neighbourhoods and districts. Lighting should contribute in creating safe and aesthetically pleasing public spaces. The family of standardized City fixtures contributes to harmonious, uniform and coherent streetscapes.
Street lighting has two classifications: roadway lighting and pedestrian scale lighting. The design of the City's pedestrian light standard (Type II fixture) was influenced by Toronto's traditional 'globe on post' pedestrian light found in Chestnut Park and on Palmerston Boulevard. The Type II fixture creates a sparkling effect and forms a family with the other street fixtures.
The Type II family includes a pedestrian cluster of globes, a bracketed single globe, a globe mounted on a concrete pedestal or wall, and a roadway light with a pedestrian scale globe attached to the pole. The globes can be equipped with internal shields and/or refractors that reduce upward glare and direct light according to their location, whether on sidewalks, parks or roads. Newer designs for other light fixtures in the city also consider light pollution reduction and bird-friendly design.
Street furniture is designed to provide amenity and fulfill many needs in a public place. Whether a transit shelter, bench, sign post, or litter/recycling container, street furnishings must be well-designed to serve their purpose, contribute positively to the appearance of the public realm, and be adaptable to various streetscape conditions throughout the City.
Streetscapes come in many forms. Some have wide sidewalks and plenty of space to place furnishings, grow trees, and provide accessible routes with little conflict and overlap. Other streetscapes have limited space and may be congested with competing needs, such as markets, outdoor cafes, trees and planters, high volumes of pedestrian traffic and bicycle parking. While these "busy" streetscapes are often the most vibrant places in the City, the constraints on space demand that the street furnishings be particularly well-organized and efficiently designed to bring order, safety and amenity for all users. By following the Vibrant Streets placement guidelines on all streetscapes, street furniture will be installed on the City's sidewalks and boulevards in a manner that enhances its function and accessibility, and respects the needs of pedestrians of all types.
Coordinated Street Furniture Program
In fall 2007, the City entered into an agreement with Astral Media through a comprehensive Request for Proposals (RFP) process. The Coordinated Street Furniture Program involves the installation of new street furniture on Toronto's streets beginning in the summer of 2008 and continuing over the next 20 years.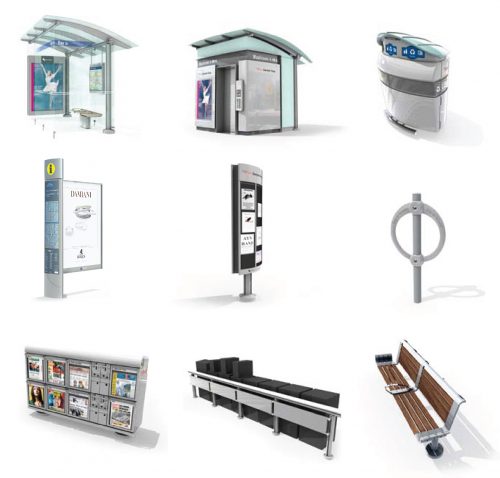 The elements are of high quality in both design and materials, and for the first time, Toronto will have compatible street furniture elements designed to work together that are functional, adaptable, incorporate sustainability features and will address the City's varied urban form and scale. The Streetscape Manual includes a complete summary of the Coordinated Street Furniture elements under design detail F-1.
The furniture section of the Manual also contains a small catalogue of existing street furnishings and other elements not included in the coordinated program. As a result of private initiatives, many of the existing elements are found in Business Improvement Areas. BIAs own a wide range of unique furnishings which reinforce their local identity.