Toronto Planning Review Panel: Register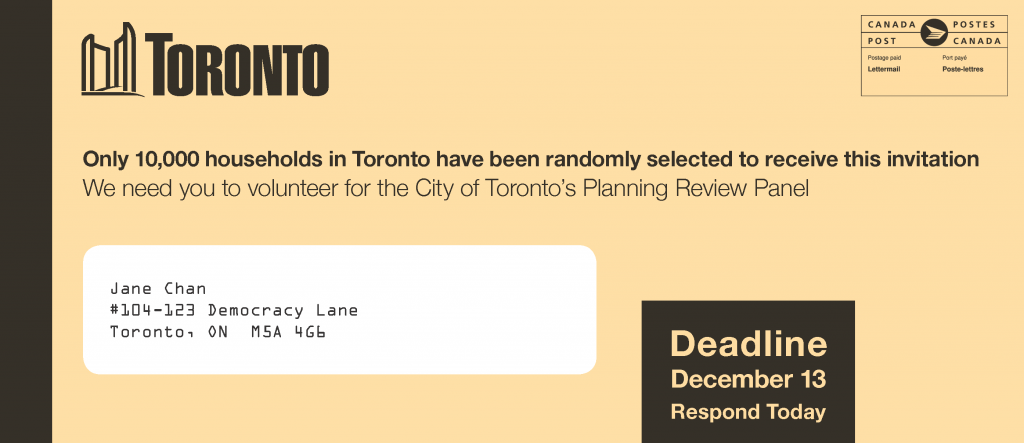 Did you receive an invitation like this?
---
Have a question? Please call our toll-free line at 1-844-711-8186 for more information and to register
The Planning Review Panel is a representative group of residents brought together to learn about, discuss, and advise City Planning staff on important city planning issues. We are currently recruiting 32 randomly selected Torontonians who will be appointed to the Toronto Planning Review Panel as volunteers for the next two years. The Panel will work collaboratively to help represent the perspectives and priorities of all Toronto residents.
Toronto's Planning Division is committed to ensuring that important planning decisions are shaped by the residents they affect. Each year, the Planning Division hosts hundreds of public meetings and events to hear and learn from residents. The Toronto Planning Review Panel was created to supplement the Division's public outreach efforts and provide detailed guidance from a group of Torontonians who together represent the city's neighbourhoods and diversity.
No. The Planning Review Panel was created in 2015 and the first cohort is reaching the end of its two-year term. During its first term, the Planning Review Panel has helped shape design goals for family-friendly condos and complete streets; helped devise strategies for creating new parks, recreation facilities, and heritage districts; and helped develop a new design for development signage. You can learn all about their work at the Panel's website prp.to.
The City Planning Division provides advice to City Council that helps guide growth in neighbourhoods across Toronto. We shape how the city looks and feels, and develop plans that ensure residents can work, live, play, and move throughout the city. We review applications for new buildings; promote well-designed streets, parks, and open spaces; guide how buildings are located, organized, and shaped; plan transportation; work to transform Toronto's waterfront; help preserve important heritage buildings; and undertake in-depth research used by other City Divisions on land use, housing, community services and facilities, and the environment.
Between January 2018 and December 2019, members of the Planning Review Panel will meet on 16 Saturdays for full-day meetings. Panelists will:
Learn first-hand about the city and the planning process from independent experts as well as City staff;
Contribute their perspective and learn about the views of other Toronto residents; and
Help make sure Toronto's land-use plans reflect the values and priorities of all those who live here.
The Planning Division will seek the Planning Review Panel's input on issues such as transportation plans, the desired character of different neighbourhoods, the importance of historic buildings and public art, and the need for community amenities like parks, libraries, and community centres, with the goal of creating a more prosperous, fair, accessible, and livable city.
The Panel's insights, ideas, and priorities will be used by City staff, referenced in reports to Council, and published on the City of Toronto's website.
In November 2017, 10,000 randomly selected households throughout Toronto were mailed an invitation to volunteer for the Residents' Panel.
If you received an invitation in the mail, you can register by the deadline of Wednesday, December 13, 2017 by either: calling 1-844-711-8186, registering securely here, or by mailing the enclosed candidate response card back in the postage-paid envelope.
On Thursday, December 14, 2017 a special draw will be conducted to randomly select the members of the Planning Review Panel from among the respondents to this letter. This random selection process will also ensure that the Panel is balanced to match the gender, age, and population profile of Toronto.
If you did not receive an invitation in the mail, you can stay involved in the process through one of the ways below.
You can stay informed about the work of Planning Review Panel and sign up for email updates by visiting the Panel's website at prp.to.
In addition, the City of Toronto hosts a variety of public consultations each year on a range of local and citywide subjects. A list of upcoming consultations can be found by visiting toronto.ca/involved and clicking on "Consultations."
Related Links