Significant Events
2020 World Masters Athletic Championships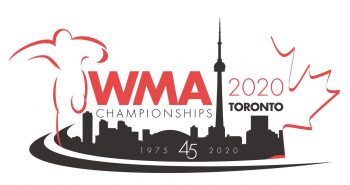 In October 2016, Toronto was announced as the host city for the 2020 World Masters Athletics Championships with a mission to provide a world class championship-calibre competition for athletes of all nations and of all abilities, and to embrace a multicultural, multi-race, and multi-spiritual sports exchange which will foster better understanding across our diverse landscape.
Toronto has the honour of hosting the inaugural "First World Masters Track & Field Championships" in 1975 and we're thrilled to host again 45 years later.
The Championships will take place Tuesday, July 21 to Sunday, August 2, 2020 at the finest athletic stadium facilities in Toronto, Varsity Stadium at the University of Toronto and York Lions Stadium at York University, in addition to the Toronto Track & Field Centre.
Centennial Park and the Toronto Islands will host non-stadium events such as cross country and race walks.
The Championships includes is open to all over age 35 regardless of skill level and participants complete against their age group in all athletic disciplines.
For more information, please visit the 2020 WMA official website
Past Major Events
In June 2015, the Aboriginal Sport and Wellness Council of Ontario and the City of Toronto were awarded the honour of hosting the 2017 North American Indigenous Games (NAIG).
Toronto's selection to host these Games will mark the first time in its 25-year history that the event will be held in a community outside of Western Canada. The Games will be held July 16 to July 23, 2017 and will bring together 5,000 aboriginal youth from across North America to celebrate Indigenous culture and compete in a variety of traditional and non-traditional sports. Opening ceremonies are scheduled for July 16, 2017 and a cultural village featuring a variety of artisans, elders, vendors and dancers will entertain visitors throughout the duration of the Games.
The North American Indigenous Games Council is a non-profit organization aimed at improving the quality of life for Indigenous Peoples and representing Indigenous distinctiveness. Through their continued support of sports and cultural activities they encourage equal access to participation in the social, cultural and spiritual fabric of the communities in which Indigenous Peoples work, live and play.
For more information on the North American Indigenous Games, please visit the official website of the 2017 North American Indigenous Games
Sports
Competitors in the North American Indigenous Games will compete in 14 different sports, including baseball, box lacrosse, canoe/kayak, soccer, and wrestling. All of the sporting events will be held at various locations across the GTA. For more information on the NAIG2017 Schedule & Events visit their official website.
Volunteer
The North American Indigenous Games are looking for over 2000 hard-working and dedicated volunteers, including French-speaking and medical volunteers. Volunteers will be stationed at the various event venues across Toronto and the GTA. For more information and to apply, please visit the Volunteers page at the NAIG2017 official website.
From July 1 to 22, 2007, Toronto had the honour of being the headquarters and host of 12 matches, including the gold medal match, for the FIFA U-20 World Cup Canada 2007.
All Toronto matches were held at the National Soccer Stadium at Exhibition Place. This new $72.8 million soccer specific facility is 20,000 seats and was built through a funding partnership between the Government of Canada, Province of Ontario, City of Toronto and Maple Leaf Sports and Entertainment Ltd.
The FIFA U-20 World Cup Canada 2007 was hosted in six cities across Canada (Burnaby, Edmonton, Montreal, Ottawa, Toronto, Victoria) and accomplished a record 1.2 million in spectator attendance making it the largest single sport event held in Canada.
The event reached new global levels for broadcasting as all 52 matches were sold to 200 countries and territories around the world and viewership increase 67% over the 2005 event. CBC had 110 broadcasts and 220 hours of coverage (live and delayed).
As part of the event evaluation, a detailed economic impact analysis was conducted for all six host cities in partnership with the Canadian Sport Tourism Alliance and Canadian Soccer Association utilizing STEAM (Sport Tourism Economic Assessment Model). Part One involved in-person surveys during match days by a volunteer team and Part Two used the survey data to produce the analysis.
In the gold medal match Argentina defeated the Czech Republic 2-1 in an exciting finale to the Championship.
The Olympic Flame burned brightly in Toronto
When the Olympic Torch Relay visited Toronto on December 17 to 19, 2009, thousands of Torontonians of all ages lined city streets to cheer on the Olympic Flame and attended the Community Celebration at Nathan Phillips Square on December 17.
The Olympic Torch Relay was a once-in-a-lifetime event that brought the spirit of the games to Toronto. Close to 200 torchbearers, including Canadian film directors, father and son Ivan and Jason Reitman, Olympians such as hockey players Vicky Sunohara and Murray Dowey, sailor Paul Henderson and rower Marnie McBean, along with hundreds of everyday Canadians, carried the Olympic Flame for 48 kilometres through city neighbourhoods.
The Olympic celebrations continues with the Paralympic Torch Relay
On February 20 2010, Adrian Heaps, Chair of the Toronto Community Task Force for the Vancouver 2010 Paralympic Torch Relay (Councillor, Ward 35 Scarborough Southwest), announced Toronto's five Community Torchbearers who carried the Paralympic Flame when it visited the city for the Vancouver 2010 Paralympic Torch Relay on Friday March 5. Toronto was one of three cities outside of British Columbia chosen to host the 2010 Paralympic Torch Relay.
The five Community Torchbearers were Paralympians Jeff Adams and Erika Schmutz, wheelchair basketball player Shayne Smith; Citytv reporter Tara Weber and ParaSport Ontario advocate and volunteer Joe Millage. More than 40 torchbearers, including Toronto's five Community Torchbearers tookpart in the relay at Nathan Phillips Square in March 2010.
1984 Papal Visit
1985 Giant Panda Exhibition
1988 G7 World Economic Summit
1993 Royal Visit / 2012 Royal Jubilee Visit
2002 World Youth Day
2003 Molson Canadian Rocks for Toronto Benefit Concert
2004 Kalachakra (Dalai Lama Visit) / 2010 Dalai Lama Visit
2010 Olympic and Paralympic Torch Relays
2010 G-20 Summit
2011 Rick Hanson Foundation 25th Anniversary Relay
2014 WorldPride
Cultural Events
1975 to 1990, 1994, 2002, 2011 Canadian Academy of Recording Arts & Sciences JUNO Awards
1995 The Barnes Exhibit ("From Cezanne to Matisse: Great French Paintings from the Barnes Foundation")
Academy of Canadian Cinema & Television (ACTRA) Genie Awards (Cinema)
Academy of Canadian Cinema & Television (ACTRA) Geminis (English Language Television)
2011 International Indian Film Awards (IIFA)
Sport Events
Athletics
1993 IAAF World Indoor Athletic Championships
2003 National Cross Country Running Championships
Festival of Excellence
2012 World Deaf Athletics Championships
Aquatics
1999 Canadian Winter Nationals Diving Championships
2004 Canadian National Synchronized Swimming Championships
2004 Olympic Swimming Trials
FINA Men's Water Polo World League Semi-Final 2005
Bell Swimming Grand Prix 2006
2005 Canadian National Synchronized Swim Championships
2006 & 2007 Bell Grand Prix (Competitive Swimming)
2008 100th Anniversary Lifesaving Society Canadian National Lifeguarding Championships
2008 Canada Cup (Competitive Swimming)
2009 Canadian National Masters Swimming Championships
2016 Olympic Trials
Badminton
2000 Canadian International Badminton Championships
Baseball
1991 Major League Baseball (MLB) All-Star Game
1992 & 1993 MLB World Series
2009 World Baseball Classic
2015 MLB World Series
Basketball
1994 FIBA World Men's Basketball Championships
2014 Women's World Wheelchair Basketball Championships
2015 CIS Men's Basketball Championships
2016 NBA All-Star Game
Canoe/Kayak
Mazda Canoe/Kayak Knockout 2007
Curling
2015 Grand Slam of Curling
Dragon Boat Racing
2006 International Dragon Boat Federation Club Crew World Championships
2011 ICF Dragon Boat Club Crew World Championships
Fencing
2007 Commonwealth Veterans Fencing Championship
Football (Canadian)
95th Grey Cup 2007
2007 Desjardins Vanier Cup
Canadian Football League (CFL) Grey Cup – hosted 19 times between 1954 and 1992
1965 – 2003 Canadian Interuniversity Sport (CIS) Vanier Cup
2012 100th Anniversary Grey Cup Festival and Toronto Argonauts Grey Cup Victory Parade
2016 Grey Cup
Football (American)
International Bowl 2007
International Bowl 2008
International Bowl 2009
Golf
Gymnastics
1990 Canada vs. China
1991 Canada vs. China/France (Women's)
1991 World Cup Qualifier
1992 Reach for the Sky
1993 Challenge Cup (Women's)
1993 Canada vs. USA (Junior and Aged Group Men)
1999 USA/CDA Challenge
2004 Canadian Artistic Final Olympic Trials
Hockey (field)
1994 Four Nations Tournament
Hockey (ice)
1999 & 2004 National Hockey League Awards
2000 National Hockey League(NHL) All-Star Game
2004 World Cup of Hockey
2007 AHL All-Star Game
2010 NHL Face Off Event
2015 & 2017 IIHF World Junior (Hockey) Championships
2016 World Cup of Hockey
Horse Racing
1994 Breeders Cup World Thoroughbred Championship
2000 World Series Racing Championship
2011 North American Police Equestrian Championships
Lacrosse
1996 Men's Lacrosse World Championship
2002 World International Indoor Lacrosse Championship
2006 NLL (National Lacrosse League) All-Star Game
Martial Arts
2009 10th World Wushu Championships
2012 Canadian Open Taekwondo Championships
Multi- Sport Games
1976 Summer Paralympic Games
1985 World Masters Games
1997 Special Winter Olympic Games
2012 Ontario Summer Games
2015 Pan Am/Para Pan Am Games
2016 Canadian Transplant Games
2017 North American Indigenous Games
Toronto 2017 Invictus Games
Rugby
2006 Barclays Churchill Cup of Rugby
2009 International Rugby Series – Canada vs Wales
2011 International Rugby Series – Canada vs USA
Rope Skipping
2006 FISAC-IRSF World Rope Skipping Championships
Sailing
1991 Hobie 17 World Championships
1994 Tall Ships Challenge
1995 470 World Championships (Open & Women)
1998 49er North Americans
1999 Sailing North Americans
2000 Finn North Americans
Soccer
1987 FIFA World U-17 Championship, where Toronto served as the main site with 21,000 sold out crowd at Varsity Stadium witnessing the Soviet Union defeating Italy in the semi-final and 15,000 people watching Nigeria beat USSR in the final
1998 CONCACAF Women's World Cup Qualifying Round also held in Toronto
2002 CONCACAF Women's U-19 International Friendly, Canada vs. Italy, in Toronto
2004 Championships World Series at the SkyDome in Toronto wherein the two games attracted an animated fan base from Toronto and our U.S. neighbouring states with a combined spectator crowd of nearly 100,000
FIFA U-20 World Cup Canada 2007
2008 Pepsi MLS All-Star Game
FIFA U-20 Women's World Cup Canada 2014
North American Ethiopian Sports Federation Tournament 2016
Table Tennis
2000 North American Senior & Junior Championship
Triathlon
2000 International Triathlon Union (ITU) World Cup
Volleyball
1991 World League Volleyball
2001 Francophone Games
2006 Canadian Beach Volleyball Championships
2012 Canadian Volleyball Championships
2012 FIVB World League of Volleyball
2012 Sitting Volleyball Canada Cup
Wrestling
1993 FILA World Freestyle Wrestling Championship
Conventions & Conferences
1995 Metropolis Commission on Social Development & Culture
1998 American Bar Association – Annual Meeting
1998 National Association for the Education of Young Children – Annual Meeting
1999 American Industrial Hygiene Association – Annual North American Convention
2000 American Thoracic Society – Annual Convention
Seventh Day Adventist General Conference Session
2001 International Association of Chiefs of Police Annual Conference
2002 International Foundation of Employee Benefit Plans Annual Convention
2003 American Library Association Annual Conference
2004 Microsoft Corporation World Wide Partners Conference
2006 XVI International AIDS Conference
2009 The American Society of Association Executives (ASAE) Conference
2010 Shriners International Conference
2011 Swift International Banking Operations Seminar (SIBOS) Conference
2011 US Green Build Council Conference
2012 & 2016 Microsoft World Partnership Conference
2014 Lions Club International Convention
2014 Tim Hortons 50th Anniversary Convention