Broadlands Community Centre
The facility is closed for renovations. A temporary pathway connects Castlegrove Blvd. to Broadlands Park during construction.
Broadlands Community Centre is a central community hub for the neighbourhood. To maintain the facility and provide accessibility upgrades, a repair project is underway.
Project Details
Broadlands Community Centre supports a wide range of community programs. An opportunity has been identified to improve the existing facility.
The project includes:
Interior: new doors, paint and floor finishes and the reconfiguring of the washrooms and change rooms to meet accessibility requirements.
Exterior: re-roofing and water-proofing the foundation walls, new doors and painting.
Outdoor: re-waterproofing part of the outdoor pool deck, repairing walkways, curbs, stairs and drains and improving site drainage along the south property line.
Project Timeline
The project is currently under construction with completion anticipated for late Summer 2019, weather permitting.
June 2019
The outdoor swimming pool and related shower and change facilities are planned to re-open to the public in summer 2019, weather-permitting.
The multi-purpose rooms and ice rink related facilities are planned to open later this summer.
Broadlands Park and tennis courts remain open for public access.
May 2019
In-progress:
Accessibility upgrades are included at the interior and exterior
Washrooms and change rooms are being refinished and revitalized
A modernized change room entrance at the lower level
Re-roofing
February 2019
Waterproofing work along the north side of the building
Interior refinishing work on the second floor, including the large activity room and universal washroom
Plumbing and electrical upgrades on the second floor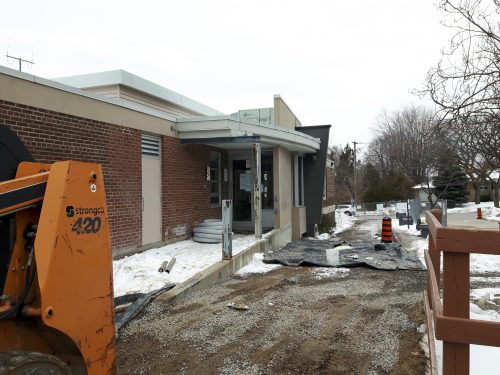 Get Involved
The scheduling of the renovations was done by incorporating feedback from community members and stakeholders received at public meetings held in summer 2018.