Canoe Landing
Registration for the child care centre will not take place until spring 2019. Registration for TDSB school and the TCDSB school has begun, visit the
Jean Lumb
 and the
Bishop Macdonell
website for registration details.
The City, the Toronto District School Board (TDSB) and the Toronto Catholic District School Board (TCDSB) are collaborating to build a multi-use community facility next to Canoe Landing Park.
Construction on the site began in 2017, with the completion of the schools scheduled for the fall of 2019.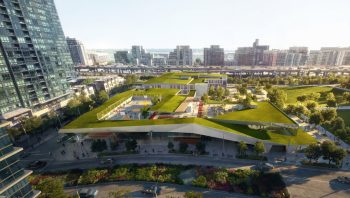 This new facility will include:
This integrated multi-use facility is one of the last City-building pieces for this developing community. The services will help ensure families living in this higher-density neighbourhood will have access to amenities that make a thriving neighbourhood. The new facility will be located at the corner of Fort York Boulevard and Brunel Court, next to Canoe Landing Park.
The City, TDSB and the TCDSB entered into an agreement where the City will continue to own the land while the two school boards will hold leases.
To finance the construction of this new facility, revenue was collected from development projects in the Railway Land area. There are approximately 20,000 people living in the Railway Lands area, which currently have limited access to local schools, childcare or public recreation facilities.