Humber Bay Shores Park – Trail Improvements
Phase Two construction is ongoing. The work zone is active and parts of the trail are closed during construction. Please respect fencing. Find detour information under Project Details.
Trails through Humber Bay Shores Park are being improved in two phases. Progress updates are posted under Project Timelines
Project Details
Detour Information
Download the detour map.
Closures during construction
The Green P Parking Lot at the corner of Marine Parade Drive and Waterfront Drive is closed during construction.
The existing multiuse trail is closed between the Humber Bay Park East Entrance and the new plaza at Palace Pier.
Detours during construction
Through the park:
Every day, enter the park on either the west end or the east end of the construction zone using the shared use path
On evenings and weekends only, another entry point will be available at The Marginal Boulevard, when construction allows
On streets around the park:
On-street (no bike lane) cycling:

Lake Shore Boulevard West, from the Gardiner ramp to Marine Parade Boulevard
Marine Parade Drive
Palace Pier Court, from Lake Shore Boulevard West to Waterfront Drive

Bike lanes/sharrows:

Lake Shore Boulevard West, from Palace Pier Court to the Gardiner ramp
Palace Pier Court, from Waterfront Drive to the southeast end
Waterfront Drive

An accessible route for pedestrians and mobility aid users exists on sidewalks along neighbouring streets
Parking options
To ensure public safety and to expedite project delivery, the Contractor plans to have multiple crews on-site working in parallel to complete complementary work. For this reason, continuous through-access through the work zone is not possible.
Project Information
There are two phases to this project.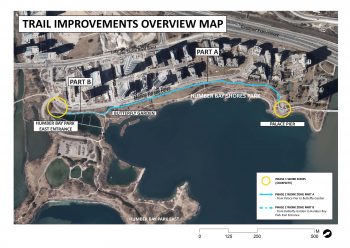 Phase One
Phase One is complete and included improvements at Palace Pier and Humber Bay Park East Entrance.
Phase Two
Phase Two improvements will include:
New asphalt multi-use trail
New pedestrian pathway
New paved buffer zone between the multi-use trail and pedestrian pathway
Removal of selective pathways at the Butterfly/Home Garden to improve safety
New bench seating, small plaza areas and tree plantings at key trail intersections
Regulatory signage and pavement markings
These improvements will extend between the two areas that were completed in Phase One.
Project Timelines
Phase One is completed.
Phase Two started in late May 2019.
Anticipated Completion: Late Summer 2019
Trail improvements will extend from Palace Pier to Humber Bay Park East Entrance.
Progress update: August 16, 2019
Paving works are underway. Village Court and the Waterfront Drive Parking areas are 90% complete
Trees have been planted
Benches have been installed
A new post and paddle fence has been installed
Paving works in the west end of the park are being initiated and will include work around the Home Garden and the Humber Bay Shores Stormwater Management Pond.
Get Involved
Past Consultations
April 2015
The public information event presented the preferred design to more than 40 residents that attended. Details of the preferred design are included in the Display Panels.
November 2014
The public consultation event showcased two proposed alternatives for upgrades of the trail system; Options A and B as well as on-street cycling infrastructure upgrades along Marine Parade Drive and Waterfront Drive. Important improvements to the trail included safety and sight lines, changes to trail width and alignment, changes in trail materials, improvements to seating and views to the lake as well as an evaluation of existing lighting. Over 85 residents and local association representatives participated
Display panels from the event:
Summary of the public event and feedback provided:
April 2014
Staff presented information materials about three projects:
Humber Bay Shores Park
Stanley Ave. Contra-flow Bicycle Lane
Waterfront Trail Connection on Lake Shore Blvd. W.
Over 70 participants attended the event, asked questions, discussed opinions and provided many insightful comments and suggestions. Below are the information materials from the event.
Summary of the comments received:
Other Projects in the Area
Palace Pier Natural Trail
In April 2018, the Toronto region experienced a severe storm which resulted in significant damage to many areas across the Toronto Waterfront. The headland at the base of Palace Pier Court experienced a large amount of damage to the new natural trail along the waterfront.
The Toronto Region and Conservation Authority (TRCA) will repair the headland and further protect against shoreline erosion while addressing public safety concerns. When this is completed, the TRCA will also reopen the natural trail. This work is coordinated with the City of Toronto and other projects in the area.
Fencing will remain for public safety and to restrict access to the damaged area until the required assessments, design and approvals are complete.
Progress Update: June 5, 2019
Design:
Contract Award: In progress
Anticipated Completion: Fall 2019
Construction:
Anticipated Start: Late 2019
Completion: Early 2020
Humber Bay Shores Trail Maintenance Project
Toronto and Region Conservation Authority (TRCA), in partnership with the City of Toronto, is undertaking minor maintenance works in Humber Bay Shores Park, near Sheldon Lookout, in order to repair a failed concrete section of the waterfront viewing node and address public safety concerns.