Baselands Trail, Tommy Thompson Park
The City of Toronto, Region Conservation Authority (TRCA), Waterfront Toronto and Cycling Infrastructure have completed some multi-use trails as part of the Baselands Trails Master Plan.
The Baselands is the area south of Unwin Avenue, bound on the west by the Outer Harbour Marina Road and on the east by the access road into Tommy Thompson Park. This area is City-owned and managed in coordination with TRCA as the Baselands is an extension of the TRCA owned and managed Tommy Thompson Park to the south.
Master Plan
The new trails design will create a formal path system to protect the natural area, reduce wildlife disturbances, and improve user safety and accessibility, including improved access to key points of interest. The natural trails will be accessible with a stable surface and look similar to the existing trails with a base to improve drainage.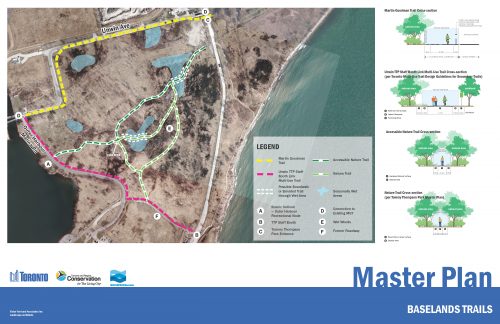 For more information about the Baselands Trails Master Plan and Tommy Thompson Park, visit TommyThompsonPark.ca.
Ecological Significance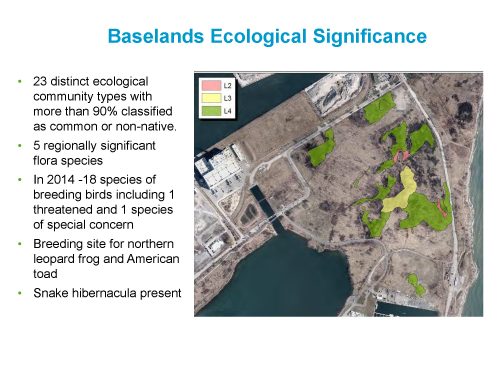 The Baselands are a unique area within the City of Toronto, created by lake-filling activities when the Leslie Street Spit construction started in the 1950s.
The area is part of the North Shore Environmentally Significant Area and is included within the Leslie Street Spit Important Bird Area.
The Baselands contain mature eastern cottonwood woodlands and a diversity of other plant communities, including early successional wet and dry meadow habitats, as well as regionally rare plant species.
It also represents some of the most significant migratory bird and nesting bird habitat on the Toronto waterfront, and provides habitat for a variety of other wildlife including snakes, amphibians and small mammals.
Project Timeline
2014
Baselands Trails Subcommittee formation and consultation
Spring / Summer 2015
Public Consultation and Feedback: Baselands Trails Master Plan meeting 2015
Fall 2015 / Winter 2016
Design and Construction Tendering Process
Spring 2016 / Fall 2017
Construction of Multi-Use Trail along west edge, Construction of nature trails
2018
Martin Goodman Trail Connection through the site

Nature Trails completed