Coronation Park – Heritage Park Improvements
Through the restoration of pathways and the creation of signage, this project aims to reflect the memorial function of Coronation Park.
Project Timeline
Phase Two
November 2019: construction start
Summer 2020: construction ends
Timeline is subject to change.
About the Project
Phase two improvements will include resurfacing asphalt, reinstating historical pathways, improved intersection treatments and signage.
Park History and Project Rationale
Coronation Park is a living war memorial. The groves of trees within Coronation Park commemorate the service and sacrifice of Canada's military. The tree at the centre of the circle of trees in the centre of the park is known as the King's Oak. The King's Oak is the park's symbolic heart and is surrounded by a ring of maple trees representing the former British Empire's dominions and colonies. The trees in other groves throughout the park commemorate Canada's military units, principally of the First World War.
1930s: Original Park Design
The park's plan and original design reflects a move away from elaborately planted Victorian gardens to stands of trees that would mature into a structured landscape in the decades to come. Symbols of life, Coronation Park's trees embody the spirit of idealism that emerged following the horrors of the First World War. Designed by members of the Toronto chapter of Men of the Trees and the Toronto Ex-Servicemen's Coronation Committee, the park opened on the day of King George VI's coronation, May 12, 1937. Threatened by development in the 1960s and 1970s, the park has endured as an important commemorative landscape.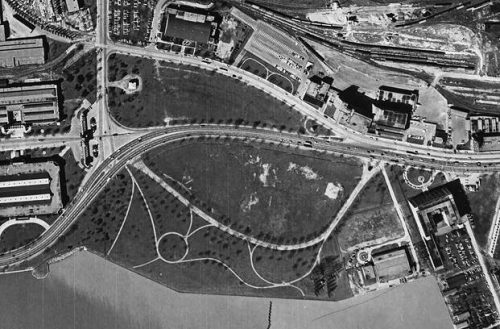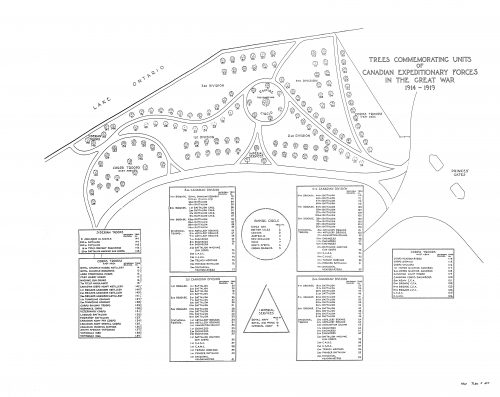 2019: Heritage Restoration
The current park plan has been designed to re-instate the gentle arching commemorative pathways included in the original design of the park. Each new pathway is being reinstalled to complement the original design intent of the park, at the centre-line between the tree plantings throughout the park. Each new pathway is lined on either side with a solider course of granite pavers to define the pathway edges. Within these granite edges, special markers are placed directly across from each commemorative tree naming the battalions or division who participated in the war effort. As part of the phase 2 construction, interpretive panels will also be installed at key park entrances to share the important heritage significance of this park and the deeper meaning behind the park design.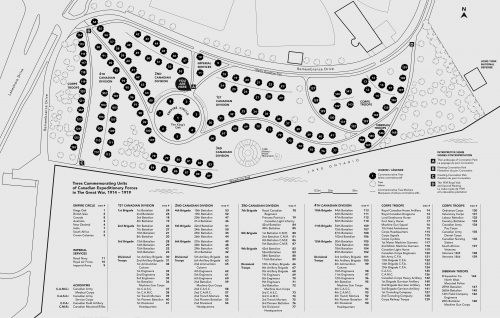 While we aim to provide fully accessible content, there is no text alternative available for some of the content on this site. If you require alternate formats or need assistance understanding our maps, drawings, or any other content, please contact Lori Ellis at 416-394-2483 or Lori.Ellis@toronto.ca.
Project Progress
November 2018
Phase One, which focused on King's Oak and the silver maple circle, was completed.
This project is supported in part by Veterans Affairs Canada.