Dane Park Expansion
Dane Park is located at the South East corner of Dane Avenue and Via Bagnatto.
The existing parkette was divided in two by a new road as part of the Treviso Condominium development. A day care facility was created on the western half of the divided parkette. The eastern side of the parkette was expanded south to create a new and expanded park.
Project Timeline
Spring 2018: Construction Start
End of June 2020: Anticipated Construction Completion, weather permitting.
About the Project
The City is developing the eastern portion of the park to include: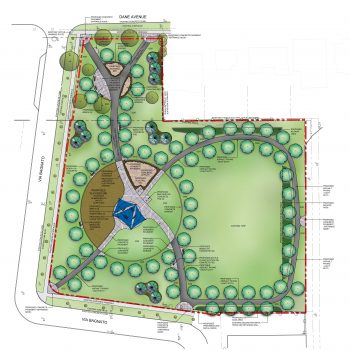 A new playground
Planting
Walkways
Seating areas
An open area for free play
Public Consultations were held to gather community input on the design of the park.
Original project timelines have been extended due to weather and site condition issues. Removal of construction debris within the soil from the Treviso Condominium development caused significant construction delays from May 2018 through August 2019, when the developer resolved these issues. Park construction resumed in September 2019.
While we aim to provide fully accessible content, there is no text alternative available for some of the content on this site. If you require alternate formats or need assistance understanding our maps, drawings, or any other content, please contact Joe Ferrara at 416-395-0165 or joe.ferrara@toronto.ca.
Project Updates
Nov 26, 2019: Weather Delays Park Construction
Due to wet weather and the early onset of winter, park construction stopped, despite the contractor making an effort to complete the work in 2019.
Sep 3, 2019: Park Construction Resumes
The City was able to resume park construction after the site had been sufficiently cleared and necessary documentation was provided by the developer.
May 16, 2018: Unexpected Site Conditions
An on-site meeting was held with the Condominium Developer to discuss unexpected construction debris. As a result of these conditions, the City's park construction was stopped while the site was returned to Developer to remove soils containing the debris.
Oct 26, 2017: Pre-construction Meeting
The project team met the Contractor on-site to review the project. The Contractor requested we wait until spring 2018 to start the project. Contractor's request was granted to allow residents to use the sodded park over the winter.
Jul 5, 2016: Public Design Meeting
A public meeting was held in the park to get feedback from residents on park design options. Residents were shown two design options, and their comments informed the final design used to hire a Construction Contractor.