Kempton Howard Park Improvements
Park improvements are planned for Kempton Howard Park. Detailed design for the park is now underway.
Project Details
Park improvements are proposed for Kempton Howard Park. Public consultations were held in May 2018 and June 2019. Feedback from these meetings and the following discussions with community members and other stakeholders will be incorporated into the final concept design for the park.
Proposed park amenities include:
New expanded playground area, including:

New playground equipment
New playground surface (engineered wood fibre)
New sandbox with water jug filler
New seating areas with picnic tables and/or benches
Wading pool upgrades
New small splash pad
Gathering area with natural features
New pathways and steps
Project Renderings
While we aim to provide fully accessible content, there is no text alternative available for some of the content on this site. If you require alternate formats or need assistance understanding this document, please contact Lara Herald at 416-394-5723 or Lara.Herald@toronto.ca.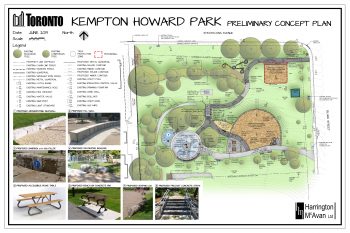 Project Timelines
Design
Currently underway
Expected Completion: Fall 2019
Construction
Expected Start: Spring 2020
Expected Completion: Fall 2020
Get Involved
Past Consultations
Public Meeting on June 10, 2019
At the second public meeting, community members were presented with the preliminary concept design and play equipment options. Feedback was incorporated into the final design.
Public Meeting on May 1, 2018
At the first public meeting, community members were presented with preliminary project scope and playground precedents. Feedback was integrated into the preliminary concept design.