St. James Park Improvements
Phase One is completed. Phase Two will start in summer 2019 with expected completion in 2020.
St. James Park is undergoing improvements identified in the conceptual master plan developed through extensive consultation with stakeholders and the public.
Project Details
Phase One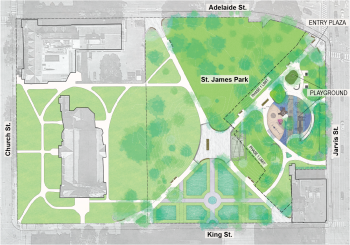 The improvements include:
a new, custom playground with a market theme and 

waterplay 

feature
a new entry plaza at the north-east entrance (Jarvis and Adelaide) with seating and a heritage interpretation lighting feature
new park lighting
new tree planting
horticultural planting
new accessible connecting walkways.
The existing metal trellis and vine near the northeast entrance will remain in place.
Phase Two
The second phase of park improvements will be implemented in 2019 to 2020 and will include all areas of the park outside of Phase One, following the approved master plan.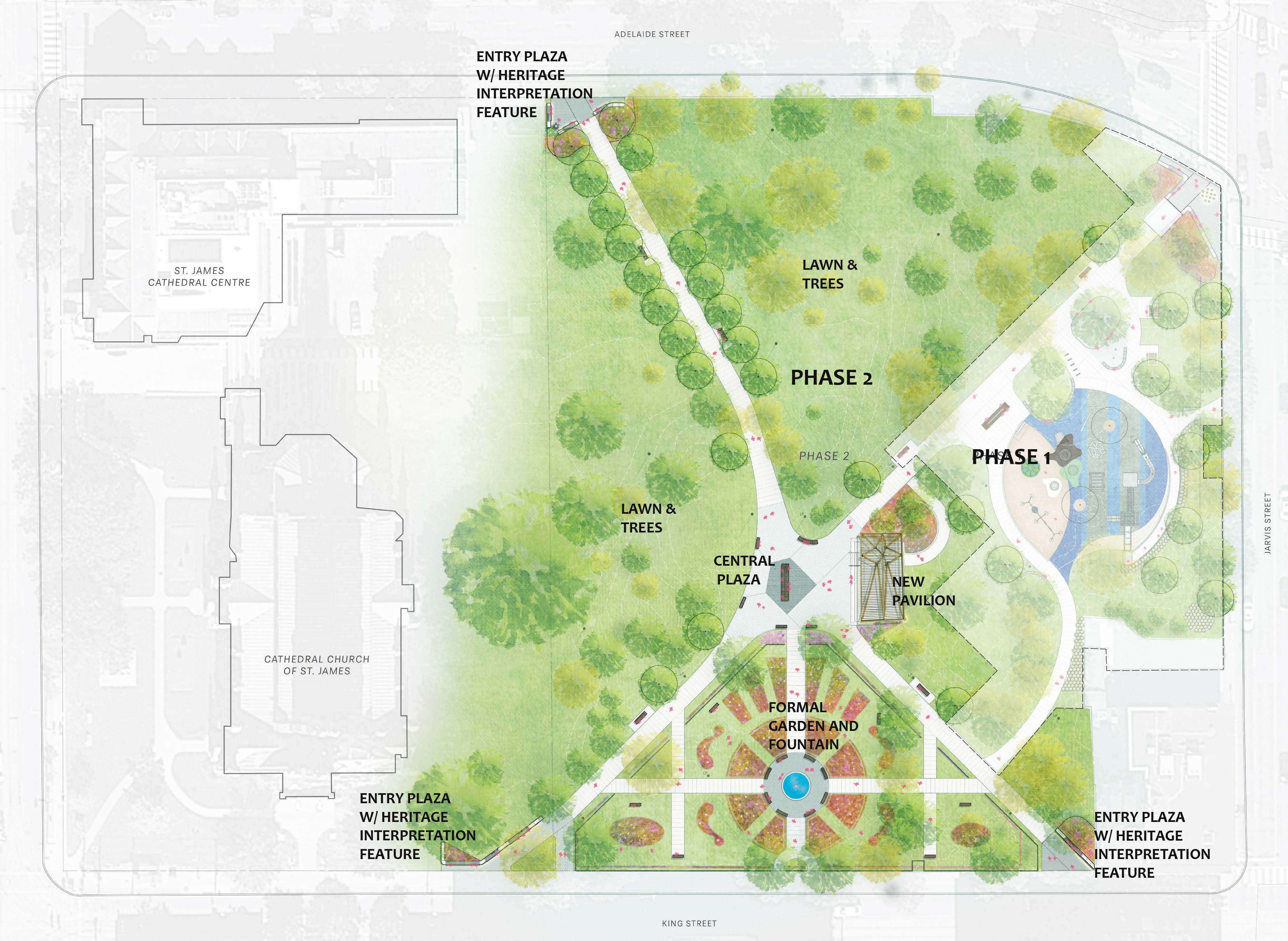 The improvements include:
new entry plazas at 3 corner locations (SE, SW, NW), each with seating and a unique heritage interpretation feature
new central plaza with seating
new open-air park pavilion located on the east side of the new central plaza
new park lighting throughout, with LED light fixtures that match those used in Phase 1
new park feature lighting at central plaza and pavilion including a seasonal lighting element
new tree planting
revitalization of the existing garden along King Street with wider paths, new benches, and new planting
the fountain in the garden will remain
new accessible connecting walkways throughout the park
Conceptual Images
Project Timelines
Phase One took place from May 2018 to fall 2018.
Phase Two will start in summer 2019.
Get Involved
The improvements were identified in the approved conceptual master plan for park improvements. The master plan was developed in 2015-2016 and involved extensive consultation with stakeholders, the local Councillor and the public.
If you'd like to review these documents, please contact the project coordinator.