Trace Manes Park: Georgia Walsh Memorial Playground
We plan to rejuvenate Trace Manes Park's playground and water play area in honour of Georgia Walsh.
Project Timeline
Construction start: November 2019
Construction end: Fall 2020
Timeline is subject to change.
About the Project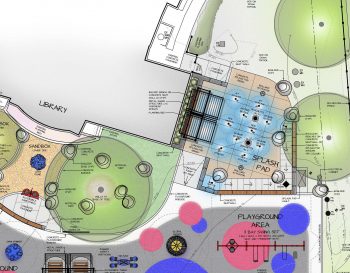 In 2015, the Leaside community requested the start of fundraising for improvements to the Trace Manes Park playground and water play area. The existing play equipment and wading pool have reached the end of their life cycle and are in need of replacement. Toronto City Council approved receipt of donations for the purpose of creating a new playground and splash pad in honour of Georgia Walsh who lost her life in a tragic traffic accident in 2014.
The playground will be reconstructed to comply with Canadian Standards Association (CSA) guidelines and the wading pool will be converted to a splash pad. Other improvements include:
Pathways and landscaping
Shade structure
Water bottle-filling station
Donor recognition wall
Project Progress
While we aim to provide fully accessible content, there is no text alternative available for some of the content on this site. If you require alternate formats or need assistance understanding our maps, drawings, or any other content, please contact either Tony Nagy at 416-395-1215 or Tony.Nagy@toronto.ca or Kaila Johnson at 416-338-0620 or Kaila.Johnson@toronto.ca.
November 18, 2019
Construction is underway and the playground/wading pool area is closed to the public.
September 18, 2017
Park Improvements Public Open House 2
A detailed design concept was presented to the public, including designs for custom shade structures a "Donor Wall" to highlight all of the donors to the project. City Staff, the Consultant, and the local Councillor all attended the meeting to present to the public. From this point, the City has been working with Georgia Walsh's mother, Jillian Walsh, who represents the donors and local community, to develop the final design.
March 27, 2017
Park Improvements Public Open House 1
A more refined design concept was presented at the first official public open house based on all of the feedback gathered over the course of two years. City staff and the Consultant, as well as the local Councillor,  were on-hand to discuss with the public and field any questions.
August 27, 2016
Baseball fundraising event 2
During the second community fundraising event, a revised concept was presented based on the feedback solicited during the previous year. The Consultant was present to discuss, however, Jillian Walsh and her committee members spoke to the project.
August 29, 2015
Baseball fundraising event 1
This was the first community fundraising initiative that the City partook in. Panels outlining the current conditions, as well as a preliminary design concept and equipment options were presented to the public. The Consultant and City representatives were present to discuss the project and obtain feedback from the public.