June Callwood Park Revitalization
Work is expected to start in 2019. Stay tuned for a detailed schedule.
The City of Toronto is bringing the heart back into June Callwood Park. The proposed enhancements include:
new accessible playground zones

Birch Tree Forest climber
2 bay swing with a birds nest and a tot swing
supernova spinner
an urban boulder rock climber

a new entrance plaza off Gzowski Street
a new pavilion shade structure
an informal seating area and gathering space
seat walls
tubular fencing and signage
benches
and more spaces for families to enjoy the park.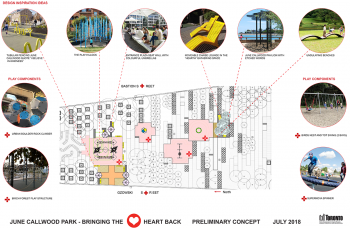 Background
June Callwood Park is located at 636 Fleet Street, north of Fleet Street and south of Fort York Boulevard. The 0.4 hectare park was dedicated in 2005 to honour June Callwood, an internationally acclaimed community activist, journalist, author and television host. She died in 2007. The Park was designed by Toronto based multi-disciplinary firm gh3 and was opened to the public in 2014.