New Park at 100 Ranleigh
A new park is proposed for 100 Ranleigh Avenue. Detailed design for the park is now underway. Updates will be posted here, or you can subscribe to receive email updates below.
Project Details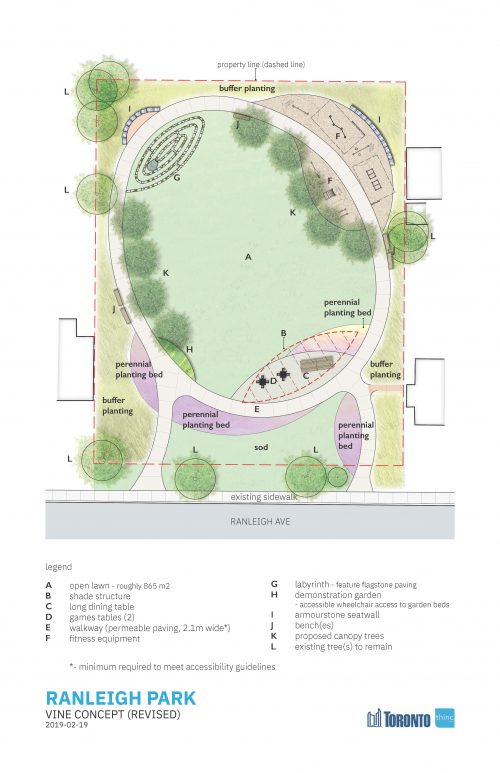 The proposed new park is currently in the design phase. A public meeting was held in June 2018. Feedback from this meeting and subsequent correspondence and discussions with community members and other stakeholders has been incorporated into the final concept plan for the park.
Proposed Park amenities include:
large open lawn area
Seating and gathering areas (dining table, games tables, benches and seatwalls)
shade structure
Adult Fitness equipment
Labyrinth
Demonstration garden beds
Perennial planting beds
Pathway
The site requires environmental remediation to remove contaminated soil related to rubble from the demolished church that was formerly located on the site. This will take place prior to construction of the park.
Project Timelines
Design will continue through 2019.
Environmental Remediation is anticipated to begin in 2019.
Park Construction is anticipated to begin in 2020.
Get Involved
Public Meeting – June 11, 2018
The public was presented with three early concept designs on June 11, 2018.  Comments are being integrated into next steps of the design.
Feedback
Do you want to provide feedback on the new park? Please contact Ruthanne Henry with input into the design of the park.
Subscribe to Project Updates
Type (do not copy and paste) your email into the box below and you will receive an email with instructions to confirm your request to subscribe.
The personal information on this form is collected under the authority of the City of Toronto Act, 2006. The information is used to allow the City to send you an email to confirm your wish to subscribe to a City of Toronto e-notice. Questions about this collection may be directed to the ListServ Administrator, Strategic Communications Division, City of Toronto, Toronto City Hall, 7th floor, West Tower, Toronto M5H 2N2. Telephone: 416-397-5318. By subscribing to one of the City of Toronto's e-updates you are providing express consent, as defined by the Canadian Anti-Spam Legislation (CASL), to receive email updates from the City of Toronto.