New Park at 30 Zorra Street
As part of the condo development at 30 to 44 Zorra Street, the property developer (Altree) will construct a new park. The design and construction will be carried out in close consultation with City of Toronto, and when the park opens, it will be owned and maintained by the City's Parks, Forestry and Recreation Division (PFR).
Project Timeline
2019 to 2021: Park design, approvals, and public consultation
2020 to 2022: 30 Zorra condominium construction
2022 to 2023: Park construction and handover phase
This timeline is subject to change.
About the Project
This new park in Ward 3 – Etobicoke-Lakeshore will serve the new residential neighbourhood being developed in place of suburban commercial plazas, and will also attract visitors from the existing residential neighbourhoods north of The Queensway. The new park will be 1,118m2 (0.27 acres, or 12,000 square feet) and located on Zorra Street. The new park is across the street to the west of the recently constructed Senator Marian Maloney Park.
Project Progress
October 23, 2019
PFR held a public meeting to provide residents with:
Information on the existing site
Examples of similar projects
Two design options for consideration
Read the full 30 Zorra Street Park Concept Presentation.
Feedback:
Participants were split evenly between favouring the two concepts.
Participants liked the ping pong table as a games feature.
Participants liked the water feature and shade structure in the Dogs Off-Leash Area.
Participants liked the variety of wood seatwalls in both concepts.
Participants liked the play mounds in the Dogs Off-Leash Area.
Several people felt that a Dogs Off-Leash Area would be well used.
Project Renderings
While we aim to provide fully accessible content, there is no text alternative available for some of the content on this site. If you require alternate formats or need assistance understanding our maps, drawings, or any other content, please contact Erika Richmond at Erika.Richmond@toronto.ca or at 416-338-8710.
Location
Concept 1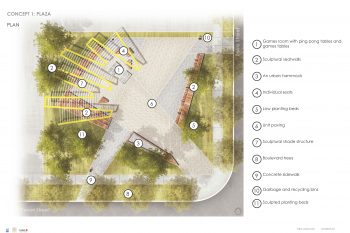 Get Involved
Want to learn more about this project and help shape it? Send comments and questions to: