Ramsden Park Revitalization
Plans are being made to revitalize the walkways, recreational facilities and playgrounds of Ramsden Park, one of Toronto's oldest and largest parks. The revitalization project will address important heritage concerns, increasing park usage, improving recreational facilities, and new tree plantings and landscaping.
Construction is planned in three phases.
Phase 1 is now completed and includes:
Dogs off leash area (DOLA)
Roxborough entryway, path and steps
Area west of tennis courts, north of Pears Ave., south of Roxborough Ave., and east of Avenue Road
Upgraded playground and wading pool/splash pad
More detailed stage 2 and 3 timeframes will be provided once construction commencement approaches.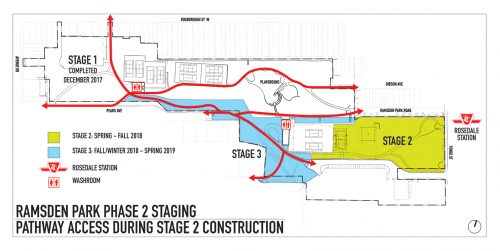 Stage 2
Phase 2 construction will add new and exciting features to Ramsden Park including:
Upgraded Hillsboro staircase – ramp and entryway
Upgraded Yonge Street entranceways with accessible ramp
gathering space seating areas
New multi-use court
Site furnishings, circular bench around existing tree
Main promenade pathway
Landscaping with trees and shrubs
Stage 2 construction is planned for Spring 2018.
Stage 3
Stage 3 construction is planned for Fall 2018 (subject to change).
Included in the Ramsden Park Phase 2 project is an upgraded north-east corner Yonge Street entryway with accessible ramp. At the bottom of the slope will be an gathering space seating area. The curving seat at the base of the accessible ramp slope will provide plenty of casual seating. The base of an existing tree will have a circular bench that will permit larger gatherings to be seated. In addition, there is a promontory and overlook over the space from the weathered steel wall, where the City Poet Laureate's poem will be engraved.