St. James Park Improvements
During construction of Phase One, the northeast section of the park will be fenced off and not accessible. Construction will take place from May to late fall 2018, weather permitting.
The rest of the park will remain open.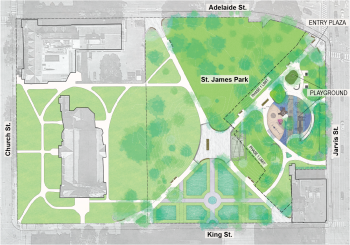 The improvements include:
a new, custom playground with a market theme and 

waterplay 

feature
a new entry plaza at the north-east entrance (Jarvis and Adelaide) with seating and a heritage interpretation lighting feature
new park lighting
new tree planting
horticultural planting
new accessible connecting walkways.
The existing metal trellis and vine near the northeast entrance will remain in place.
The improvements were identified in the approved conceptual master plan for park improvements. The master plan was developed by Parks, Forestry and Recreation in 2015-2016 and involved extensive consultation with stakeholders, the local Councillor and the public.
The second phase of park improvements will be implemented in 2019 to 2020 and will include all areas of the park outside of Phase One, following the approved master plan.
Consultations
This project engaged with the public and stakeholders during the planning process. If you'd like to review these documents, please contact the project coordinator.