Heritage Grant Program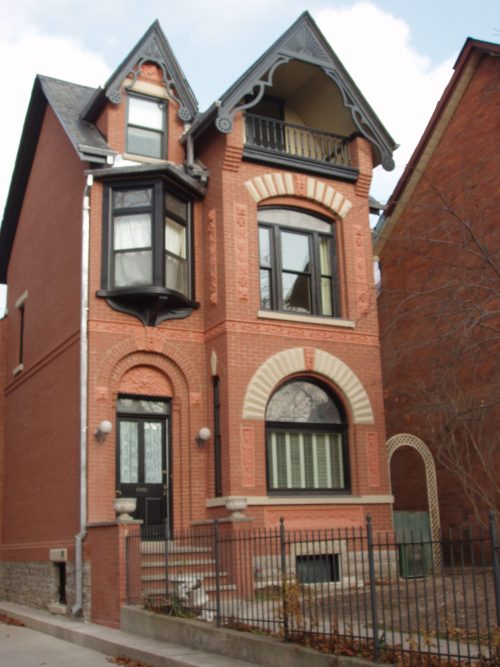 Since 1986, the Toronto Heritage Grant Program has provided matching grant funds for eligible heritage conservation work to owners of properties that are designated under Part IV or Part V of the Ontario Heritage Act.
The Heritage Grant Program assists property owners repair and retain defining heritage attributes, including masonry, windows, doors, wood detailing, and slate roofs.
The program has had a noticeably positive impact in Heritage Conservation Districts such as Draper Street and Cabbagetown, as well as for individual properties across Toronto.
Property Qualifications
To qualify, properties must be:
located in the City of Toronto
designated under Part IV (individually) of the Ontario Heritage Act, or
designated under Part V (Heritage Conservation District) of the Ontario Heritage Act

Properties designated as part of Heritage Conservation Districts must contribute to the heritage value of the district

classified as residential properties or tax-exempt properties for the purpose of property tax. Properties identified as commercial or industrial by tax-class may be eligible to apply to the Heritage Property Tax Rebate Program.
Properties may receive one Toronto Heritage Grant every five years. Owners of multiple properties are eligible to apply for only one property each year.
Work that is Eligible for a Grant
Eligible work for Part IV (individual) properties

Eligible work for Part V (district) properties

Eligible work items can include
Exterior work including the repair of existing heritage materials such as masonry, porches, woodwork and slate roofs.
Where a comprehensive repair or restoration of an original slate roof assembly is being proposed, applicants may seek funding for the entire roof, regardless of visibility from the right of way, and may include copper or zinc-coated copper eavestroughs and downspouts. A maximum grant of 50 per cent of costs up to $20,000 is available for slate roof repair or restoration.
The repair of existing, original windows and doors.
If original windows no longer exist or are in irreparable condition, new windows that match the original windows in their details, operation and materials.Note: historical documentation regarding the original windows and a detailed report from a heritage professional outlining the condition of the deteriorated windows must be attached to your application.
The reconstruction of significant architectural features which have been lost, but whose appearance can be clearly determined from historic drawings or photographs.
Technical studies related to the project, including but not limited to consultant fees for:
Ineligible project costs
Routine building maintenance such as general painting.
Non-heritage roof work, including asphalt shingles.
New windows that replace repairable original windows.
Water diversion, including eavestroughs and downspouts (except where new eavestroughs and downspouts are being proposed as part of the repair of entire slate roofs).
Landscaping (except where landscape features are listed as heritage attributes).
Work that uses tools, materials, or methods that will damage original materials.
Work that, upon final inspection by Heritage Preservation Services, is considered poor or defective.
How to Submit an Application
Applications for the 2020 program have been extended to January 31st, 2020. Fill out Forms A and B below and submit the forms along with the required accompanying material by mail or by email to:
Heritage Preservation Services
100 Queen Street West, 17th Floor East Tower
Toronto ON M5H 2N2