Overview: Danforth Ave. Planning Study
City Planning is currently reviewing Danforth Avenue between Coxwell Avenue and Victoria Park Avenue to assess the existing character, heritage resources and character-defining features of Danforth Avenue, built form, public realm, retail vitality, community services and facilities with the context of the various surrounding neighbourhoods.
Danforth Avenue is primarily characterized by low-rise (two to three storey) mixed-use buildings and is identified as an Avenue in the Toronto Official Plan. This area along Danforth Avenue is experiencing some development interest because of the size of lots, their attributes and/or availability, thus requiring a local planning framework to guide and manage growth.
The study area includes properties with frontage on Danforth Avenue between Coxwell Avenue to the west and Victoria Park Avenue to the east.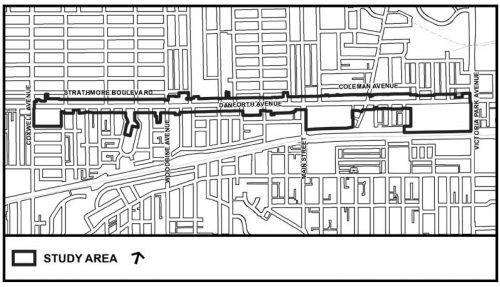 The Danforth Avenue Planning Study consists of four phases. The Study is currently in Phase 3.
Phase 1:
April – September 2016
Consult on and finalize Terms of Reference
Community Engagement: Community Consultation Meeting #1
Phase 2:
September 2016 – March 2017
Conduct research and prepare Area Profile Report
Community Engagement: Community Consultation Meeting #2
Stakeholder Advisory Committee Meeting #1
Stakeholder Advisory Committee Meeting #2
Phase 3:
March – December 2017
Community Engagement on Scope of Work objectives and analysis on built form, public realm, supporting retail, complete streets, community services and facilities, heritage and historic character
Community Consultation Meeting #3
Stakeholder Advisory Committee Meeting #3
Phase 4:
December 2017 – March 2018
Community Engagement
Finalize Official Plan Amendment
Develop Design Guidelines
Final City Staff Report to Toronto and East York Community Council
The key deliverables expected from the study are as follows:
Area Profile Report for the Danforth Avenue Planning Study – now available
Final report to Council that includes draft amendments to the Site and Area Specific Policies in the Official Plan
Official Plan Amendment, which includes development criteria for proposed development within the study area and provides clarity on how the Planning and Urban Design Guidelines are to be utilized and
Planning and Urban Design Guidelines
Character and Place
Articulate the existing and planned character of the Danforth, including establishing a vision for future growth and development;
Establish a character statement that reflects the rich history of Danforth Avenue and provides a vision for future growth
Built Form
Examine the Avenues and Mid-Rise Buildings Study within the local context of Danforth Avenue (from Coxwell Avenue to Victoria Park Avenue)
Supplement the existing Avenue and Mid-Rise Buildings Study to respond to specific local character by creating local Urban Design Guidelines to manage future growth and built form
Identify best practices for transitioning to adjacent low-scale neighbourhoods
Public Realm
Identify strategies to enhance and animate the public realm and streetscaping on both the north and south side of Danforth Avenue within the study area to improve amenity and walkability
Identify opportunities for new parks and open spaces along Danforth Avenue
Identify opportunities for public art within the study area
Retail/Commercial Vitality
Identify any planning tools that may support a strong and diverse retail and commercial sector
Identify parking issues for local retail needs
Cycling
Coordinate the study outcomes with the City's 10-year Cycling Network Plan and program
Develop complete streets policies for the study area
Transit Stations
Explore how to improve pedestrian connectivity between the Main subway station and the Danforth GO station and work with Metrolinx to leverage opportunities from their Danforth GO planning study
Identify site-specific public realm and streetscaping improvements (such as improved wayfinding opportunities) within the existing Gateway Hub at the intersection of Danforth Avenue and Main Street
Examine pedestrian connectivity, public realm and other issues related to the Coxwell and Woodbine subway stations
Community Services and Facilities
Outline neighbourhood demographics, future growth projections and a community services and facilities inventory
A review of current and future community services and facilities needs as well as priorities for the area
Heritage and Historic Character
Identify built form heritage resources within the study area and strategies to achieve conservation
Review the local history, existing cultural heritage resources and character-defining features to determine heritage items that should be conserved