Lola's Report Card
Lola is ready to be adopted. Visit her at the East Shelter at 821 Progress Ave.
Type of dog:
Labrador Retriever Mix
---
Meet Lola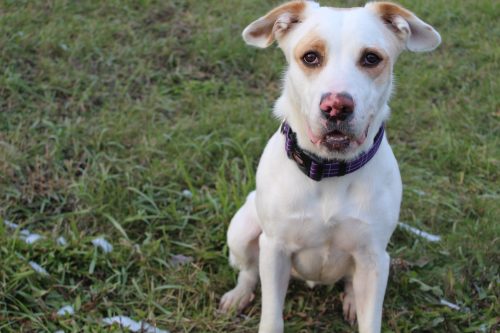 Lola came to us as a stray, and her family never came in to claim him.  Fortunately for Lola, she came to the right place – we are giving her a second chance at finding a loving home. At first, Lola did not trust people, but grew to trust shelter staff. We noticed Lola was always seeking our affection and interaction. We also noticed she loved the company of other dogs, but did not always interact well with them. Lola spent some time with trainers where she learned some manners and self-control with positive reinforcement training.
What Lola needs when you adopt her:
Lola will need to go to a home that is willing to work at her pace. She would be best in a calm/relaxed home with no children. She would be fine in a home with another confident dog to help her come out of her shell. Lola's nervousness around new people, especially men, will take time and patience for her to overcome. However, the great thing about Lola is that she is wonderful around people she is comfortable with! She will always need to be introduced to new people properly, and with time, she will warm up.
Lola's progress:
From her trainers: "It is important to never let anyone rush up to her and get into her personal space. She needs the opportunity to walk up to people on her own terms. " Lola learned that she can engage with people safely, and which does not result in them reaching in and petting her. Lola's training included positive reinforcement with people: whenever she looks at someone, and then looks back at her handler, she gets rewarded with a treat.