Adopt a Pet
Thank you for considering pet adoption. There are many animals staying at our shelters that need a home.
View animals available for adoption online or visit our animal shelters and retail adoption partners.
Please note: changes to our security protocols will mean that some web users will have to update their web browser to access our list of adoptable pets. Please install a more recent version of your web browser if you cannot access this application.
Second Chance Dogs
Check out our new adoption program, Second Chance Dogs. We are investing in dogs from our shelters and sending them to get extra training, and are looking for families that can continue their training at home.
Things to Consider Before You Adopt
Are you looking for a companion for your child or a dog to exercise with? Why you want to adopt can help you determine the species and breed that will fit your lifestyle.
When you adopt a pet, you are making a commitment to care for the pet for the rest of its life. This can be up to 20 years. For a shorter commitment, consider adopting an older pet.
How much time and space you have. Dogs and cats need exercise, play and companionship every day.
Food, veterinary care, pet licence and other supplies will be a consistent expense.
Fees and What to Bring with You When You Adopt
What to Provide
A driver's licence or identification with your current address
Payment of the adoption fee in cash, debit, Visa, Mastercard or American Express
Whenever possible, all family members should come into to the shelter to select a new pet.
Adoption Fees
| Animal/Pet | Adoption Fee |
| --- | --- |
| bird (budgie, finch) | $5 |
| bird (cockatiel) | $20 |
| bird (small parrot) | $50 |
| bird (large parrot) | $100 |
| fish | $5 |
| cat | $75 |
| dog (male) | $185 |
| dog (female) | $215 |
| rabbit | $40 |
| mammals | $40 |
| rodent | $5 |
Preparing Your Home for a New Pet
Have all necessary supplies ready for your dog or cat – food, bowls, leash or harness, collar, brush, toys, scratching posts, bed, crates, litter box.
Put away household chemicals such as cleaners, insecticides and antifreeze.
Place houseplants out of reach – some are poisonous to animals.
Keep potentially harmful household items out of reach including garbage, medicine, pins, elastics, thread, needles, etc.
Have separate areas for your new pet and existing pets. Pets need to be introduced to one another slowly.
Keep doors closed including the doors to your washer and dryer, closets and cupboards.
If Your New Pet is the Wrong Match
Pet adoptions are usually successful.
If the adoption is not a good match for the new owner or the pet, you can return the pet to the shelter. Please call us first to make arrangements: 416-338-7297.
Hill's Science Diet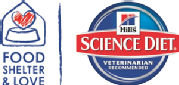 Thank you to Hill's Science Diet, generous sponsor of our adoption program.