Indigenous Arts Festival – Friday Schedule
Friday, June 21 – 10 a.m. to 10 p.m.
Celebrate National Indigenous Peoples Day with free dance and music performances, and activities for the whole family. View the schedule below and start planning your experience at the first day of the Indigenous Arts Festival.
Scheduled Events
Fort York West Gate
9 a.m. – National Indigenous Peoples Day | Flag raising with members of the Mississaugas of the Credit First Nation.
11:30 a.m., 12:30 p.m. & 1:30 p.m. – Toronto Aboriginal Eco Tours | Alan Colley, founder of Toronto Aboriginal Eco Tours leads a guided walk that teaches the history of the site along with teachings about the relationships of the land. Sponsored by Stantec. Tour duration: 45 minutes. (Meet by the Stantec sign.) Pre-register now.
Fort York Stage
10 a.m. – Welcome | Words of welcome and a short hand-drum performance by Kim Wheatley, Indigenous Arts Festival Artistic Curator and Anishinaabe band member of Shawanaga First Nation.
10:10 a.m.,12:15 p.m., 2:15 p.m. – Red Spirit Singers with Grass Dancer Shayne Martel | A drum group of members of the Ojibway, Cree, Oneida, and Dakota Nations established in 1998. They have performed at cultural celebrations around Canada.
11:15 a.m. – Métis Jiggers | Showcase of Métis culture and live fiddle music presented by Toronto's most recognized Métis dance collective.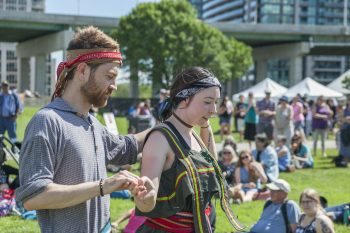 Blue Barracks Hall
10:30 a.m., 12:30 p.m. & 1:30 p.m. – Anishinaabe Clan System | Education program and Clan Meeting game delivered by Indigenize Our Minds, about the past, present, and future relationships the Anishinaabe have to the political and spiritual clan system. Drop-in. Limited capacity.
11:30 a.m. – The Water Walker: Storytelling with Joanne Robertson | Joanne Robertson (AnishinaabeKwe and a member of Atikameksheng Anishnawbek) reads from The Water Walker, her 2017 First Nations' Community Read book, which explores the story of a determined Ojibwe Grandmother (Nokomis) Josephine-ba Mandamin and her great love for Nibi (water).
3 p.m. – Moccasin Identifier Project with Carolyn King | Former elected Chief of the Mississaugas of the Credit First Nation leads this workshop and discusses the context, aim, and activities of the project as an educational and public intervention project to promote the ongoing presence of First Nations in cities throughout Ontario. Stencil images of First Nations' footwear as a visual reminder of this traditional territory of Indigenous Peoples.
Tim Hortons Festival Stage
3 p.m. – Métis Jiggers | Showcase of Métis culture and live fiddle music presented by Toronto's most recognized Métis dance collective.
4 p.m. – Fawn Big Canoe | Toronto-based First Nations DJ blends house, bass, classic soul, disco and more.
5:15 p.m. – Brendt Thomas Diabo and the Ramblers | Lively mix of old-time country music infused with blues and a touch of modern indie rock by Mohawk musician.
6:30 p.m. – Dave Mowat and the Curbside Shuffle | Blues and harmonica performance by musician from Alderville and Scugog Island First Nation.
7:45 p.m. – Beatrice Deer | Canadian Aboriginal Music Award-winning singer-songwriter from Nunavik showcases her trademark blend of traditional Inuit throat singing with contemporary Indie rock.
9 p.m. – Quantum Tangle | Juno-Award-winners Greyson Gritt, Tiffany Ayalik, and Kayley Mackay combine their artistic visions and draw from their respective Anishinaabe-Métis and Inuit backgrounds to create a fusion of old-world sounds and new-world flair. Proudly and boldly displaying their roots, the trio tailor their music to examine systemic racism and colonialism, while offering ways to empower marginalized groups.
Drop-in Activities
Fort York Orientation Theatre
10 a.m. to 5 p.m. – 2019 Indigenous Arts Festival Shorts Program | Stories told by First Nations, Métis and Inuit filmmakers from across Turtle Island. In celebration of the United Nations Year of Indigenous Language, the program focuses on films that explore the journey to discover, revive, and share Indigenous languages for present and future generations. Presented by the National Film Board  and the House of VR.
Fort York Tent
10 a.m. to 5 p.m. – Project of Heart Collaborative Arts Mural | Art education project invites youth to paint wood tiles in memory of a residential school student and become part of a larger mural that develops over the course of the Festival. Designed to teach about the history of Indigenous people in Canada and the terrible legacy of Indian Residential schools.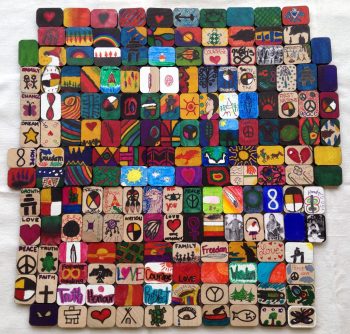 Fort York South Grounds
10 a.m. to 5 p.m. – Mississaugas of the Credit Community Booth | Meet Indigenous knowledge keepers, enjoy activities, and learn all about the Moccasin Identifier Project.
Fort York North Grounds
10 a.m. to 5 p.m. – Indigenous Arts Festival Community Village | Celebrate National Indigenous Peoples Day. Organizations include The Native Canadian Centre of Toronto, Native Child and Family Services, The Toronto Public Library, and more.
10 a.m. to 5 p.m. – Conundrum Interactive Musical Instrument | Hands-on activity, the iconic Canadian musical instrument from creator David Hynes. The Conundrum brings together strangers in a deep and visceral experience that people remember and carry with them into their daily lives.
Fort York East Grounds
10 a.m. to 5 p.m. – Okitchitaw Indigenous Weapons Experience with George Lepine | Unique, powerful, and practical martial art system that uses basic but aggressive combat movements and traditional weapons that were employed specifically throughout Plains Indigenous Warfare. Note: Closed-toe shoes mandatory.
Fort York West Gate
10:20 a.m. to 5 p.m. –  Toronto Council Fire Native Cultural Centre | Tipis.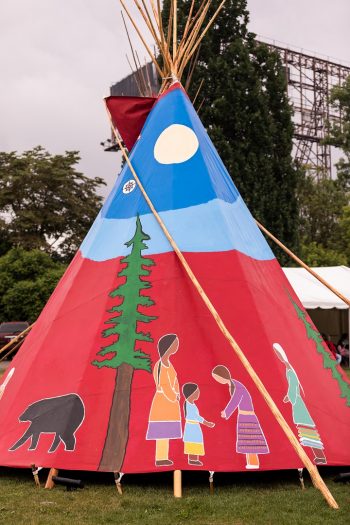 Fort York Visitor Centre
10 a.m. to 5 p.m. – Biidaaban: First Light Interactive Virtual Reality Project | Interactive VR time-jump into a highly realistic—and radically different—Toronto of tomorrow. Walk-ups welcome.
10 a.m. to 5 p.m. – Sacred Canoe Art Installation |  A 19-foot-long canoe designed and painted by the students of a visual arts educator and guided by Indigenous Elder Todd Jamieson. The painting depicts life, the wampum belt, and our journey together walking side-by-side in harmony and peace. This project reflects a desire to see the tenets of Truth and Reconciliation spread throughout the nation, starting with a single classroom.
Fort York Visitor Centre Boardwalk
10 a.m. – 8 p.m. Izhininjiiniwag – They Move in a Certain Way | Photography exhibit featuring Indigenous youth connecting their passion for skateboard culture, Pow-Wow regalia, and photography. Skateboarding's roots can be directly traced to surfing, itself an Indigenous technology. In honour of this connection, Oasis Skateboard Factory students worked with artists Chief Lady Bird, Aura, and Ev Pakinewatik to design and create regalia-inspired skate fashion to surf the city's concrete waves. Presented by The Bentway and Oasis Skateboard Factory in collaboration with Chief Lady Bird, Aura, and Ev Pakinewatik.
Food
Fort York North Grounds
10 a.m. to 5 p.m. – Tim Hortons | Complimentary coffee and frozen beverage courtesy of Tim Hortons, presenting sponsor of the Indigenous Arts Festival.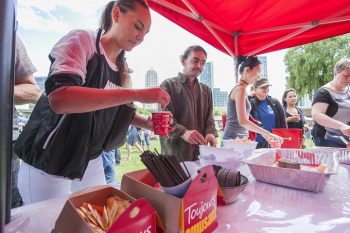 10 a.m. to 3 p.m. & 5 to 10 p.m. – The Wholesome Conscious | Vegan meals and snacks created by Indigenous food educator Alexandria Bipatnath.
11 a.m. to 2 p.m.  – Cedar Basket Food Booth | Lunch menu items include Indian Tacos, hot dogs, and snacks. Benefits the Native Canadian Centre of Toronto.
5 to 10 p.m. – Queen Arepa Food Truck | Women-owned and run Toronto-based food truck specializing in traditional Indigenous Venezuelan arepas and cachapas. Arepas are warm savoury bread pockets made from ground corn flour; cachapas are sweetcorn crepes made with fresh yellow corn.