Indigenous Arts Festival – Saturday Schedule
Saturday, June 22 – 10 a.m. to 9 p.m.
Experience the annual Na-Me-Res Traditional Pow-Wow, family-friendly activities and tours. All free! View the schedule below and start planning your experience at day two of the three-day Indigenous Arts Festival.
Scheduled Events
Fort York West Gate
5:45 a.m. – Sunrise Ceremony | People come together to share in offering prayers and in giving thanks for all of creation and Mino Baamodziwin (The Good life). It is a time when Mishoomis Giizis (Grandfather Sun) starts to look over us and provide us with light and warmth for the daytime.
Noon – Pow-Wow Grand Entry | Stand during the Grand Entry, which opens the Pow-Wow – the Eagle Staff is the lead, followed by flags, carried by Indigenous elders, and then the dancers. Includes a prayer. This event is sacred in nature; filming and photography are not permitted.
Noon to 4 p.m. – Na-Me-Res Traditional Pow-Wow | In recognition of National Indigenous Peoples Day and the Summer Solstice, Native Men's Residence presents an annual celebration with more than 100 drummers and dancers and to enjoy traditional food.
Visitor Centre Orientation Theatre
10:45 a.m., 1:00 p.m. & 3:00 p.m. – The Pow-Wow Experience | Learn about the cultural significance of the Pow-Wow before you attend one! Discover the origin of the Pow-Wow, significance of various dance and regalia styles, costume versus regalia, and enjoy demonstrations performed. Workshop delivered by Indigenize Our Minds. Limited capacity.
Tim Hortons Festival Stage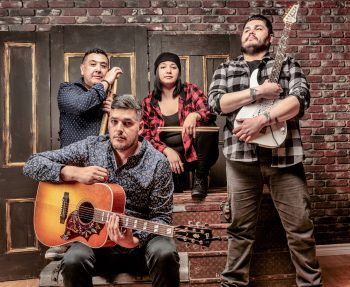 6:30 p.m. – Amanda Rheaume | Canadian Folk Music Award-winner for Aboriginal Songwriter of the Year (2014) and Juno Award-nominee performs folk-country-pop melodies.
7:15 p.m. – Jah'kota | Canadian Urban Television Awards-winner for Rap Single of The Year and 2019 Indigenous Music Awards-nominee from Ocean Man First Nation Saskatchewan.
8:30 p.m. – Midnight Shine | Mix of roots, classic, and modern rock with songs featuring eloquent lyrics and heartfelt vocals that share a glimpse of life in the far North.
Drop-in Activities
Fort York Orientation Theatre
10 a.m. to 5 p.m. – 2019 Indigenous Arts Festival Shorts Program Presented by the National Film Board  and the House of VR | Stories told by First Nations, Métis, and Inuit filmmakers from across Turtle Island. In celebration of the United Nations Year of Indigenous Language, the program focuses on films that explore the journey to discover, revive, and share Indigenous languages for present and future generations.
Fort York Garrison Common
10 a.m. to 4:30 p.m. – Red Pepper Spectacle Arts | Stencil colourful emblematic flags honouring the Grandfather Teachings in Anishinaabemowi, and Clan Animal images. Drop-in.
10 a.m. to 5 p.m. – Mississaugas of the Credit Community Booth | Meet Indigenous knowledge keepers, enjoy activities, and learn all about the Moccasin Identifier Project.
10 a.m. to 9 p.m. – Pow-Wow Craft Vendors | Featuring artisans from across Ontario, vendors offer authentic goods including jewellery, clothing, leather goods, and beadwork. Cash preferred. ATM in Visitor Centre.
Fort York North Grounds
10 a.m. to 5 p.m. – Indigenous Arts Festival Community Village | Celebrate National Indigenous Peoples Day. Organizations include The Native Canadian Centre of Toronto, Native Child and Family Services, The Toronto Public Library, and more. Vendor list subject to change.
Fort York Visitor Centre
10 a.m. to 5 p.m. – Biidaaban: First Light Interactive Virtual Reality Project | Interactive VR time-jump into a highly realistic—and radically different—Toronto of tomorrow.
10 a.m. to 5 p.m. – Sacred Canoe Art Installation |  A 19-foot-long canoe designed and painted by the students of a visual arts educator and guided by Indigenous Elder Todd Jamieson. The painting depicts life, the wampum belt, and our journey together walking side-by-side in harmony and peace. This project reflects a desire to see the tenets of Truth and Reconciliation spread throughout the nation, starting with a single classroom.
Fort York Visitor Centre Boardwalk
10 a.m. – 8 p.m. Izhininjiiniwag – They Move in a Certain Way | Photography exhibit featuring Indigenous youth connecting their passion for skateboard culture, Pow-Wow regalia, and photography. Skateboarding's roots can be directly traced to surfing, itself an Indigenous technology. In honour of this connection, Oasis Skateboard Factory students worked with artists Chief Lady Bird, Aura, and Ev Pakinewatik to design and create regalia-inspired skate fashion to surf the city's concrete waves.
Food
Fort York North Grounds
10 a.m. to 9 p.m. – Tim Hortons | Complimentary coffee and frozen beverages courtesy of Tim Hortons, sponsor of the 2019 Indigenous Arts Festival.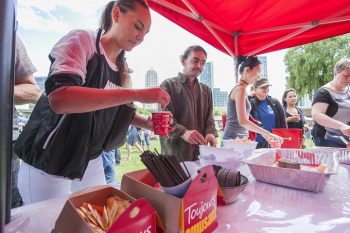 11 a.m. to 2 p.m.  – Cedar Basket Food Booth | Lunch menu items include Indian Tacos, hot dogs, and snacks. Benefits the Native Canadian Centre of Toronto.
Noon to 4 p.m. – Na-Me-Res Food Café – Indian tacos, burgers, and hot dogs. (Supports the Native Men's Residence.)
5 to 6 p.m. – Na-Me-Res Community Feast | Catered by Na-Me-Res Café. All welcome!
5 to 9 p.m. – Arepa Republic Food Truck | Toronto's first food truck to serve pre-Colombian cuisine from Colombia and Venezuela.
5 to 10 p.m. – The Wholesome Conscious | Vegan meals and snacks created by Indigenous food educator Alexandria Bipatnath.