Northwest PATH
The PATH network is an integral part of the City of Toronto's downtown core. The Northwest PATH (NW PATH) aims to extend the network to better service projected future growth. The project has been evaluated through the development of a Class C Environmental Assessment (EA) Addendum that has focused on the following:
Providing a connection to the northwest core that relieves congestion in the existing PATH network and surface congestion around Union Station
Improving connections to destinations
Reducing pedestrian travel times
Supporting future growth
Project Timeline
2008: EA completed for the construction of the NW PATH tunnel from Union Station, under Front Street, travelling north along York Street to Wellington Street.
2015: Phase 1 of NW PATH extension officially opens. Due to construction complexity and escalating costs, City Council suspends construction of Phase 2, directing staff to consider alternative alignments for a more cost effective solution, requiring an Addendum to the original EA.
2017-18: NW PATH EA Addendum begins in January 2017 and will continue through 2018.
July 23, 2018: Council approves submission of EA Addendum to MOECP.
Next Steps
With Council approval, following  a 30 day public review, the Class EA Addendum will be submitted to the Ministry of Environment, Conservation and Parks (MOECP) before moving to final design and construction procurement. Construction is forecasted to start in 2021.
Alignment Alternatives
As part of the EA Addendum, the City has completed a comparative evaluation of four alternative NW PATH alignments that are illustrated in Figure 4 and described below.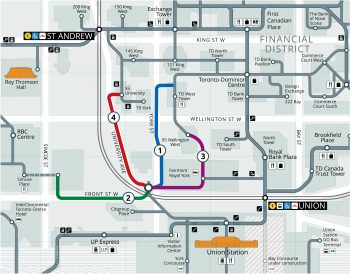 Four alternative NW PATH alignments were considered:
Alignment 1/York Street is the 2008 EA approved York Street alignment. It connects through the north side of the existing tunnel at the corner of University Avenue and Front Street, and continues north under York Street to connect into the PATH concourse at 100 Wellington Street West.
Alignment 2/Front Street branches off to the west of the existing NW PATH Phase 1 tunnel, crossing over the TTC subway structure, and running west under the north-side of Front Street. It connects into a new development at 160 Front Street West.
Alignment 3/Building Alignment branches to the east of the existing NW PATH Phase 1 tunnel entering the Royal York Hotel concourse level. It turns north creating a new PATH tunnel connection across Piper Street to connect into 95 Wellington Street.
Alignment 4/University (Parking Lot) branches off to the west of the existing NW PATH Phase 1 tunnel, crosses over the TTC subway, and then heads north underneath University Avenue through a partially repurposed underground parking lot. The alignment connects to the existing PATH network at 55 University Avenue.
Pedestrian Analysis
As part of the EA Addendum process, the City of Toronto's dynamic microsimulation pedestrian model of Union Station (see Figure 5), the PATH system, and the local street network was updated and expanded to include the four alternative NW PATH alignments.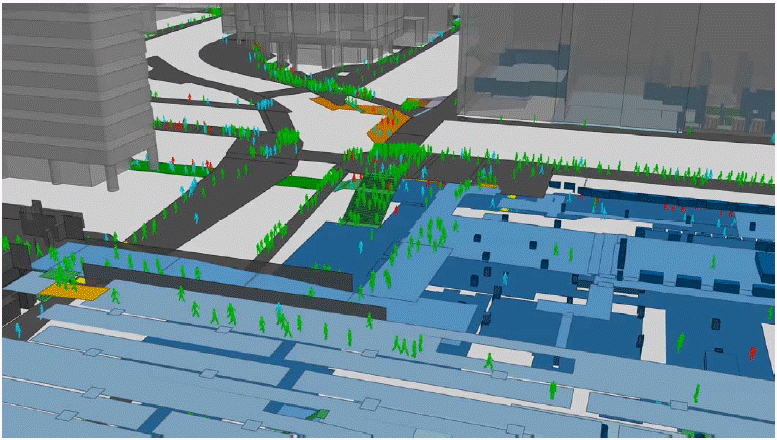 The pedestrian model provides an understanding of pedestrian movements in the area and tests the alignments from a capacity and user amenity perspective. The model provides information considered in the evaluation of alternative alignments including passenger use and flow capacity for each alignment, congestion for passengers using each route, and journey cost. Network-level analysis has also been undertaken to determine the number of jobs that can be accessed using the PATH system (see Figure 6). All four options provide pedestrian amenity benefits and help to reduce projected pedestrian congestion at key surface intersections north of Union Station.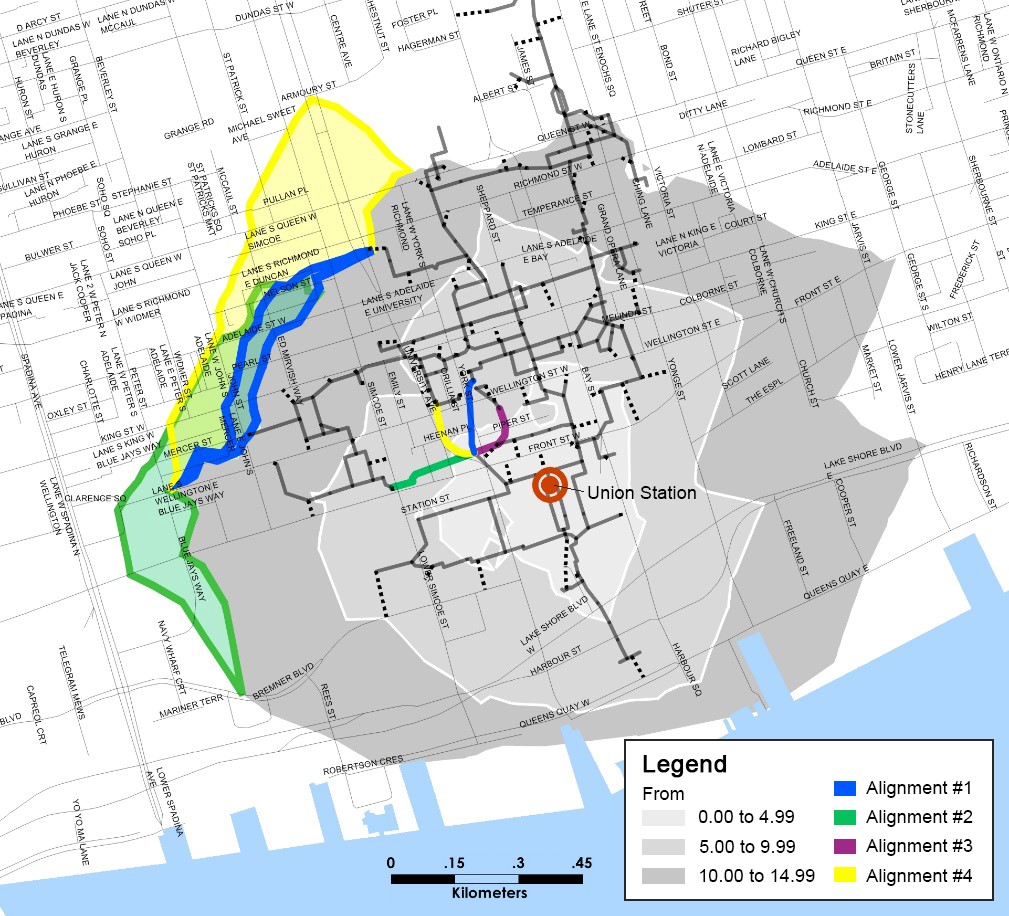 The following summarizes the pedestrian analysis:
Alignment 1/York Street provides a high number of projected peak hour movements northbound from Union Station due to its central alignment and provides some additional connectivity to jobs.
Alignment 2/Front Street provides modest projected peak hour movements but unlocks additional network to the west of the City.
Alignment 3/Building Alignment provides the lowest direct number of projected peak hour movements and limited network accessibility, but does make some employment areas more accessible in a short walk from Union Station.
Alignment 4/University (Parking Lot) provides similar northbound projected peak hour movements to Alignment 1 and includes additional southbound movements, as well as significant access to jobs to the north of the City. In this sense, Alignment 4 provides the highest range of benefits from a pedestrian perspective.
Consultation
Consultation is integral to the environmental assessment process and to the evaluation of the alignment options. Input from the public is key in identifying a recommended preferred alignment.
To date, the NW PATH consultation has included:
Meetings with impacted landowners;
Public Information Centres;
Third-party stakeholders, groups and partners
three pop-up information centres held at Union Station, in the PATH at Royal Bank Plaza and in the PATH at Metro Centre.
The Online Feedback Survey is now closed. All input received during consultation will be considered and included along with the technical work in the EA Addendum.
Environmental Assessment Addendum - Notice of Completion
City staff have completed an Environmental Assessment Addendum with the objective of updating the original 2008 study to validate whether the original study findings (a tunnel underneath York Street) is still the optimal solution for completing the project.
Following consultation with the indigenous community, local landowners, community groups, Toronto Transit Commission, and Toronto Parking Authority, as well as City Divisions and the public, the Addendum finds that an alternative route that connects the existing Phase 1 North West PATH tunnel to 55 University Avenue underneath University Avenue will result in:
an improved user experience;
best peak-hour pedestrian service to support transit growth;
completion of missing north-south connections;
excellent connections to jobs; and
flexibility to provide additional connections to the west.
View the reports:
To provide comments, ask questions or to access to the full report and Appendicies, please contact:
Matt Klowak | Project Manager, Civic Projects
Matt.Klowak@toronto.ca 
416.338.2347
Consultation Dates: Nov 1 to Nov 30, 2018
If concerns arise regarding the Class EA Addendum that cannot be resolved through discussions with the City of Toronto, a person/party may request that the Minister of the Environment, Conservation and Parks make an order for the project to comply with Part II of the Environmental Assessment Act. As of July 1, 2018, a Part II Order Request Form must be used to request a Part II Order. The Part II Order Request Form is available on the Forms Repository website by searching "Part II Order" or "012-2206E" (the form ID number). The request must be received by the Minister by December 14, 2018, with copies sent to the Director, the Clerk and the Project Manager at the addresses indicated below. If there are no Part II Order requests received by this date, the City of Toronto may proceed with design and construction of the project.
The Evaluation of Alternative Alignments
The NW PATH EA Addendum maintains as much consistency as possible with the original 2008 EA in terms of the evaluation criteria used to compare alignments, while also updating technical assumptions, considerations, and costing, to reflect the changing local context in the last 10 years. The criteria used to assess the alignments both quantitatively (i.e., engineering investigation, pedestrian modelling, and costing) and qualitatively (i.e. policy fit) evaluates the alignments through an evaluation matrix.
Table 1 lists the advantages and disadvantages of each alternative alignment. For more detailed information on the evaluation of each alternative, please review the evaluation matrix.
Table 1. Advantages and disadvantages of each of the four alternative alignments.
Advantages
Disadvantages
Alignment #1/York Street

No escalator or elevator needed
Strong pedestrian demand for new tunnel

Most expensive option
Requires temporary lane closures on Front Street and York Street
Longest length of utility conflicts (i.e., sewer, hydro, gas, etc.) of all alignments (1,450 m); tied with Alignment #2 for the most major utility conflicts (six in total).
Requires reconstruction of TTC streetcar tracks on Wellington
No retail opportunities
Requires foundation support for the Toronto Club

Alignment #2/Front Street

Least impact to existing buildings
Direct connection to the western PATH network
Excellent connection to jobs
No escalator or elevator needed

2nd longest length of utility conflicts (1,047 m); tied with Alignment #1 for the most major utility conflicts (six in total).
Highly disruptive cut-and-cover surface construction on major roads, requiring temporary lane closures on University Avenue & Front Street
Retail space very difficult and expensive to construct
Very long tunnel with little animation opportunities

Alignment #3/Building Alignment

Lowest cost option
Good pedestrian animation
Fewest construction impacts at surface
Minimal heavy construction and utility disruptions to road users – shortest length of utility conflicts of all alignments (148 m), and only one major conflict.

Does not provide a new PATH connection and offers inadequate service to the existing PATH network and north-west core
Requires elevator and/or escalator
Significant disruption and modification to the existing buildings
Narrow route in places (3.2 m width) may impact pedestrian flows
Requires reconstruction of TTC streetcar tracks on Wellington
Requires agreements with multiple landowners

Alignment #4/University (Parking Lot)

Best balance of performance and cost
Widest & tallest tunnel
Provides strong pedestrian connectivity and animation opportunities
Strong pedestrian demand for new tunnel
Direct north and west PATH network connections
New city-owned retail opportunities (approximately 4,300 sq. ft.)
Excellent connection to jobs
New elevator makes parking lot barrier-free (AODA compliant)

Requires temporary lane closures on University Avenue.
Extension connects to both levels of the existing underground parking lot that will continue to operate, but it reduces lot capacity by approximately 185 parking spaces Structural rehabilitation and modification of parking lot required
Moderate utility conflicts – 3rd for length of conflicts (580 m) and four major conflicts.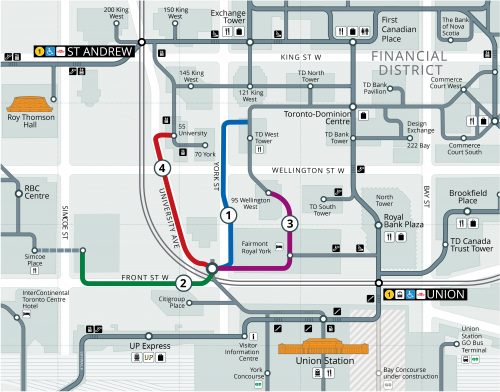 Recommended Alignment
Alignment #4 along University Avenue is the recommended alternative (see Figure 4 below). This route provides a direct link from Union station to 55 University Avenue (Sun Life Building), that is the most effective in servicing the north-west core while relieving pedestrian congestion concerns and accommodating the projected peak hour pedestrian volumes well into 2031.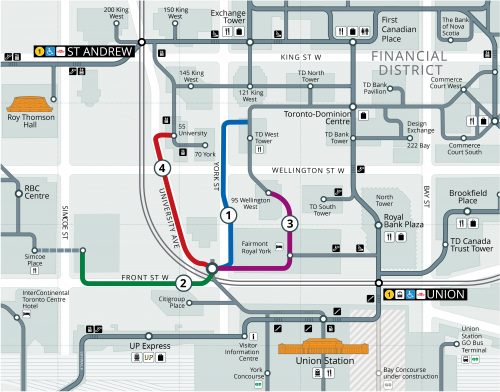 Minimizing Potential Impacts
Minimizing the disruption to those who use the PATH, travel the surface routes, live, and work in the area is important to the City. Where possible, construction will occur in existing underground structures or under decking to reduce surface disruption and all construction will be coordinated with any other major downtown infrastructure work that is planned.
Through an online survey, which is now closed, the City asked for public input on the evaluation, recommended alignment, and any potential concerns you have regarding construction.