2018 Climate Change: Creating a Low Carbon and Climate Resilient Toronto
This Note is part of a series of Notes on key City issues to update City Council at the start of its 2018 – 2022 term.
Issue description
---
City Council committed unanimously in 2007 to reduce local greenhouse gas emissions by 80 percent from 1990 levels by 2050 and unanimously reconfirmed that commitment in July 2017. This commitment aligns with internationally agreed upon targets to avoid the worst impacts of climate change.
In 2015, 196 countries including Canada reached an agreement on the pressing need to reduce greenhouse gas emissions to keep global warming to well below 2 degrees Celsius (the Paris Accord). The Government of Canada's implementation of these targets is outlined in the Pan-Canadian Framework on Clean Growth and Climate Change.
With the majority of the world's population now living in urban areas, cities are at the forefront in leading the effort to reduce greenhouse gas emissions. To meet these commitments, the City will continue to make transformational investments that will reduce greenhouse gas emissions while creating opportunities to improve public health, local economic prosperity, and social equity.
The City is taking action to decarbonize its economy and infrastructure and adapt to the changing climate while preserving and enhancing the environment. Environmental progress is reported bi-annually in the Toronto Environmental Progress Report.
Status
---
In 2019, City Council will consider a progress report on the City's climate action plan, TransformTO, and an updated detailed 2020-2023 Implementation Plan. Council will also consider Toronto's Resilience Strategy, which will include strategies for improving Toronto resilience to a changing climate. In addition to these reports, Council will also receive an evaluation of whether the City should disclose its climate-related financial risks through its annual Financial Statement. The City is currently consulting the public and key stakeholders on these reports.
Further, City staff are currently assessing the implications of climate policy and regulation changes introduced by the Province of Ontario, including the cancelled Cap and Trade program (Bill 4, Cap and Trade Cancellation Act, 2018).
Background
---
Between 1990 and 2014 there was a 24 percent reduction in local greenhouse gas emissions in Toronto, demonstrating City's ability to address local emissions. While this is a significant achievement, the City needs to continue to be innovative and move quickly to reach its 80 percent reduction target by 2050.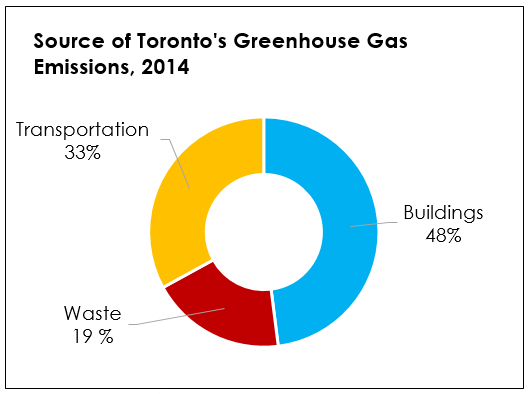 Toronto is already experiencing an increase in extreme weather events including heat waves, intense rain events, and higher average and maximum temperatures, as predicted by local climate modelling. Toronto is also experiencing financial impacts of climate change including the estimated direct cost to the City from the July 8, 2013 rainstorm of over $70 million, while the Insurance Bureau of Canada reported approximately $1 billion in insurance claims.
Actions and Plans
---
In 2017, following more than two years of strategy development, technical scenario modelling and community and stakeholder engagement, City Council unanimously adopted the TransformTO Climate Action Strategy. The strategy identifies the transformational framework needed to achieve deep de-carbonization in Toronto. The figure below summarizes the areas of action required to achieve a low carbon future.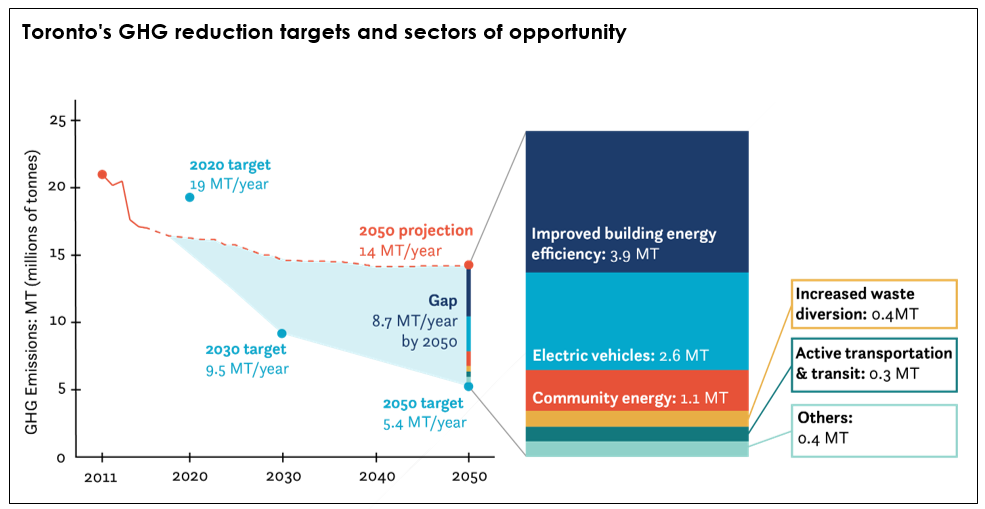 TransformTO demonstrates that with existing technology and accelerated action, starting today, it is possible to achieve greenhouse gas emissions reductions of 80 percent by 2050. City Council approved the following long-term goals to achieve an 80 percent reduction in greenhouse gas emissions:
100 percent of transportation will use low or zero carbon energy
100 percent of existing buildings will be retrofitted
95 percent of waste will be diverted in all sectors
75 percent of energy use will come from renewable or low-carbon sources
75 percent of trips under 5km will be walked or biked, and
30 percent of total floor space will use low-carbon thermal energy
Council also has interim targets for 2030 that 100 percent of new buildings will be near zero GHG emissions and Toronto will achieve an overall reduction in greenhouse emission of 65 percent.
The TransformTO Strategy includes 23 immediate actions to be carried out to 2020 and a set of guiding principles for climate action to maximize public health, economic prosperity, social equity, and build climate resilience. A climate resilient city needs to be a low-carbon city, and Environment & Energy is working closely with the Chief Resilience Officer to align efforts. Every four years the TransformTO implementation plan will be updated, and progress reported to City Council every two years.
Key actions underway to implement TransformTO include:
adoption of the Zero Emissions Building Framework;
signed partnership agreement with Enwave to develop low-carbon thermal energy networks across Toronto;
emphasis on circular economy principles in solid waste management and procurement; exploration of biogas assets to produce renewable natural gas;
investment in the 10-year Cycling Network Plan; and
the City's first green bond issuance raising $300 million for decarbonization work including public transit investments.
The City continues to work with other governments to receive support for TransformTO strategy and align regulatory, policy, and decision making which is needed to achieve climate goals.
City staff have modelled the impact of climate change on the city. In response to these models, modifications have been made to major infrastructure plans like the Wet Weather Flow Management Master Plan. Risk assessments of the possible impacts of future extreme weather have been carried out in three sectors, utilities, transportation and water.
In 2016, Toronto was selected to join the 100 Resilient Cities network to develop a Resilience Strategy for spring 2019. Broader than just climate resilience, the strategy will include a focus on making Toronto more resilient to its changing climate. This work builds on Climate Change Risk Management Policy, adopted by City Council in 2014, which outlined an approach for integrating climate change resilience into decision-making and coordination of City operations and services.
The following table provides a summary and web-links to the more significant decisions made by City Council over the last four years associated with climate change.