2018 Issue Briefing: Toronto's Culture Sector
This Note is part of a series of Notes on key City issues to update City Council at the start of its 2018 – 2022 term.
Issue description
---
Toronto's vibrant cultural scene, which includes the arts, heritage, and entertainment industries, is part of what makes the city a desirable place to live, work and visit. Despite considerably increased investment in the past five years, Toronto trails comparable jurisdictions in investments in arts and culture.
Status
---
Priorities for supporting Toronto's culture sector in 2019 include:
City Council consideration of multi-year proposal to improve Toronto's competitiveness by investing at least an additional $2 million in annual culture funding.
Establishing a new program to support mid-sized festivals and events that draw 100,000 to 500,000 attendees, and
Support for expanding Toronto's media production capacities, with a focus on film and television studios.
Background
---
Toronto's culture sector contributes to a strong economy, representing approximately 8 percent of Toronto's total economic output (Statistics Canada), and fosters social cohesion by engaging residents across the city in creative expression. Programs, services, and special events delivered by Economic Development and Culture (EDC) provide opportunities for residents and visitors to create, engage with, and experience local, national, and international culture in neighbourhoods across Toronto.
Now that the City has reached its longstanding goal of investing $25 per capita in arts and culture, Toronto must continue to increase investments in its cultural sector to address the fact that the City continues to trail other jurisdictions in investing in the culture sector. Montreal, Toronto's most relevant comparator, continues to invest in culture at a higher per capita level than Toronto ($46 per capita in 2016, according to the Municipal Benchmarking Network Canada), and the gap is widening.
Enhancing Equity and Inclusion in the City's Cultural Services
Historically, Toronto's culture sector has been concentrated in the downtown core. A key focus for new investments by the City of Toronto and the Toronto Arts Council, a non-profit funding body for artists and arts organizations, would recognize and expand access to arts and cultural activities outside the core.
The figure below shows the increase in City-funded cultural activities outside the downtown core since 2012. While progress has been made, improving access to culture outside the core remains a priority. The City is also examining ways to allocate resources to underserved areas. For example in 2018, Nuit Blanche was expanded outside the downtown core to Scarborough for the first time.
The City is taking action to identify gaps in representation and ensure greater equity and inclusion in its cultural services. EDC is developing a new equity framework and is working with Indigenous communities on significant projects, including the construction of a new monument at Nathan Phillips Square commemorating the legacy of Indian Residential School Survivors, and the new Indigenous Arts and Culture Partnership Fund.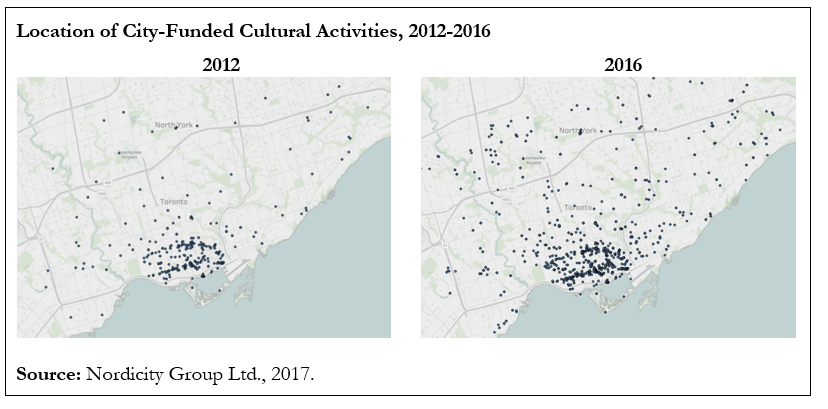 Affordable, Sustainable Access to Cultural Space
The City is prioritizing efforts to reinforce existing and create new creative spaces. A number of tools exist to improve access to cultural space, including community space tenancies, Section 37 allocations, and property tax relief, such as the new Creative Co-Location Facilities Property Tax Subclass for creative hubs.
Many projects will support film, music and historic spaces across Toronto. The City is implementing an action plan to expand film studio capacity, addressing a shortage of available studio space and accommodating growing industry demand. The Toronto Music Advisory Council has recommended the City protect live music venues through specific actions, as well as a nighttime economy action plan. EDC is collaborating with Real Estate Services to investigate the feasibility of the proposed Museum of Toronto, with a report to City Council anticipated in 2019.
Support for Festivals and Special Events
EDC will be reporting out, as directed by City Council on ways to support mid-sized festivals and events across the city that draw between 100,000 and 500,000 attendees as part of the 2019 budget process.
Toronto is shortlisted to be one of the 2026 FIFA World Cup hosts with other venues in Canada, the United States and Mexico. Toronto is expected to host 3-5 games and stage major fan events at Nathan Phillips Square. Discussions are underway with other levels of government regarding cost-sharing arrangements and support. The host cities are expected to be named in 2021.
Actions or Plans
---
EDC has established a plan to guide its programs and services to 2022 and identified four goals to inform the City's approach to cultural services: equity and inclusion, talent and innovation, space and access, and operational excellence. EDC's strategy builds on and supports Creative Capital Gains, a plan approved by City Council in 2011, which continues to guide the City's overall strategic support for the culture sector.
Sector-specific strategies for film, television and digital media and music, and an internal service plan for museums and heritage services, detail EDC's work in this area.