Councillor Michael Ford
Ward 1 Etobicoke North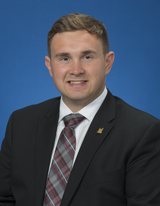 Born and raised in Etobicoke North, Michael Ford was first elected to public office in 2014 by an overwhelming margin as the TDSB trustee for Etobicoke North.
As a trustee and member of the Inner City Advisory Committee, Michael was a champion of safe schools, implementing measures across all of Toronto that would permit students to learn and socialize in a safe, friendly environment.  As Co-chair of the Parent Involvement Advisory Committee, it was his job to voice the concerns of parents directly to the Board.
As vice-chair of the finance committee and a member of the budget committee, he was responsible for making sure the board's $3.2 million budget was being spent to best serve the students.
Michael also worked on the P-Tech program with Board staff, to bring students through high school and a 2 year college program, ending with a job at IBM.
While working at Camp Kandalore, Michael helped provide youth an educational and fun outdoor experience, while being a leader that they were keen to approach with questions.
Michael worked in his family's business from a young age, learning the ins and outs of business and customer service.
As the Councillor for Etobicoke North, Michael's priorities are to maintain the high level of customer service the residents have come to expect.  He will also be working hard to keep taxes low, and to increase the level of community investment projects throughout the Ward.
(Information provided by Councillor for 2014-2018 term of Council)