Privately-Owned Publicly Accessible Spaces (POPS)
What are POPS?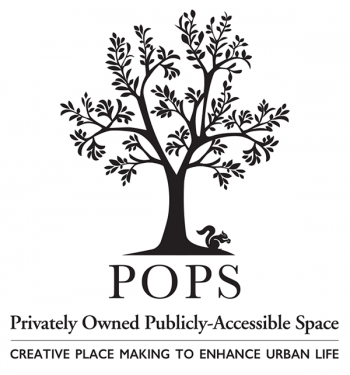 As Toronto continues to grow, there is an increasing need and demand to revitalize existing parks and open spaces as well as to create new parks and open spaces.
In order to provide this much needed open space within Toronto's dense urban landscape, the City often negotiates with private developers to include Privately Owned Publicly-Accessible Spaces, or "POPS" for short, as part of the development application and review process. POPS are a specific type of open space which the public is welcome to enjoy, but remain privately owned.
The initiative to identify the City's POPS and create design guidelines, including a POPS signage template and logo, was a result of the November 2012 City Council Member Motion "MM28.13: Privately Owned Public Spaces (POPS): Protecting and increasing access to publicly secured open spaces" – by Councillor Josh Matlow (Ward 22 – St. Paul's), seconded by Councillor Adam Vaughan (Ward 20 – Trinity-Spadina). On July 8, 9, 10 and 11, 2014, City Council adopted the Draft Urban Design Guidelines. The Final Report and Urban Design Guidelines are now available.
POPS are a key part of the city's public realm network, providing open space in much-needed locations across the city and complementing existing and planned parks, open spaces and natural areas.
The First POPS Plaque was officially unveiled in Concord CityPlace on July 31st, 2014.
Please browse the map below to locate POPS across the city. As new POPS are secured and built, locations will be added to the map.
Note: POPS locations are approximate. Access to some POPS locations may be refused in certain circumstances.
LEGEND: 

 Existing POPS 

Future POPS
POPS Guidelines
The Urban Design Guidelines for POPS were completed in June 2014 and will be presented to the June 19, 2014 Planning and Growth Management Committee.
The purpose of the Guidelines is to provide design direction to the development community, including architects, landscape architects, urban designers, planners and developers, and to facilitate discussions between City Staff, local residents and the development community in the location and design of new publicly-accessible spaces and the revitalization of existing POPS.
Draft Design Guidelines for Privately Owned Publicly-Accessible Space
POPS Signage
New Privately Owned Publicly-Accessible Spaces (POPS) should be signed so residents and visitors can easily identify POPS throughout the city. As more signs are put in place, they will become a clearly understood "brand" for POPS. City Planning Staff have designed the size and style for legibility and have consulted with Legal Services to identify the appropriate wording and type of information that should be displayed on the signs, such as hours open to the public and other rules regarding its use. A QR code on the signage template will also offer a direct link to the POPS website when scanned.
The applicant should discuss with the assigned planner and/or urban designer what information needs to be included on the signage and submit for review. The location of the sign should also be discussed during the Site Plan application review process.
An Adobe Illustrator working file can be downloaded (.zip file) for the required specifications to produce the sign. The applicant is responsible for manufacturing the sign once it is approved by City Planning Staff.
Design of the plaque
Plaque Production Specifications
Size: 12″ x 12″
Sign substrate: Stainless Steel or brushed Aluminum
Printing: Laser-etched or engraved and filled with black paint
Insert Information on your template
The 4 areas where content needs to be inserted onto the template:
Address or location of the POPS site

(Font: Adobe Garamond Regular 75pt)

Name of the Developer/Builder

(Font: Adobe Garamond Regular 36pt/51pt)

The allotted time allowed for public access

(Font: Adobe Garamond Regular 22pt/35pt)

Insert the Developer logo
Media Links
Video of the first POPS plaque unveiling by InkBlot Media
The Globe and Mail
The Torontoist
The Toronto Star