Overview: Scarborough Centre Review
To guide positive change and support the development of Scarborough Centre as a vibrant urban node over the coming decades, City staff have initiated a focused review of the Council approved 2005 Scarborough Centre Secondary Plan. The goal of the review is a final recommendation report that will include:
Conceptual Master Plan and Urban Design Guidelines
Built Form Strategy
Scarborough Centre Massing (3D) Model
Parks and Open Space Strategy
Connections/Linkages Strategy
Community Services Strategy
The Planning Partnership has been retained to work in concert with staff on Phase 1, which began in October 2018. A key component of Phase 1 is the preliminary public realm plan, and to develop a strategy that creates the foundation for future phases of the study and applies a clear and holistic approach to the creation and coordination of compelling, pedestrian and cyclist friendly streets, open spaces and related public destinations.
Of particular interest are improved connections between the existing and future parks, open spaces and streetscapes of the centre to help ensure that future intensification does not occur in isolation and that the centre is well connected internally and to surrounding communities. Improving connections will also help to ensure that the cumulative benefits of public investment in transit, pedestrian and community infrastructure, and new development extends beyond the Scarborough Centre and into the surrounding communities.
Study Area
The Scarborough Centre Review Study area is bounded by Highway 401 in the north, Bellamy Road North in the east, Ellesmere Road in the south and west of Brimley Road in the west.
The study area is divided into four precincts:
Brimley Precinct
Town Centre Commercial Precinct
The Civic Precinct
McCowan Precinct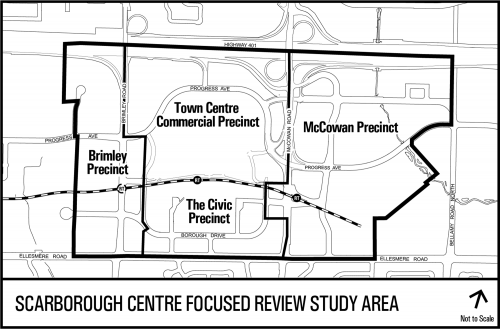 Scheduling & Phasing
There are four phases, and the length of each phase is determinant on the nature of the iterative review process and funding.
Each phase will be complemented by public engagement components and other public events as required.
Phase 1: Establish a Vision
Phase 2: Generate and Test Ideas
Phase 3: Synthesis and Recommendations
Phase 4: Implementation and Report
The work involved in Phase 1 to establish a vision, includes
synthesis of work done to date
update vision and planning principles
develop a preliminary public realm plan.