Welcoming New Shelters into Communities
Under the direction of City Council, an action plan is in place to add an additional 1,000 new permanent shelter beds for people in need. The 1,000 new shelter beds are in addition to the previously announced George Street Revitalization project. New shelters are being located in neighbourhoods throughout the city.
The City of Toronto is working to change the way shelters operate with a new service model that includes:
A new community engagement process
New housing focused service model
Neighbourhood integration
Best practice design guidelines
An essential part of the new shelter service model is community engagement. See below to learn more about the City's plans for incorporating modernized shelters into communities and what residents can expect moving forward.
A Pathway to Housing
Modernized shelters are opening up in neighbourhoods across the city from North Etobicoke, the Junction, the Annex, Scarborough and beyond. Modernization involves having these new shelters being operated under a new set of shelter standards and design guidelines to improve on the overall service and add value to the communities that they're a part of.
Newer shelters will be smaller in scale when compared to existing facilities, are fully accessible, pet friendly, open 24-hours, and provide increased access to client case workers. These case workers help shelter residents find the medical, employment, recreation and permanent housing supports they need.
New design guidelines are also being implemented to ensure that these new facilities are aesthetically pleasing and provide community programming spaces that are open for use by residents in the area. When a new shelter comes to a neighbourhood, they provide more than just a bed. Shelters are facilities with dedicated staff and programs that aim to help clients move back towards securing housing and independence once again.
Learn more about the City's latest shelter openings,and get into contact with a community representative in the area!
Shelter Integration Depends on the Community
When it comes to introducing new shelter services, community engagement is focused on integration and not on the location of the shelter. Commonly assumed issues relating to the introduction of a shelter have less to do with location, and more to do with the level of supports both from within the shelter and throughout the community.
Your Initial Questions Answered
The City offers a comprehensive community engagement process that invites residents and businesses to take an active role in discussing and identifying solutions that best integrates a new shelter into the neighbourhood. City Staff will be present at various community events to help answer relevant questions on what to expect, along with print and digital materials for increased awareness in the areas where new shelters are expected to open.
Community Liaison Committees
Once residents have had a chance to get their preliminary questions answered, a more formal community engagement process will initiate involving a facilitator and a community relations lead appointed for each new location. Open houses and information sessions will generally be held in the lead up to the official opening of a shelter that will focus on shelter integration entirely.
A key highlight to this process will be the formation of a Community Liaison Committee (CLC) for each new location. A CLC is a formal committee connected to a shelter service made up of representatives of the community (condo boards, residence associations or local community organizations) that meets semi-regularly to address questions, share information, collectively problem solve community concerns, and link shelter needs with community offers of support. The work of this committee is focused on the positive integration of the shelter service into the community. The first term of commitment is typically six months with the possibility of extension if there is a collective desire by the committee and shelter operator to continue. Information on how to be considered for a role on the CLC will be shared in due time for each new shelter opening.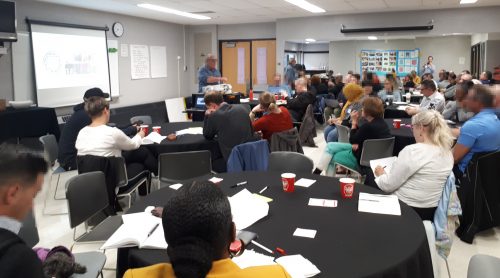 Stay Connected
The City offers electronic newsletters and other mediums for residents to stay informed about new shelter developments in the area. To sign up for electronic updates, please email ssha.homeless@toronto.ca
A Prospective Location
City Council has directed Shelter, Support and Housing Administration to open 1000 new permanent shelter beds across the city. Prospective buildings need to allow for the delivery of high quality services with connections to supports for housing, health, employment, culture and recreation. With this in mind, City staff look for the following key features.
Adequate Space
Prospective buildings need to have over 20,000 square feet to accommodate requirements for beds, kitchens, laundry, storage, recreation programs, support services and more. Where possible, community spaces are also included to provide programming and event opportunities for residents of the entire neighbourhood.
Accessibility
To meet Accessibility for Ontarians with Disabilities Act (AODA) requirements, all new emergency shelters are accessible. Examples of accessibility requirements include main floor locations or access to an elevator.
Proximity to Public Transit
Emergency shelters need to be reasonably close to public transit to ensure clients can access the location.
Proximity to Related Community Services
Due diligence is done by City staff to assess the viability of a potential location based on the availability of related community services in the area. Emergency shelters should also be located close to public parks, pharmacies, health care services and more.
Other Considerations
Additional factors considered by City staff include: building conditions, associated lease or purchasing costs, and the potential to be converted into supportive housing in the long term.