Steeles Avenue Widening and Morningside Avenue Extension
The City of Toronto is beginning to develop detailed engineering designs for a 1.5 km widening of Steeles Avenue East from Tapscott Road easterly to Ninth Line and the extension of Morningside Avenue to Steeles Avenue. Approval was received in 2013 from the Province of Ontario to move ahead with the project.
The project includes the following improvements:
Widening Steeles Avenue: 3 lanes in each direction, sidewalk on both sides, bike lane on south side
Extending Morningside Avenue: 2 lanes in each direction, sidewalk on both side, bike lane on east side
Installing 3 new bridges over the Neilson tributary, Morningside Creek and Rouge River
The engineering design work is expected to take 2 years to complete and will require detailed investigations of below surface conditions, coordination with utility companies, permits from approval agencies and property acquisition.
Pre-design work is currently underway, with a detailed design expected to be complete in 2018.
STUDY AREA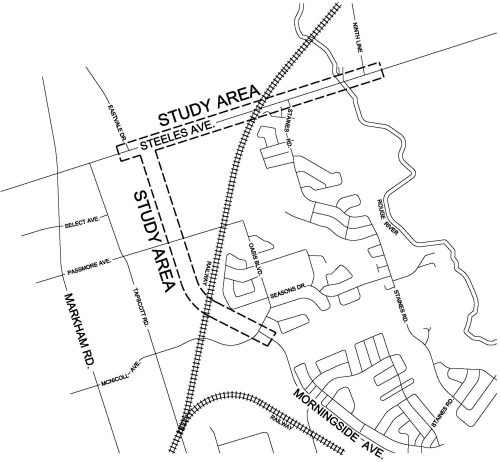 CONSULTATION MATERIALS
A public open house was held on July 19, 2016 to share information about the work plan, and meet with City staff and local Councillor Raymond Cho. View the meeting notice and presentation panels below.
July 19, 2016 Public Drop-In Event
To request assistance reading these files, please phone 416-392-3358 or email robyn.shyllit@toronto.ca.
BACKGROUND
In 2011, York Region completed an Environmental Assessment Study for Transportation Improvements  from Donald Cousens Parkway to Morningside Avenue. Following completion of the Study, the City of Toronto began a detailed design process for construction of the recommended road network, bridge structures, electrical and utility upgrades.
CONTACT US
Robyn Shyllit, Senior Public Consultation Coordinator
robyn.shyllit@toronto.ca
416-392-3358
Public Consultation Unit
City of Toronto
Metro Hall
55 John Street, 19th Floor
Toronto, ON M5V 3C7